Thandie Newton Might Go To A Galaxy Far, Far Away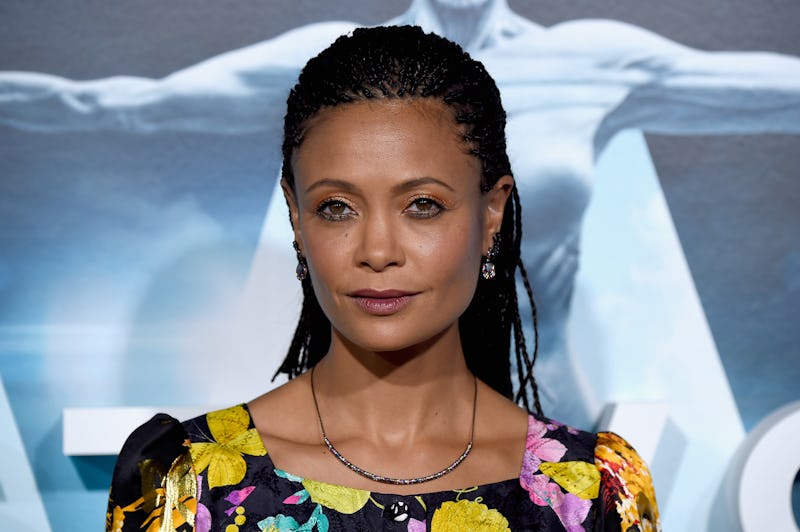 Frazer Harrison/Getty Images Entertainment/Getty Images
Oh god, I really hope this possibility becomes a full-blown reality: Thandie Newton is in talks to join the Han Solo film, according to Variety. Newton, who absolutely deserves to be in every high-profile film available to her, would be an interesting choice in casting for the Star Wars spinoff. The character Newton would play is still unknown (and don't you dare assume she's connected to Lando Calrissian, because race doesn't mean diddly in the Star Wars universe). But the main thing here is that Newton could become part of another major film project — a project she deserves to be in.
While the phrase "in talks" is not exactly a wholehearted confirmation, it is (in the very least) a great move for both Newton and the film itself. The Han Solo film would become exponentially better than it already is — let's be real, it's going to be an amazing movie — with Newton joining the cast. And for Newton, it would mean that she is finally getting to become a part of the high-profile films that she is worth.
Let's be real: Newton's recent successes, mostly thanks to her perfect turn on Westworld, have been a long time coming. Perhaps one of those actors who were regularly seen and rarely rewarded during their early careers, her quality of work has often been of a noteworthy high caliber. The only snafu is that Newton has been cast into roles like wife (Crash), love interest (Run, Fat Boy, Run), damsel-in-distress (Mission Impossible II), and even alluring b*tch (RocknRolla), which means her well of talent gets clouded with tropes and stereotypes.
Westworld marked a paradigm shift in Newton's career. Her character, Maeve, subverted expectations at every turn. She was an atypical Western character: the woman working in a house of ill repute who was also intelligent, capable, and richly developed. She was a woman of color who was not at all defined or controlled by racial stereotypes. Maeve was simultaneously a hero and antihero (depending on who you sympathized with in the show — the humans or the hosts), which was only made better by the acting prowess on display courtesy of Newton.
It would not be out of line to suggest that one of the reasons Newton is currently in talks for the Han Solo film is because of her Westworld work and subsequent awards season praise. However, the emotional complexity of Maeve has DNA in other film roles Newton has undertaken in the past. Newton could (and hopefully will) really add a vital bit of bite to the Han Solo film, should she be cast.
So, start crossing those fingers because Newton knows how to make everything better.