Red Carpets Need To Take #AskHerMore Further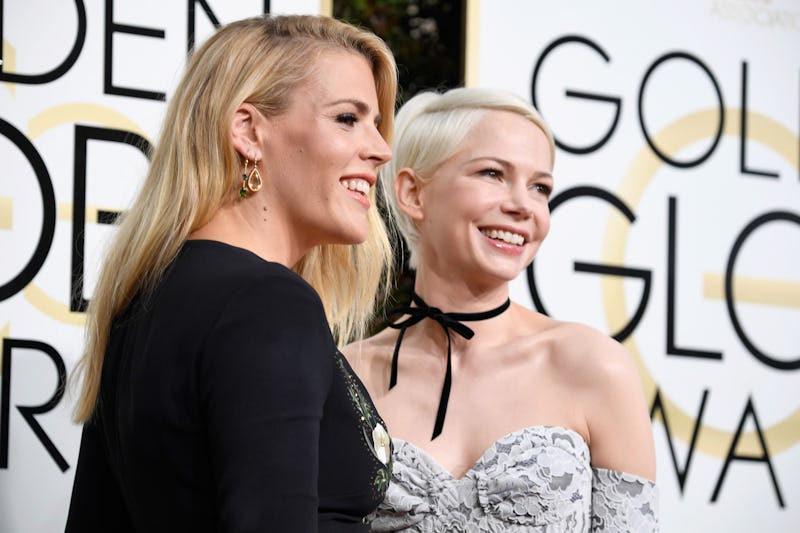 Frazer Harrison/Getty Images
It's a common thing on the red carpet for male celebrities to be asked about their careers and inspirations, and for the women to be asked about their dresses and the designers behind them. But, ever since February 2014, when the Representation Project demanded that red carpet interviewers #AskHerMore, all eyes have been evaluating them to see how they're doing when it comes to asking substantive questions of female actors.
Such was the case when Ryan Seacrest and Giuliana Rancic hosted the first red carpet of the season at the 2017 Golden Globes, and, to their credit, they did seem to ask her more. In fact, more men and women were asked about anything other than their outfits first in their red carpet interviews, which is an impressive start to the 2017 award season. However, the 2017 Golden Globes red carpet still had a big #AskHerMore problem — one that was less about numbers and more about content.
There were several interviews in which asking about a celebrity's dress seemed to be the default question for women. When Lily Collins, for example, began her interview with Rancic, the initial question after the "how are you" was about her dress. She wasn't asked about her show or character, like Natalie Portman or Hailee Steinfeld were later on the same carpet. In an interview with Seacrest, Busy Phillips and Michelle Williams seemed to take him to task for opening their interview with the question, stating, "Did you ask what we're wearing? Are you whispering?" in response to his initial question.
Sadly, even the interviews in which women were giving the opportunity to talk about their careers first and their outfits last had some issues.
For example, when Viola Davis approached Seacrest for her interview, she was asked about her work in Fences. However, the opening question concerned how she was able to remember so many lines. I'll let the absurdity of asking a seasoned actress like Davis how she can remember a lot of lines sink in for a moment. Chrissy Teigen, who was seated with John Legend and Anthony Anderson on the stairs, was asked about how nervous Legend was about his role in La La Land — which was immediately followed by asking her what she was wearing and an end to the interview. And Justin Timberlake and Jessica Biel were promptly asked about their outfits as soon as the excitement of Timberlake walking on with a clipboard faded from the conversation, which makes one wonder if that would have been the first question had they not brought a talking point with them.
Yet, even through all the bad, there was a lot of good. Rancic and Seacrest largely asked about fashion at the tail end of the interview rather than always at the beginning, which is a complete turn around from years passed. Of the 41 celebrities they interviewed, 30 didn't start their interview with a question about their outfit. And, of that 30, 17 of them were women versus 13 men. To be fair, more women than men were asked about their outfits as the opening question to their red carpet interview, but giving 80 percent of female celebrities the chance to talk about their projects and their passions as opposed to just their outfit is a victory and worthy of celebrating. In only two years, it appears that #AskHerMore has really made interviews more conscious of not acting as if the clothes on a celebrity is the most important thing they have going on.
But we need to take that victory a step forward, and start looking at content. Now that we don't ask her first, we really need to focus on asking her more. It's a great thing to save the fashion questions for last, but the quality of the questions that come first could be better — and far too many men escaped without having to reveal the designer behind their tuxes than women did. True equality is an ongoing battle, but it's encouraging to see how much change has been achieved in the two years since public awareness about the ongoing sexism inherent in red carpet interviews increased. Now that the Golden Globes has set us off to such an encouraging start for 2017, let's keep that momentum going.
Let's ask about the challenges of playing their characters, the hilarity that happened on set, the honor of working alongside esteemed co-stars, and the reactions to their nominations. Let's ask about their illustrious careers, their future projects, and their excitement about the globes. Let's ask about their unconventional dates, their hopes and expectations for the ceremony, and their favorites among the other nominees. Now that Hollywood seems to know to save the dress for last, the natural next step is to actually make sure to ask her more. That's what I'd like to see going forward.