This Kendall Jenner Theory Will Make You Look At Kardashian Christmas Card Differently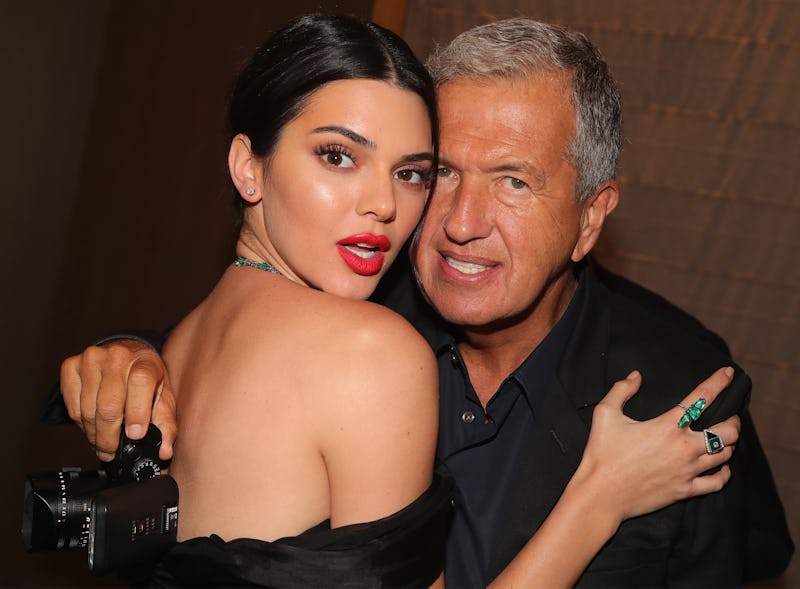 Paul Morigi/Getty Images Entertainment/Getty Images
On Sunday, Dec. 24, the Day 24 edition of 2017 Kardashian Christmas Card arrived — and it's already got the internet talking. Fans have been wondering about Kylie Jenner's absence in the cards and well as if Kendall Jenner was photoshopped into the Kardashian Christmas card this year. Bustle reached out to a rep for the Kardashian family who represents Kendall and Kim, but has not yet received a response. However, Twitter, at least, certainly seems to think Photoshop is at work here. But why would Kendall be photoshopped in? Also, if she is photoshopped into the family holiday card, why would it be so obvious? The Kardashian-Jenner Christmas card is a big deal for the whole family. The idea that they'd crop her into the photo at the last second doesn't make any sense.
Kim Kardashian has been releasing Karashian family Christmas card photos all month and Day 24 has been notable for two reasons. Fans are asking where Kylie Jenner has been, as she hasn't been featured in any of the photos, and if Kendall was photoshopped into Day 24. Whether Kendall was photoshopped into the Kardashian Christmas card or the framing just makes it look that way, Twitter has a lot to say about it. As ever, Twitter's insights are pithy, witty, and searching for answers. So, buckle in, because Day 24 of the Kardashian Christmas Card this year is the subject of much talk on Twitter this Christmas Eve.
Here's what Twitter has to say about the great Christmas Eve Kendall Jenner photoshop conspiracy of 2017 .
First, Kim Kardashian posted Day 24 of the 2017 Kardashian Holiday Card on Twitter. Then, Twitter let the good times roll.
1. That Shadow
Dianne was not pulling any punches. Dianne gets points for being direct.
2. One Fan Had This Genius Subtle Burn
"You can barely tell" is definitely the new "Bless your heart" for 2018.
3. 'This Looks Like A Gap Ad'
No question. This fan plays to win.
4. Some Solid Detective Work
Check out this detective work, complete with visual aid. This writer truly said it all.
5. Just Questions
Right? Right?
6. A Polite Examination
Chivalry isn't dead after all. It's just really quiet, and in hiding, and buried deep in a Twitter search and an monocle emoji.
7. 'Is It Me, Or....?'
No. No, it is decidedly not just you.
8. Demanding Answers
Literally nothing gets past a Keeping Up With The Kardashians fan. Honestly, Kris Jenner should know better.
9. Seriously, Kendall Photoshop Truthers Should Band Together To Form The Ultimate Detective Agency
Justice for Reign Disick! Or maybe Kylie will be holding him, in an attempt to disguise her rumored expectant belly?
10. 'Are We Just Gonna Ignore....?'
Absolutely not. Like anyone on the internet would be able to let this one slide! Nikki really does know it all. But can she explain how this atrocity came to pass?
11. The Truth Is Out There
Kylie's conspicuous absence matters more to this fan than Kendall being the victim of an elementary cut-and-paste situation.
12. Fans Are Literally Obsessed With Kylie & Rob Not Being There, Too
Don't cry for Kendall, though. She's a super famous model, right? She'll be okay.
13. Not Impressed
Short, sweet, and to-the-point: "Whoever photoshopped Kendall in did a terrible job." Well, yeah. That is true. Unless she isn't photoshopped in, and it was all the lightening.
Fans may never find out the truth about the Kendall photoshop conspiracy of 2017. And honestly, it may be for the best. Perhaps 2018 will be better for Kendall. Or at least, she'll find better lighting for the next Kardashian Christmas card.