Women Actors Will Dominate The 2017 Oscars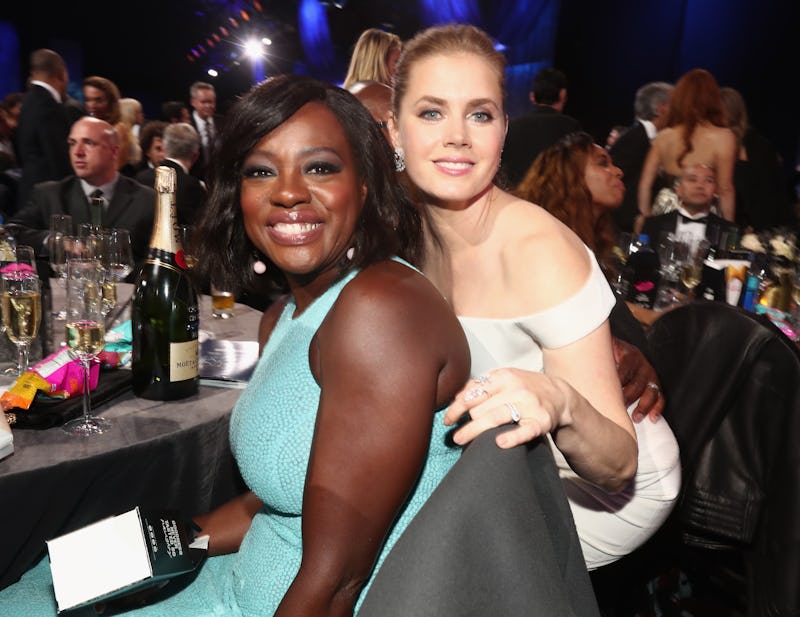 Christopher Polk/Getty Images Entertainment/Getty Images
It won't surprise anyone when I say that women in Hollywood killed it this year. Many 2016 movies didn't shy away from portraying complex women, and as awards season continues, the caliber of women being recognized for their work, to put it quite frankly, eclipses the men by a wide margin. The pool of award-deserving performances in film is much bigger for women than men this year, which was made very clear by the Golden Globes, in which the Actress races were anybody's game while the Actor races were much more predictable. Going forward, the 2017 Oscar race is looking great for women and female performances. But, that doesn't mean women are finally getting their due in Hollywood overall.
Still, if any year of performances demanded that the Academy open up their acting categories to more nominees, it's this one. Limiting the Best Actress in a Leading Role and the Best Actress in a Supporting Role categories to five nominees each always seems like an impossible task, but the sheer number of powerful performances delivered by female actors eligible for the 2017 Oscars make such a task feel almost cruel. Will Loving's Ruth Negga be snubbed in favor of recognizing Meryl Streep (aka, the queen of acting)? Could Hidden Figures' Taraji P. Henson beat the odds and enter the Best Actress race after her Golden Globes snub? I'm not sure what will happen, but I do know that all of these performers would deserve to hear their names called on Oscar night.
The women currently in the running for Best Actress are as follows: Amy Adams (Arrival), Natalie Portman (Jackie), Isabelle Huppert (Elle), Emma Stone (La La Land), Annette Bening (20th Century Women), Ruth Negga (Loving), Meryl Streep (Florence Foster Jenkins), and Taraji P. Henson (Hidden Figures). The women in line for Best Supporting Actress nominations include Viola Davis (Fences), Naomie Harris (Moonlight), Nicole Kidman (Lion), Octavia Spencer (Hidden Figures), Michelle Williams (Manchester By The Sea), Greta Gerwig (20th Century Women), and Janelle Monáe (Hidden Figures). Of all those women listed, there is not one that would be undeserving of a nomination.
In contrast, the men's Oscar races this year feel a little thin. Casey Affleck is almost guaranteed to take home the Academy Award for his leading role in Manchester by the Sea, while Golden Globe nominations for Andrew Garfield (Hacksaw Ridge), Denzel Washington (Fences) and Viggo Mortensen (Captain Fantastic) went by without much enthusiasm. And while the race for Best Supporting Actor might be heating up as Oscar night approaches, it's nowhere near as crowded as the race for Best Supporting Actress. But, what does this mean for women in Hollywood? Well, that depends on how you look at it.
On the one hand, the number of amazing performances from female actors eligible for the 2017 Oscars is exciting. There can never be too many good actors, and the more strong female performances women can see onscreen, the better. On the other hand, when you take a step back, it's incredibly frustrating. Many female actors will be celebrated come Oscar night, but female filmmakers, not so much. Conversations surrounding Best Director and Best Screenplay categories are dominated by possible male nominees. A majority of films being talked about for Best Picture tell male-driven stories.
In fact, many of the women expected to earn nominations for Best Supporting Actress will do so for roles supporting male leads (Manchester by the Sea, Fences, Lion, Moonlight). The same cannot be said for the men expected to be nominated for Best Supporting Actor. Furthermore, the Hollywood pay gap tells us that it's possible that at least some of the women nominated for Best Actress were paid significantly less than their male counterparts in the Best Actor category, although it's unknown if that's actually the case.
So, when we celebrate female actors at the 2017 Oscars, let's do so knowing that they deserve better than what Hollywood is offering. Women have given so much to Hollywood and film, it's time Hollywood gave something back.