The 2017 Golden Globes Changed The Oscar Race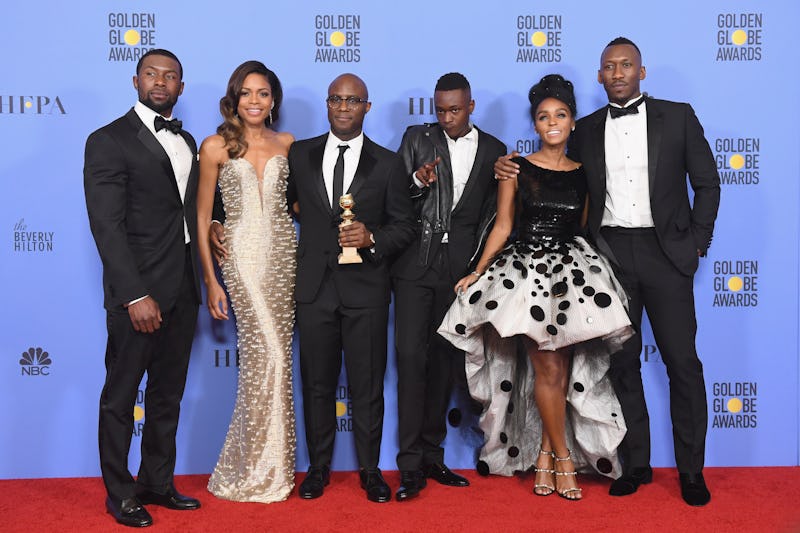 Kevin Winter/Getty Images Entertainment/Getty Images
Welcome to Hollywood, where fortunes can rise and fall over the course of one three-hour telecast. Of course, the big story coming out of the 2017 Golden Globe Awards was La La Land's historic sweep of all seven categories in which it was nominated (as well as Meryl Streep's terrific speech). But that technicolor movie musical wasn't the only Oscar hopeful to see its chances swing wildly in one direction or another. In fact, the 74th annual Golden Globes might have had the biggest impact on the 2017 Oscar race as any ceremony put on by the Hollywood Foreign Press Association in recent memory.
Like any year, this awards season has had its presumed "frontrunners," given that status by their reaping of precursor prizes handed out by critics and the prognostication of pundits with their finger on the pulse of the Academy of Motion Picture Arts and Sciences. This year, the four acting frontrunners included Manchester By The Sea's Casey Affleck, Jackie's Natalie Portman, Moonlight's Mahershala Ali, and Fences' Viola Davis. Which of these contenders cemented their status as the ones to beat — and which ones proved themselves vulnerable to a dark horse competitor?
Here are how the Golden Globes changed the odds in the top six Oscar categories, from the Supporting fields on up to the big prize:
1. Supporting Actress: Viola Davis Can Relax
As expected, Viola Davis took home the Supporting Actress trophy for her dynamite role as an under-appreciated wife in Denzel Washington's adaptation of the August Wilson play that both she and Washington previously starred in (and won Tony Awards for) on Broadway. Some may cry foul over her placement in the Supporting category given how much screen time her character gets, but it both makes sense (every character plays second fiddle to Washington's Troy) and should allow her to coast to an easy victory at the Oscars, making up for her shocking loss for The Help five years ago — when she lost to Meryl Streep for The Iron Lady.
Speaking of Streep, the fact that Davis got to deliver not just one but two impassioned speeches — her acceptance and her introduction of her former Doubt co-star for the Cecil B. DeMille award — shouldn't hurt her chances, either. She certainly made an impression and, considering Oscar nomination voting is still open, that's can only be a good thing.
2. Supporting Actor: It's Anybody's Game
This was the first award presented at Sunday's ceremony, and it got off to an auspiciously unpredictable start. Aaron Taylor-Johnson's nomination in this category was a surprise; his victory was a complete and total shock. (Although anyone who has seen Nocturnal Animals would have to acknowledge the supremely creepy power of his performance.)
His win reminds us that the actor or film the critics anoint as a frontrunner doesn't always translate into major awards success. Just look at Sylvester Stallone last year, whose comeback story was halted by Mark Rylance's surprise Oscar win; or the likes of The Social Network and Boyhood, critical darlings whose Oscar hopes were dashed by The King's Speech and Birdman, respectively.
So while Moonlight's Ali has been cleaning up critics prizes left and right, we now have to wonder whether Oscar voters will agree that his performance, small as it is (in terms of screen time), is really enough to merit a trophy. He could still turn it around… but there's no denying that this unexpected loss dampened Ali's momentum at exactly the wrong moment: as AMPAS members are filling out their ballots.
3. Actress: A New Frontrunner Emerges
The narrative this year in the Best Actress race has been between previous winner Natalie Portman as a brittle Jacqueline Kennedy in Jackie and ingenue Emma Stone, as a relatable struggling actress in La La Land. But while Stone took home her trophy as expected in the Musical or Comedy category, Portman couldn't even emerge victorious in a Drama field that didn't contain her closest presumed competitor. Instead, the award in that category went to Elle's Isabelle Huppert, whose French thriller was egregiously left off the Oscars' Foreign Film shortlist last month.
Jackie was already proving to be a divisive film — it wasn't expected to gain entrance into any of the top categories (Picture, Director, Screenplay) at the Oscars next month — and now, with this high-profile loss, Portman's own chances have been put into question. Only two performers in history have ever won their second Best Actress Oscar for a film that wasn't nominated for Best Picture — Hollywood icons Meryl Streep and Ingrid Bergman — which might prove that widespread support for the film itself is necessary for Portman to take home her second bald man so soon after her first (which came just six years ago for Black Swan).
As Portman's star falls, we now have to assume that Stone is the new frontrunner. But besides the question of who will win is the question of who will get nominated; and while Stone, Portman, and Arrival's Amy Adams seem like sure things, that leaves only two spots for performers like 20th Century Women's Annette Bening, Miss Sloane's Jessica Chastain, Hidden Figures' Taraji P. Henson, Loving's Ruth Negga, Florence Foster Jenkins' Meryl Streep, and the aforementioned Huppert. The Globes gave the biggest boost to the latter two actresses (the former from her victory in the Drama category and the second from her headline-making speech while accepting a lifetime achievement award), so don't be surprised to see those two screen legends round out the final five.
4. Actor: Casey Affleck Is Bulletproof
Although past allegations of sexual assault were enough to derail the Oscar chances of The Birth Of A Nation filmmaker/star Nate Parker earlier in this awards cycle, allegations of sexual harassment seem to be insufficient in stopping Manchester By The Sea star Casey Affleck from continuing his sweep through the season, picking up the Golden Globe for Best Actor in a Drama and staving off fierce competition from Denzel Washington.
Unlike Moonlight's Ali, Affleck was able to sustain his momentum, which firmly cements him as the one to beat next month. But he'll have one more test to face before he gets to the Oscars: the Screen Actors Guild Awards. That guild has shockingly never awarded Washington a single time, so it's conceivable that the group might make it up to him by honoring him for his stellar (and deserving) work in Fences. If Washington pulls an upset there, then things might get interesting come Oscar Sunday. Otherwise, this race is all but sewn up.
5. Director: Out With The Old, In With The Young
Affleck wasn't the only controversial figure to gain unexpectedly strong awards chatter this year despite a checkered history. Infamous Hollywood pariah Mel Gibson came on strong with his WWII drama Hacksaw Ridge, landing a Golden Globe nom for Best Director over the likes of Martin Scorsese (for Silence) and Denis Villeneuve (Arrival). But his viscerally graphic battle sequences couldn't do for him what Saving Private Ryan did for Steven Spielberg — and instead the trophy went to La La Land's Damien Chazelle.
At 31, Chazelle would be the youngest winner ever were he to take home the Best Director trophy at the Oscars next month. But that proposition seems more and more likely; he won at the Globes while facing off against three other auteurs — Tom Ford, Barry Jenkins, and Kenneth Lonergan, who were all nominated for writing their own films in addition to directing them — and even pulled off a shocking upset in the Screenplay category, over presumed frontrunner Lonergan, for Manchester By The Sea.
Over the past five years, Oscar voters have proven to be swayed by the flashiest directing, even when a different, quieter film won Best Picture: Michel Hazanavicius for the flashy silent film throwback The Artist, Ang Lee for the technological marvel Life Of Pi, Alfonso Cuarón for the innovative outer space thriller Gravity, and Alejandro G. Iñárritu twice in a row for the tightly-choreographed Birdman and the ambitious The Revenant. Chazelle, with his sweeping long takes and nimble camerawork, should fit right into their company.
6. Picture: Ga Ga For La La Land
La La Land made history this weekend when it took home trophies in all seven categories in which it was nominated, breaking the record for most awards won by a single film, previously held by 1975's One Flew Over The Cuckoo's Nest and 1978's Midnight Express with six each. But one of the awards both of those films won was in the now-defunct Acting Debut category, making the previous record only five awards by today's standards, which La La Land easily breezed by on its way to collect the Best Picture — Musical or Comedy prize.
The candy-colored musical has been the presumed frontrunner ever since it debuted to rave reviews (and a Best Actress win for Emma Stone) at the Venice Film Festival last September. It suffered a slight hiccup when it missed out on a Best Ensemble nomination from the SAG Awards — every eventual Best Picture winner has had at least a nomination in that category except for Braveheart in the first year the SAG Awards existed — but Sunday's historic sweep should easily erase that snub from memory, launching the film easily back into first place in the race for Best Picture.
On the other side of things, as the Golden Globes headed into the final three awards of the night, none of the five nominees for Best Picture — Drama had earned a single trophy between them. That finally changed when Manchester By The Sea took home Best Actor and Moonlight triumphed in the top category, ensuring that competitors Hacksaw Ridge, Hell Or High Water, and Lion went home empty-handed. But Manchester By The Sea's loss in Best Picture, coupled with its shocking defeat in the Screenplay category, put it firmly in third place for the Oscar. The Golden Globes have made it more likely that, if one acclaimed indie drama is going to derail La La Land's Best Picture hopes, it's going to be a movie about a queer young black man growing up in the projects of Miami: Moonlight.
The Oscar nominees will be announced on Tuesday, Jan. 24, prior to the ceremony on Sunday, Feb. 26.