The 2019 White House Correspondents' Dinner Is Skipping A Comedian & People Aren't Amused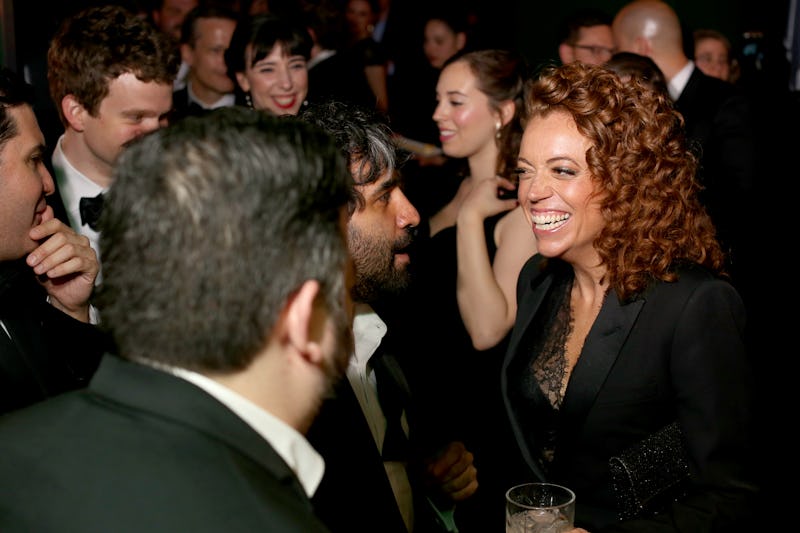 Tasos Katopodis/Getty Images Entertainment/Getty Images
Following the uproar over the jokes at the 2018 White House Correspondents' Dinner, there's a big change on the menu for next year's gala fundraiser. The 2019 White House Correspondent Correspondents' Dinner speaker will not be a comedian. Instead, the association that runs the event has invited a serious speaker, a biographer, to headline. The move was quickly condemned by last year's host Michelle Wolf.
"The @whca are cowards. The media is complicit. And I couldn't be prouder," Wolf tweeted after the White House Correspondents' Association made their own announcement on Twitter.
The association, though, noted some of Wolf's concerns about the role of the media as they made their announcement. "As we celebrate the importance of a free and independent news media to the health of the republic, I look forward to hearing Ron place this unusual moment in the context of American history," association president Olivier Knox, a Washington correspondent for SiriusXM, said in a statement.
Next year's choice is Ron Chernow, a biographer who has written about many presidents and other prominent Americans. He also served as a historical consultant to Lin-Manuel Miranda when his book on Alexander Hamilton was turned into the hit Broadway musical.
Chernow's comments suggest the First Amendment will be a key part of his coming "history lesson" — and there may even be a bit of humor:
The White House Correspondents' Association has asked me to make the case for the First Amendment and I am happy to oblige. Freedom of the press is always a timely subject and this seems like the perfect moment to go back to basics. My major worry these days is that we Americans will forget who we are as a people and historians should serve as our chief custodians in preserving that rich storehouse of memory. While I have never been mistaken for a stand-up comedian, I promise that my history lesson won't be dry.
President Donald Trump has skipped the event for two years straight, and it's thought he will also skip next year's. Last year, Press Secretary Sarah Huckabee Sanders attended, and some of Wolf's jokes centered on the president's stand-in.
"I actually really like Sarah," Wolf said, setting up one of her more controversial jokes. "I think she's very resourceful. Like, she burns facts, and then she uses the ash to create a perfect smoky eye. Like, maybe she's born with it; maybe it's lies. It's probably lies."
Wolf was criticized for focusing on Sanders' looks. In a Fox News interview after the event, Sanders said of Wolf, "I hope she can find of the same happiness that we all have, because I think she may need a bit more of that in her life because the rest of us here are doing great."
Wolf later responded saying her joke was not criticizing Sanders' looks. "Why are you guys making this about Sarah's looks?" Wolf posted to Twitter. "I said she burns facts and uses the ash to create a *perfect* smoky eye. I complimented her eye makeup and her ingenuity of materials."
Wolf went on to say in interviews that she wouldn't have changed a word of her material. "I'm very happy with what I said, and I'm glad I stuck to my guns," Wolf told NPR.
The move to pick a serious speaker may not be permanent. The 2020 dinner will be up to the next association president, ABC's Jon Karl, who will take over in July.