These Coffee Makers Will Brew Cafe-Quality Cups At Home — & They're All Under $50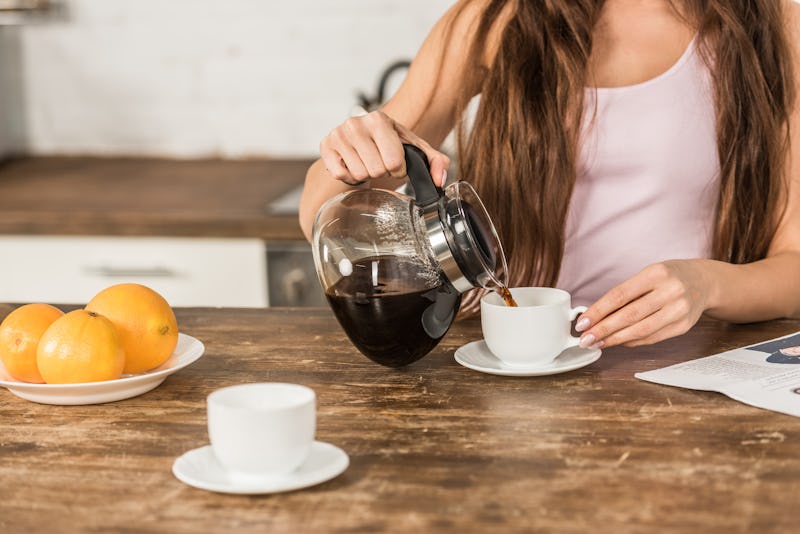 Shutterstock
A great cup of coffee doesn't have to cost a fortune. There are inexpensive coffee makers out there that make an excellent cup of joe, but when choosing the best coffee maker under $50, finding the right balance between price and all of the features you want can be a challenge.
To make things easier, consider focusing on two specific elements: How much time do you have and how strong do you like your coffee?
For the quickest way to start your morning, both K-Cup machines (which are pod based) or drip coffee makers are fast and easy. Drip coffee makers brew large volumes of coffee, ranging from 4 to 12 cups, whereas K-Cup-compatible makers deliver drinks one cup at a time.
If you prefer more control in the brewing process, a manual coffee maker may be a great choice. French presses, moka pots (which are similar to percolators), and pour-over containers do not require electricity. These are great for use at home, but also small enough to bring with you camping or to a vacation rental. A French press may take a little more patience in the morning, but your coffee will have a fuller, more aromatic flavor. The same holds true for a moka pot, though this kind may take some trial and error to master. Pour-over coffee makers are the fastest of this bunch, but they also require some experimenting to ensure you don't get a weak cup.
Whatever way you prefer to stay caffeinated, the best coffee makers listed below are all under $50 and come highly rated on Amazon.