This Was The Most Popular Word Used In Tinder Bios This Year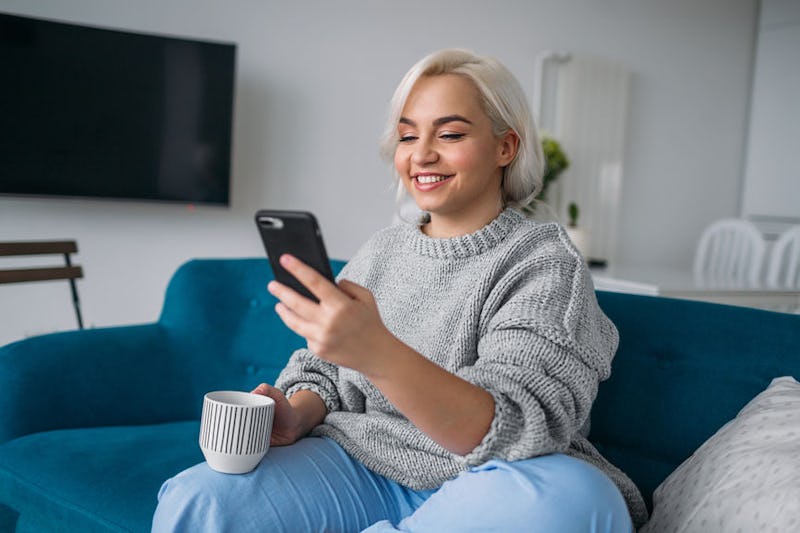 Studio Firma/Stocksy
Dating profiles are made up of more than just someone's cute photos — there's the whole bio section, too, where you can try to sell yourself to potential matches. While some people skip writing a dating bio altogether, others fill it in with a few key words, emoji, or a short and sweet paragraph about themselves or what they're looking for. And now, Tinder has released its first-ever Year in Swipe report, which reveals the most popular terms Tinder users had in their bios in 2018.
"The data from Tinder's Year in Swipe is really interesting," Dr. Darcy Sterling, Tinder's dating and relationship trend expert, tells Bustle. "It shows how pop culture, news events and trends inspired people's profiles. We saw that people loved to include their favorite foods in their bio or use a GIF to spark conversation."
To get the info, from January through November 2018, Tinder looked at the swipe activity of its users in 11 major markets worldwide: Brazil, Australia, the United States, the United Kingdom, France, Germany, Japan, Russia, Spain, India, and South Korea. Since 2019 is right around the corner, it's a perfect time to reevaluate your own dating bio and see what words stand out.
"Since a lot of people approach dating based on common interests, knowing these word trends could help you craft a more appealing bio," David Bennett, counselor and relationship expert with Double Trust Dating, tells Bustle. "Plus, these terms can also give you ideas on how to open conversations." Overall, it's good to base your app engagement on someone's bio, too, not just photos, he says.
So, knowing the most popular terms among Tinder users can help your dating game in a few ways. Without further ado, here are the top eight most popular dating bio terms among Tinder users.