The Wait For 'The Americans' Season 6 Won't Be Easy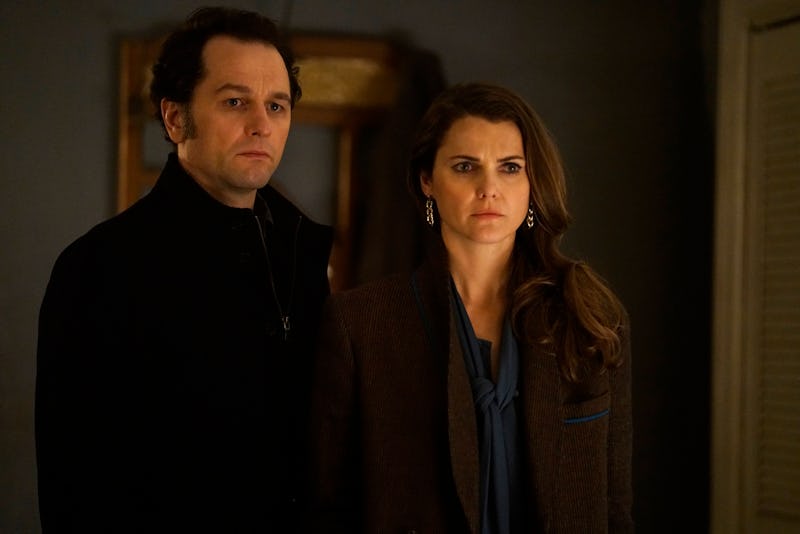 Patrick Harbron/FX
Although I'm sure most people these days would be glad to disentangle American politics from reports of Russian influence, I don't necessarily think those people had in mind the incipient end of FX's acclaimed spy thriller, The Americans. The Season 5 finale airs on May 30; but when will The Americans return for Season 6? Fortunately, the prestige drama that hits too close to home isn't going quietly into that good night yet. Philip and Elizabeth Jennings still have a few more impossible missions ahead of them.
UPDATE: In January, FX announced that The Americans Season 6 will premiere on Mar. 28, 2018.
EARLIER: In May of 2016, midway through the show's Season 4 run, FX renewed The Americans for Seasons 5 and 6 as a package deal — and, at the same time, announced that The Americans would end with Season 6. While the fifth season would consist of 13 episodes like every season before it, the sixth and final season will only contain a relatively brief 10 episodes, further hastening the inevitable end.
At least FX did fans the courtesy of announcing the show's end date a full two years in advance; it dispels the notion that the network has "cancelled" The Americans, and affirms the idea that showrunners Joel Fields and Joe Weisberg are simply heading into their preconceived endgame. Indeed, the pair confirmed earlier this year that they haven't strayed very far at all from their original concept for The Americans' series finale. "We've had a good idea since Season 2 where we want the show to end, and to our great surprise, that idea has stuck," Weisberg said. "Nothing about the current [political] situation, insane though it is, is going to alter it."
So when exactly can viewers expect this meticulously crafted conclusion? Although FX hasn't yet set an official Season 6 premiere date, that doesn't mean an educated guess can't be made. While the first three seasons of the show debuted in either January or February, both Seasons 4 and 5 premiered in mid-March. It's logical to assume, then, that Season 6 will also premiere in the third month of the year… however, it's possible that the shortened episode order could result in an earlier premiere date. Still, I'd wager that with the past two seasons in a row bowing in March, viewers are used to that timing, and FX will probably stick with it for the final season.
If so, that means viewers have a long nine-month wait ahead of them before they get to learn how the adventures of Mischa and Nadezhda, KGB agents extraordinaire, will end. What's a viewer to do with such a long hiatus? Well, not only does it allow ample time to rewatch all 65 episodes to date, but it also should give fans space to come up with their theories for the final 10 hours of the show's run. Will the Jennings escape unscathed back to the Motherland, as seems to be their plan at the moment? If so, how will Paige — and especially a completely oblivious Henry — react to the move? Or will the seemingly inevitable ending viewers have long feared finally come to pass? Will Philip and Elizabeth get caught?
You know the writers are doing a bang-up job when you're rooting for the Russian spies to get away with it. Fans will find out when the saga ends in early 2018. The real United States government's entanglements with Russia may take far longer to unravel.