This Anti-Abortion Bill Ignores Science Once Again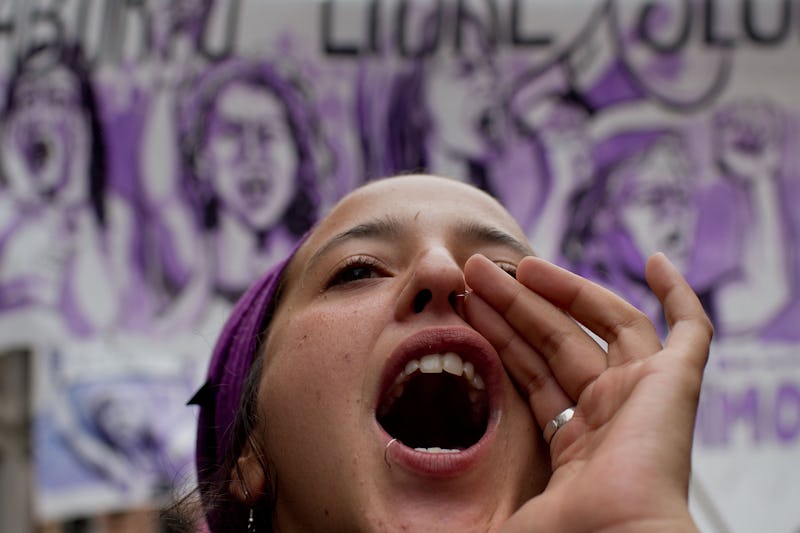 Gonzalo Arroyo Moreno/Getty Images News/Getty Images
Lawmakers held a public hearing Wednesday afternoon to further examine the latest Arizona anti-abortion legislation known as a "born alive" bill. Initially passed through the state Senate (via a 18-12 vote) in late-February, according to the Arizona Republic, the bill continued to draw criticism from both medical professionals and abortion advocates as a Targeted Regulation of Abortion Providers (TRAP) law that puts an unnecessary financial strain on abortion clinics. Furthermore, critics opposed the complicated ways doctors and patients would have to handle preterm births under the piece of legislation.
As Rewire News reported in February, the bill (Senate Bill 1367) calls for abortion clinics in the state to be outfitted with "a minimum level of neonatal equipment and to perform life-saving measures on a fetus delivered alive." It also requires them to have at least one staff member trained in neonatology — experts in newborn, premature born infants — present during all procedures performed at 20 weeks' gestation or later. On top of this, abortion providers would have to record additional data on the number of abortions they perform (including the gestational age of the fetuses). Most disturbingly, this would force them to state (under penalty of perjury) that the fetus/embryo wasn't "delivered alive" and that they did everything they could to "promote, preserve, and maintain the life" of the fetus. The bill's authors seek to impose all of these requirements — despite all research and medical experts acknowledging how unlikely it is for any fetus or embryo to survive outside the womb.
As OBGYN Dr. David A. Klein told Rewire News, this is a TRAP law because the mandated equipment upgrades "would likely require an incredible burden on clinics and would likely force their closure." These upgrades could easily be considered an undue burden on clinics because, as neonatologist Dr. Peter Stevenson told AZCentral, "fetuses born at 20 to 21 weeks gestation have zero chance of survival — and the standard of care nationwide is to provide 'comfort measures' instead of resuscitation."
Dr. Julie Kwatra, the legislative chair of the American Congress of Obstetricians in Arizona, also told Rewire that the bill doesn't just affect late-term abortions, which are oftentimes difficult terminations of wanted pregnancies due to health risks and genetic abnormalities that a mother or infant wouldn't survive. The bill would also force doctors to do the unthinkable, even if it doesn't make scientific sense.
In Arizona, the vast majority of terminations are provided before 20 weeks, and the ones after 20 weeks are performed overwhelmingly in cases of fetal anomalies. To force a neonatologist to resuscitate a baby that has a zero chance of survival … this law is going to force doctors to practice against the standard of care.
Kwatra argues that this bill ultimately harms patients who would otherwise be given the chance to grieve the termination of a wanted pregnancy by requiring medical professionals to forgo their best judgment (based on science) and perform "invasive procedures" that wouldn't save a life.
Aside from placing a medically unnecessary financial strain on clinics that are already struggling, the bill puts a deep emotional and professional strain on providers and patients. In continuing to foster a culture that rejects science and demonizes the healthcare providers attempting to help pregnant people through difficult times, this bill is both anti-science and plain cruel.