The 'Bachelor' Finale Will Include An Unedited Scene & It Sounds SO Intense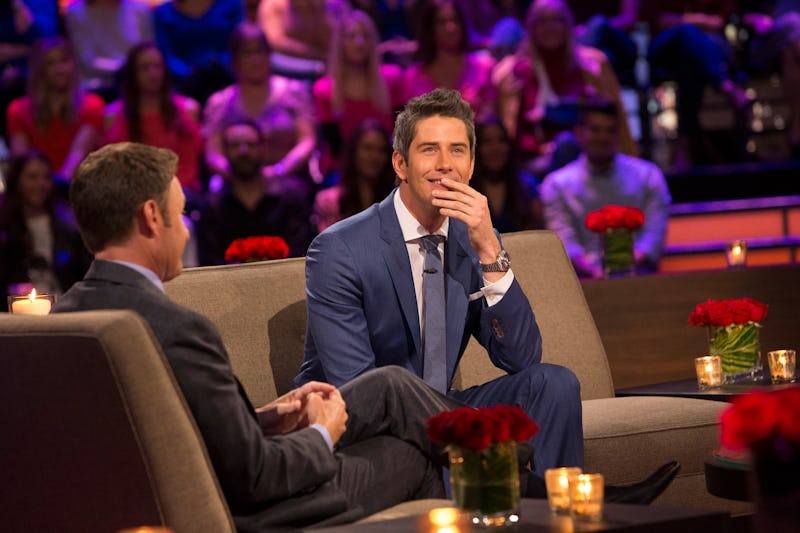 Paul Hebert/ABC
Buckle up, because the highly anticipated Bachelor finale will feature the first unedited moment in the franchise's history. On Friday, the show's creator Mike Fleiss tweeted that Monday's installment of the two-part ending to The Bachelor Season 22 will include a scene that hasn't been altered. For the first time ever, the show is just going to give us the scene as it was recorded and let us bask in its presumably intense glory.
One day after he promised that the finale would be the "#mostshockingever," Fleiss hopped on Twitter and let everyone know that the episode will do what no Bachelor episode has done before: It's going to give us a scene that has not been touched by editors. He wrote, "For the first time in TV history, Monday's finale of #TheBachelor will feature a completely unedited scene! And it's a doozy!!!"
Fans who follow Bachelor gossip already knew this two-part extravaganza was going to be a doozy of an ending, but an unedited doozy? Whew, this is going to be something else. And now, for a phrase that is rarely uttered on a Friday: Monday seriously cannot get here fast enough. Bring on the doozy, please and thank you.
Regarding the unedited scene, a source told Entertainment Tonight,
"This is an unprecedented and extremely unusual move for the franchise. The show will include completely unedited scenes just as they were shot, with both cameras visible at all times to show every word and every moment of an incredibly emotional moment. It's nothing like you've seen on The Bachelor."
It sounds like it's going to be a raw and real Bachelor scene unlike any other Bachelor scene before it. As Arie would say, "That's amazing."
Man, this finale really is shaping up to be a wild one. Warning: MAJOR spoilers ahead. Without giving away anything too specific, here's what reportedly happens during the finale: Sources have claimed to Entertainment Tonight and Us Weekly that Arie left the woman he proposed to on the finale. Oh, and he is apparently now dating the runner-up. (If you want to know who ultimately wound up with the guy who took second place on Emily Maynard's season, the details are only a quick Reality Steve search away, since he was the first to report the drama.)
In a recent interview with The Hollywood Reporter, franchise host Chris Harrison called the Season 22 finale "a phenomenal finish." And when he appeared on an episode of The Ringer's Bachelor Party podcast earlier this week, Harrison told host Juliet Litman that the episode is "the most dramatic finale in Bachelor history."
The Bachelor creator and The Bachelor host aren't the only folks involved with the show who've been hyping this conclusion. When Bachelor executive producer Bennett Graebner spoke with The Hollywood Reporter about the forthcoming finale, he echoed both Fleiss and Harrison's sentiments. He said,
"I've worked on the show for 10 years. The finale will be something people haven't seen before. And even if they are reading spoilers and think they know? They don't know."
Wait, what? You mean the spoilers about [name redacted] winning the whole thing only for Arie to break things off with her for [name redacted] aren't the full story? What else could possibly happen?
In an attempt to get ahead of any criticism that may be lobbed at him after the finale airs next week, Arie spoke to Us Weekly about his proposal switcheroo. He told the publication,
"The finale is going to be very interesting for fans to watch and my journey to get there, but I am very happy and it's been an experience that I will remember forever. I really have no regrets doing it. All I can really say is that I'm very happy and it's going to be fun for me to watch that back."
The finale's been called "fun," "interesting," "unprecedented," "phenomenal," "a doozy," "unedited," and, of course, "dramatic." Wow. It really sounds like this conclusion rose to the occasion.