These 'Bachelorette' Stars Are Getting A Second Chance On 'BiP' & They're Gonna Bring The Drama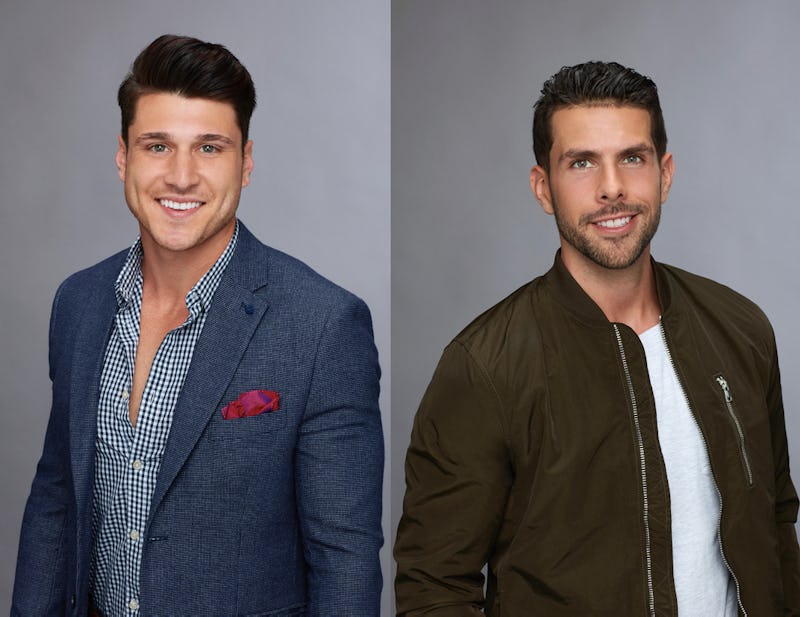 ABC/Craig Sjodin (2)
The upcoming season of Bachelor in Paradise gets more and more intriguing every day. Season 5 of BiP already had an exciting lineup of cast members, but as suitors get eliminated from the current season of The Bachelorette, a whole new group of BiP contenders gets added each week. Right after they got eliminated on this week's Bachelorette episode, People announced that Chris R. and Connor will join the cast of Bachelor in Paradise, which means that fans will get to watch more of the two suitors' quests for love. In Chris's case, that probably entails quite a rocky road, too, if it's anything like his run on The Bachelorette.
Come Aug. 7, Connor and Chris will return to your screens when the fifth season of BiP premieres, and it's not hard to guess how the two will behave. Connor for the most part had a relatively uneventful run while vying for Becca Kufrin's heart on The Bachelorette. He didn't exactly ruffle any feathers, like Chris did, and he mostly just didn't quite hit it of with Becca K. He might have better luck in Paradise — especially if he puts on his glasses. As the fan reaction showed, Connor had kind of a reverse Diana Prince effect, where he would simply put his glasses on and suddenly become a superhero in viewers' eyes. Hopefully he'll put on his glasses and read some of the Bachelorette viewers' tweets gushing about his spectacles before heading to Paradise so he can make sure to wear them more often on his next Bachelor Nation appearance.
While people were generally sad to see Connor — and his glasses — go home on the July 2 episode of The Bachelorette, they didn't quite feel the same way about Chris, who had a much more controversial run on the series. At first, Chris seemed like a front-runner for Becca, but he tried to play the game with his own rules. At one cocktail party, Chris refused to talk to Becca in hopes that she would seek him out. Sorry Chris, but you're not on the Bachelor. The bearded contestant then approached Becca, telling her that he was upset that she hadn't approached him at the party. Chris told her that she owed him "50,000 kisses" because she failed to seek out Chris. Needless to say, the move did not impress Becca — or viewers at home.
As if Chris' fit over his failed pursuit of Becca at the group date wasn't bad enough, he then went over to interrupt Becca and Wills. And that wasn't the only uncomfortable conflict that Chris had with another contestant. During one awkward argument, Chris called Lincoln "fat f**k," due to Lincoln's past challenges with weight loss. While Chris may have thought that would win Becca over, it definitely didn't, and the Bachelorette said what everyone was thinking, which is that it felt very immature.
With all of Chris' missteps, it only felt like a matter of time before Becca eliminated him. That ended up happening on the July 2 episode, before the rose ceremony. During that same episode Chris staged a melodramatic letter-writing scene with which Twitter had a field day. And, as much as everyone wanted to hate Chris, you kind of had to love him for certain meme-worthy moments.
Chris and Connor aren't the only Bachelorette contestants from Becca's season to join the BiP cast. The very goofy David is set to compete for love in Paradise, as is fan-favorite Joe "The Grocer," Nick, and Jordan. The six guys from Becca's Bachelorette season will be joined by a solid cast of fellow Bachelor Nation alums, and it sounds like this upcoming season will prove fortuitous for many on the show. Fans already know that Ashley Iaconetti and Jared Haibon got engaged while visiting BiP this season, so, really, this season is already a success. And, during an interview with his local Florida newspaper, the Citrus County Chronicle, Jordan (from Becca's season) revealed that he found love on Bachelor in Paradise.
With all of the love connections being made plus the drama that Chris will bring and the hotness that Connor and his glasses provide, Season 5 of BiP is shaping up to be the most exciting one yet.