'Baywatch's Soundtrack Is Basically A Beach Party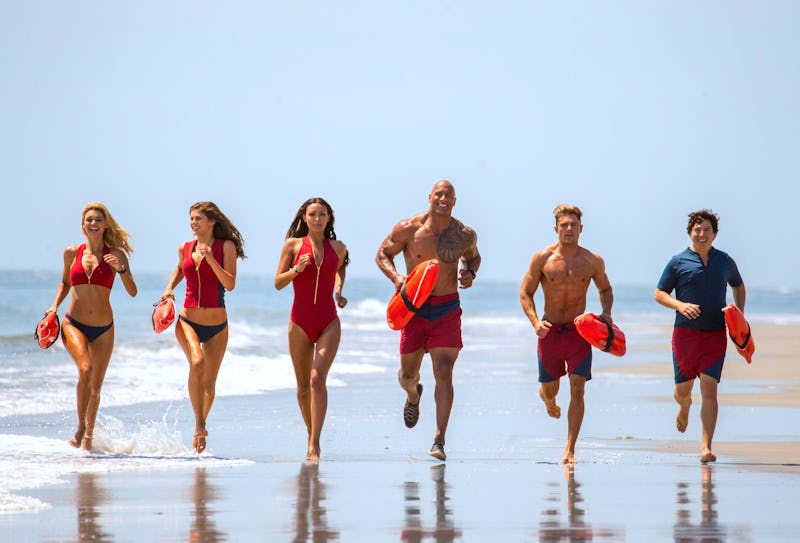 Paramount Pictures
TV nostalgia provides no shortage of fodder for movies these days, with many serious television dramas from the '70s-'90s being turned into movies that act as semi-parodies of their source inspiration. Some have been successful, like 21 Jump Street, while others, like Chips, have flopped. The latest is Baywatch, which above all else looks to at least be the biggest and flashiest of all of them. And that spirit extends to the Baywatch movie soundtrack, which takes the film's over-the-top party philosophy and runs with it.
The track listing is made up almost entirely of hip hop, with a few outliers, and offers up mostly newer songs from thoroughly modern artists. There are some oldies included from the likes of Notorious B.I.G. and, uh, Lionel Richie, but overall the music is geared toward current music trends. It reminds me a lot of another action franchise starring Dwayne Johnson, The Fast & the Furious, which also consistently cranks out soundtracks featuring aggressively modern rap from up-and-coming artists. The music is curated for one purpose, and that's to pump you up until you're ready to do a keg stand and then jump into the ocean to rescue someone (I'm pretty sure that's what this movie is about). You can have a listen to all 11 tracks below, but be advised that a lot of the lyrics are NSFW... unless you work on a beach, I guess.
1. "Hypnotize" — The Notorious B.I.G.
Here's something people were listening to during the original '90s Baywatch's run.
2. "No Lie" — Sean Paul Feat. Dua Lipa
It's Sean Paul sounding exactly like Sean Paul. Thankfully, Dua Lipa is also there to add an interesting element.
3. "Everyday" — A$AP Rocky Feat. Mark Ronson
Yes, that's Rod Stewart you hear singing the chorus.
4. "BagBak" — Vince Staples
Vince Staples is 23 and makes me feel very insecure about my life accomplishments.
5. "Legend Has It" — Run The Jewels
Look, it's noted Bernie Sanders surrogate Killer Mike!
6. "Go" — The Chemical Brothers
I'm here to remind you that neither this song nor video was made by OK GO.
7. "Doin' It Right" — STS x RJD2
This track has a cool '70s funk backbeat despite being super modern.
8. "Say You, Say Me" - Lionel Richie
This 32-year-old track began its life on a movie soundtrack, as it was first recorded for the 1985 film White Nights.
9. "Touch Down" — Ksi Feat. Stefflon Don
A good ol' bumpin' club track.
10. "Give It To Me Twice" — Party Favor
In case you weren't already dancing, you will be now.
11. "Panda (Luca Lush Remix") — Desiigner
You've definitely heard this before.
The Baywatch movie soundtrack is basically a beach party distilled into 11 songs, and I'll be surprised if I don't hear it blasting on the boardwalk at least once this summer.