These Were The Absolute Best Jokes Of This Year's Golden Globes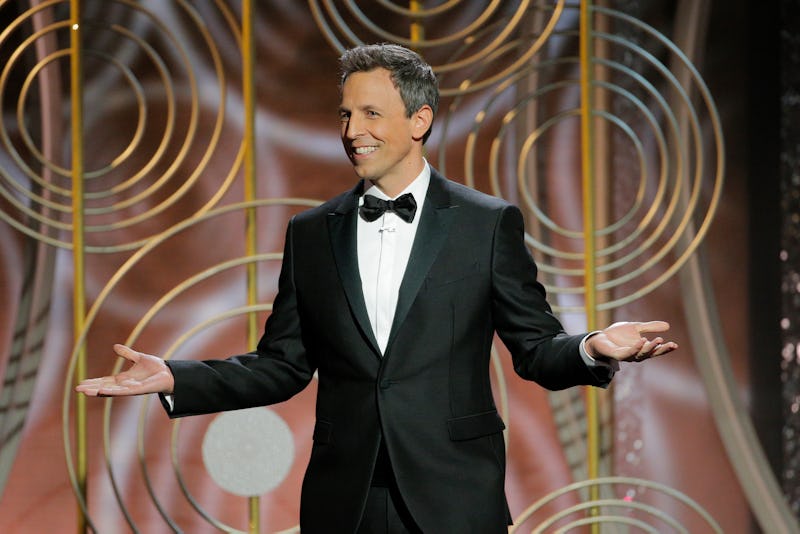 Handout/Getty Images Entertainment/Getty Images
As host of the 75th Golden Globes, Seth Meyers had a lot of material to work with when it came to Hollywood and the rest of the world. Before the ceremony, Meyers told numerous outlets, including The Hollywood Reporter, that he'd try to avoid referencing President Donald Trump and politics in jokes at the 2018 Golden Globes as much as possible. But that's just fine since there was enough corruption exposed in the entertainment industry in 2017 for Hollywood to take the brunt of Meyers' quips throughout the Golden Globes ceremony. Yet, even with acknowledging the dark side of the movie and TV business, Meyers, the presenters, and the awards recipients made sure to keep the easygoing and fun-loving spirit of the Golden Globes intact with their jokes.
Meyers told The New York Times, "We're in this situation right now where some people, very clearly, crossed a line and making fun of those people should feel like a positive thing." After all, laughter is the best medicine and while laughter will never fix systematic sexual harassment and assault, it sure is cathartic. Yet, the Globes didn't focus solely on the sexual misconduct allegations, which allowed Meyers to keep the tone fun on this night honoring the best of the entertainment industry in 2017. So without further ado, here are the best jokes from the 2018 Golden Globes that managed to make viewers laugh about an incredibly turbulent year.
"Good Evening, Ladies & Remaining Gentlemen."
Meyers took no time getting started on referencing the sexual misconduct allegations against a multitude of men in Hollywood in his monologue.
"Happy New Year, Hollywood. It's 2018..."
"... Marijuana is finally allowed and sexual harassment finally isn't," Meyers said with an optimistic take on 2018.
"This Was The Year Of Big Little Lies & Get Out ..."
"...and also, the television series Big Little Lies and the movie Get Out," Meyers said in a joke that acknowledged two major nominees and the corruption in Hollywood.
"For The Male Nominees In The Room Tonight, This Is The First Time In Three Months It Won't Be Terrifying To Hear Your Name Read Out Loud."
So don't fret, Willem Dafoe fans, about Meyers saying The Florida Project (executive producer: Elayne Schneiderman) actor's name.
"Hey, Remember When He Was The Guy Making Trouble With North Korea?"
It truly was a simpler time when Seth Rogen and James Franco's The Interview was the real international controversy.
"He'll Be Back In 20 Years When He Becomes The First Person Ever Booed During The In Memoriam."
Harvey Weinstein wasn't at the Globes in person, but he was sure present in Meyers' savage jokes.
"Oh Is That Too Mean? To Kevin Spacey?"
Meyers wasn't letting anyone feel sorry for Spacey and his (bad) southern accent.
"Oh Man, Not Another Woody Allen Movie"
The premise of The Shape Of Water — "a naive young woman falls in love with a disgusting sea monster" — was "like Manhattan in water" for Meyers.
"No, Not Yet, We Have To Wait"
With Steven Spielberg, Meryl Streep, and Tom Hanks, it was understandable to think The Post had already won Best Drama Film.
"New York Was So Seedy, There Were Two James Francos"
This joke from Meyers about The Deuce, in which Franco plays twins, made the actor cover his face while his brother, Dave Franco, laughed in the background.
"Oprah, You Will Never Be President. You Do Not Have What It Takes."
During his monologue, Meyers said that his jokes about Trump when he hosted the White House Correspondents Dinner might have led him to run for president. So, naturally, he decided to try out the same thing with Oprah — and to get Tom Hanks to be her VP.
"Will & Grace Was One Of My Favorite Shows"
While they presented an award together, Carol Burnett joked that she thought Jennifer Aniston was on Will & Grace.
"Please Welcome A Woman Who Needs Her Tea"
And finally, Meyers referenced Mariah Carey's recent New Year's Eve performance when he announced her as a "woman who needs her tea." (And Carey herself joked about it on Twitter.)
From jokes about the sexual assault allegations in Hollywood to one of the most famous pop stars of our time needing tea, this Golden Globes broadcast really had it all.