Here Are The Best iOS 12 Features About To Hit Your Phone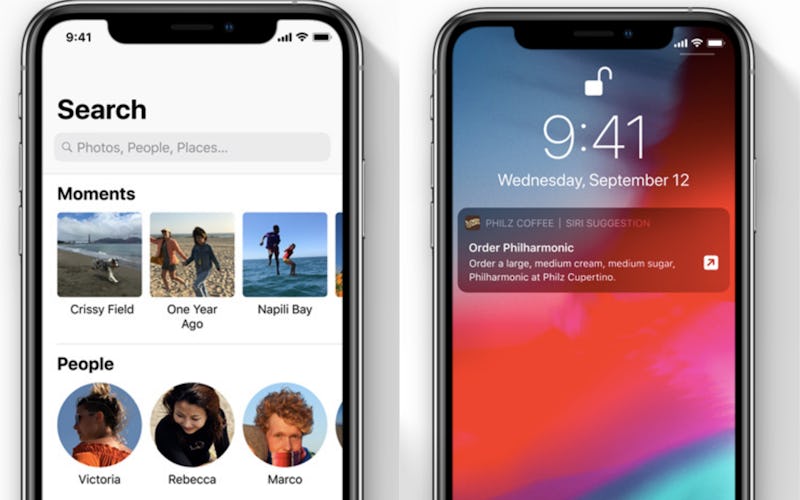 Apple
I know, I know — there is no task quite as daunting as making space on your iPhone for a new update, but maybe, just maybe, this insight on the best iOS 12 features will compel you to make a little more wiggle room to get this one in your life. Back in June, Apple let users know about some of the new features at the Apple's Worldwide Developers Conference (WWDC); now, with the Apple Keynote live-stream on Sept. 12 demonstrating some of those features to the public, we are closer to trying it out than ever (and getting some new iPhone models, to boot!).
The features you'll be able to enjoy with iOS 12 aren't just for self-professed techies — even if you're just an ordinary phone-using layperson, there is plenty to get hype for. This update comes with features that will help you keep your iPhone more organized, streamline your life, and express yourself in new ways. Apple promises it will also be "more responsive" than previous updates, after running it through "stress tests" to ensure that it performs up to expectations. Once you download the update — which Apple says will be available Sept. 17 — you'll be able to take advantage of that performance quality to tap into these brand spanking new features on iOS 12.
Memojis
Apple is no stranger to augmented reality emojis, but this update available on the iPhone X and its new models will blow your beloved Animojis out of the water — now you can customize your own face in emoji, and use AR to manipulate its motion.
New Augmented Reality Capabilities
The iOS 12 update takes advantage of AR in a big way. Notably is a new app called Measure, which will scale a real life object for you when you point your camera at it, and give you its dimensions. (Where was this when I was trying to wedge myself into a studio apartment?) It will also allow for Multiuser modes, letting you share AR experiences with users on other screens. AR Quick Look will also allow users to select and place 3D objects into the real world (similar to the IKEA app that allows you to put digital furniture in your apartment). That line between augmented and actual reality is getting blurrier by the second.
Shortcuts
The new iOS 12 will allow you to customize "Shortcuts" — an example given in the Apple Keynote was, for instance, apps you might normally use before you head out the door in the morning (i.e., to check the weather, your commute, and order your coffee). In fact, in iOS 12, Siri can take note of your habits and even suggest Shortcuts to you.
Photo Searching
It will now be easier than ever to search through that whole slew of photos on your phone. According to Apple, in iOS 12 Siri can "quickly pull up photos and memories based on people, places, events, time, and keywords of objects and scenes in the photos." And seeing as the new iPhones have 512 GB of storage, you may be contending with a heck of a lot more memories.
Do Not Disturb
In the past, you've been able to put your phone on Do Not Disturb for a specified amount of time — now you can do it for a specific place. Once you leave that place, be it a movie theater or a conference room, your iPhone will pull itself out of Do Not Disturb mode.
These are just some of the more convenient features that you'll be seeing widespread use of — for a full and specific list of the new iOS 12 updates, check out Apple's press release here. In the meantime, good luck making space for that download before Sept. 17! I believe in you!