21 New Movies & TV Shows On Netflix This Week, Including A Royal Timothee Chalamet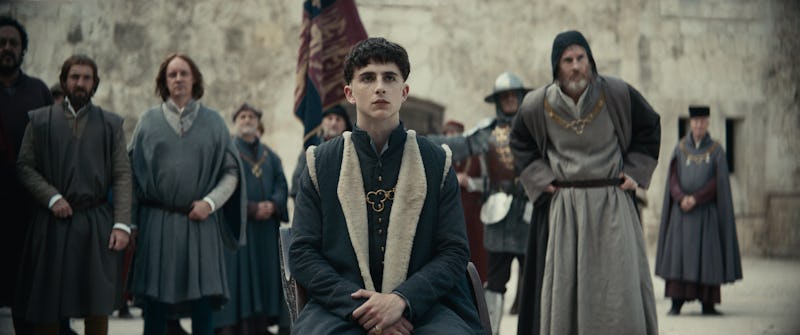 Netflix
Game of Thrones is gone, and it's not coming back. Some even say it left sometime during season 7, but that's a story for another time. In any case, if you're looking to fill the Medieval battle-shaped hole the show left in your heart, Netflix has you covered. Among the new movies & TV shows on Netflix this week is The King, an epic new historical drama that has some major GoT vibes going on.
The movie, which was inspired by the William Shakespeare plays Henry IV: Parts 1 & 2 and Henry V, as well as actual historical events, tells the story of English King Henry V's rise to power and battles with France during the Hundred Years' War. Timothée Chalamet portrays the young king, leading a stunning cast that also includes Robert Pattinson, Lily-Rose Depp, Sean Harris, Ben Mendelsohn, Thomasin McKenzie, and Joel Edgerton, who co-wrote the script. The film's brutal depictions of war are likely to give you some GoT flashbacks, but they're even more impactful since, unlike the Battle of the Bastards, these conflicts actually took place in real life.
If medieval battles aren't really your bag, then don't worry, as Netflix has plenty of other new content streaming this week. There are dozens of new additions hitting the site over the next seven days, and you can take a look at the absolute best of the bunch below.