Some Women Might Make The Lupita Nyong'o & Rihanna Movie A Reality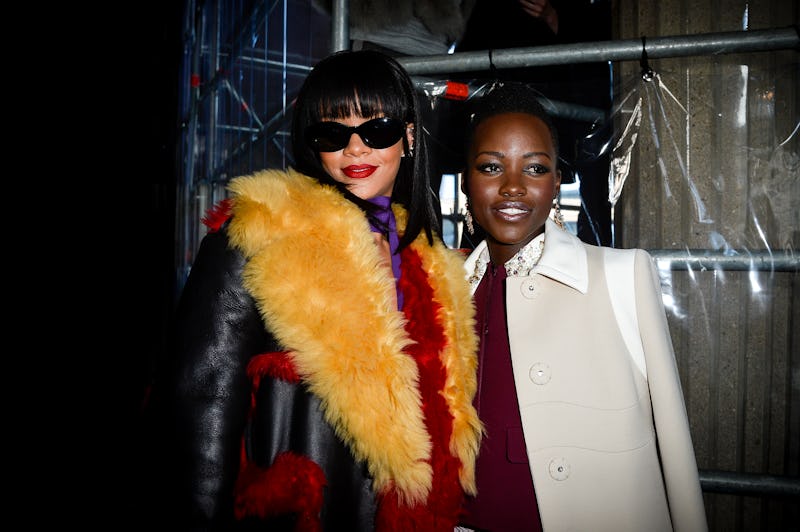 Pascal Le Segretain/Getty Images Entertainment/Getty Images
I thought that the world had already provided me with enough gifts, just by presenting the possibility that a Rihanna and Lupita Nyong'o movie might get made just from the germ of a fan's idea. But, over the weekend, it turned out the movie wasn't the best part of this fantasy. The best part is actually all the talented female celebrities who have eagerly thrown their support behind the potential project. Rihanna and Nyong'o good-naturedly tweeted their interest in the heist movie pitch early on, after a photo of them sitting side-by-side in the front row of the Fall 2014 Miu Miu show in Paris resurfaced and went viral. But they're far from the only talents interested in the project. Do the names Issa Rae and Ava DuVernay ring a bell?
After Rihanna and Nyong'o were a go for launch, Twitter user dvrrxll tweeted at the multi-talented and Golden Globe-nominated Issa Rae, pitching her on writing the script. Are you sitting down? I hope you're sitting down. Because it turns out that Rae was on board, too. And she expressed her interest with the cat gif to end all cat gifs — if only because it was a cat gif related to what could be the greatest film of our generation if it ever actually happens.
Yet another case in point is Ava DuVernay, who was also tweeted at by a fan who thought she'd be a good director for the project. Unfortunately, however, DuVernay is super high-profile and doesn't have the time to commit to a fantasy project like this one, no matter how much it's shaping up to be a reality.
Just kidding. The Oscar-winning director said yes without a second thought, and my heart is swelling with happiness and pride at how easily this is all coming together.
Actresses who weren't even in the original pitch eager to get involved. Like Blackish's Yara Shahidi, for example, who didn't want to miss the opportunity to participate in something that's already surrounded by such good energy and enthusiasm.
I. Love. It. When powerful, talented women in the industry are all able to come together so seamlessly to talk about a project like this, it's hard not to be jumping up and down and waving your hand in hopes of being chosen to bring your talents to the table. I have no doubt that the comedy-action heist movie that's being discussed would be top-shelf, if it gets made. But, for me, it will be hard to top how good this part of the process has already made me feel.