These Are The Best States For Dating Online — And The Number One App To Use In Each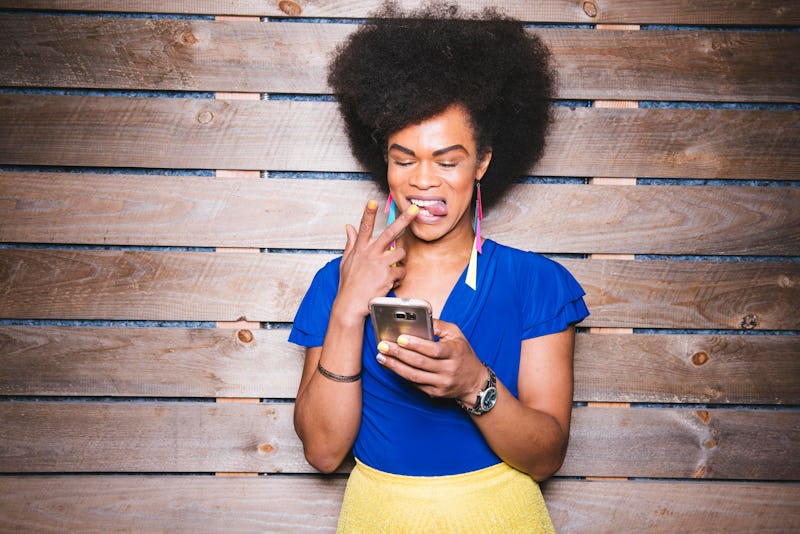 BDG Media, Inc.
If you struggle with online dating, you're not alone — but a new survey suggests that some states are better for online dating than others. All Home Connections, an authorized AT&T retailer, looked at the online dating landscape in every state and, based on a number of factors, found that some places were more suited to it than others.
They looked at 12 indicators — everything from how many people were single and interested in online dating to crime and unemployment rates. "To compile a list of the 12 indicators used, we first researched a compiled a comprehensive list of everything singles are looking for in an ideal partner," staff writer and resident dating expert at All Home Connections, Cara Fuller, tells Bustle. "From there we narrowed that list down to what we felt were the most relevant qualifications. i.e., You want to date in a place that is safe, and that has a lot of singles who are educated, have jobs. ..It also doesn't hurt if you can meet them easily on a dating app!" Of course, only you know what the most important qualities in a partner are for you, so if education level and job aren't a big deal to you, take these findings with a grain of salt.
But there was a clear winner in the survey — and a clear group of winners. When it came to states that fit their bill, New England really dominated the playing field, with my home state of New Hampshire coming out on top. As for places where online dating was tough, it's bad news for people in the south — Arkansas, New Mexico, Mississippi, Louisiana, and South Carolina came in at the bottom of the list.
So what made New Hampshire so great, besides its weirdly aggressive state motto? "Unlike the other states, NH ranked in the top 10 in each category—meaning that its safe, has plenty of singles who are worth dating, and probably on Tinder as we speak," Fuller says. "NH was so consistent across all indicators that it made it to the very top of our list."
Not only did they compile a list of the best states, they also provided the dating app that is most popular in each of them, so you know exactly where to start looking. Because if you're in a state that's great for online daters, you may as well take advantage of it and go where all the singles are.
"Our advice to anyone living in a good state for dating is to first identify the app that best aligns with their goals, and then to just put themselves out there!" Fuller says. "The apps are available and the interest is there, they just have to take advantage. That being said, we also recommend that they do their research — just because a state ranks well doesn't mean that every person they meet will be worth their time. It does mean that their chances of meeting someone who is worth their time is significantly higher, so there's no harm in going for it." Here are all of the states that came out on top in the survey.