Princess Diana's Aquamarine Ring Isn't Worth As Much As You Might've Guessed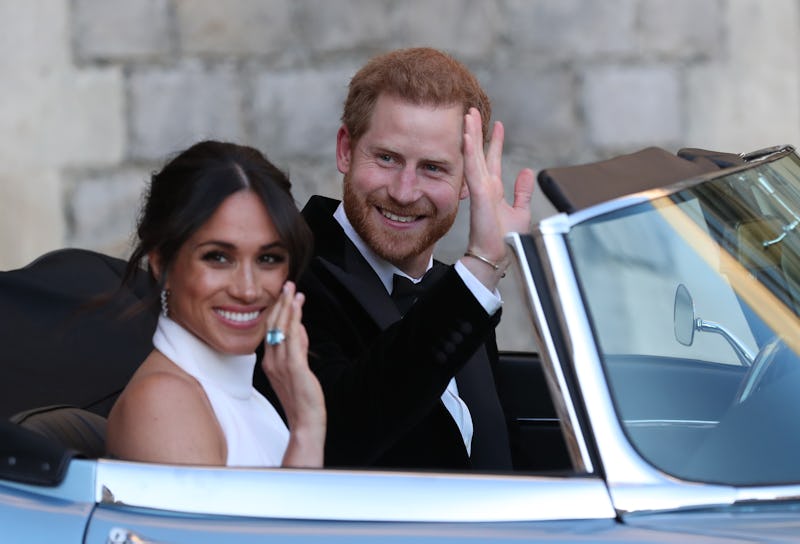 WPA Pool/Getty Images Entertainment/Getty Images
Royal wedding mania is still going strong, with the world poring over every minute detail of Prince Harry and Meghan Markle's ceremony — particularly all the ways the big day paid tribute to his mother. The most notable? The aquamarine bauble Markle wore as Prince Harry drove them to their evening reception. Yes, it's beautiful, and yes, the couple looks incredible, but there's one question many observers have been secretly wondering: just how much is Princess Diana's aquamarine ring worth?
While the wedding ceremony itself commemorated the People's Princess with its choice of hymns and the flowers used in the bridal bouquet, Markle personally chose to pay tribute to Diana, who she never met, much later in the day. When she changed into her second outfit before the couple left Windsor Castle to head to their evening reception in the nearby Frogmore House, the crowd spotted the huge blue stone on her right ring finger. It turns out that this was the "something blue" that Markle had previously been missing. Kensington Palace confirmed to Vogue that Harry gifted his new wife the ring from Princess Diana's rather extensive jewellery collection ahead of the big day.
Set in 24-carat yellow gold, the emerald-cut ring features a large pale blue stone surrounded by smaller diamonds. The Asprey ring is believed to have been commissioned by Diana after her divorce, the Express reports, and was designed to match a previously existing aquamarine and pearl bracelet. The newspaper spoke to gemologist Grant Mobley, who estimated its value at £75,000 in today's market. It was only worn by the princess a couple of times in her short life, but given the fact that it was pre-owned by the princess, it would probably now fetch far more than that at auction.
Diana was first spotted wearing both the ring and matching bracelet during a trip to Sydney in 1996. At a 1997 private auction of her dresses, she was photographed wearing the stunning band on its own for the very last time. Just two months later, she tragically died in a car accident.
In her will, Princess Diana left all of her jewellery to her two sons, according to The Sun, writing: "I would like you to allocate all my jewellery to the share to be held by my sons, so that their wives may, in due course, have it or use it."
Both Harry and William have adhered to their mother's wishes. William proposed to the Duchess of Cambridge with Diana's own sapphire engagement ring. Markle's engagement ring, on the other hand, features two diamonds from one of Diana's statement brooches, along with another sourced from one of the couple's favourite destinations, Botswana.
The reasons why Harry gave this particular aquamarine ring to Markle are unclear. But it seems pretty fitting that the jewel, which was one of Diana's most standout and colourful pieces, was given to the bride behind one of the most fun and endearing royal weddings the nation has ever seen.
This continues Markle's bridal trend of wearing pieces that haven't left the royal vault in years. Markle's wedding tiara, which originally belonged to Queen Mary, was created in 1932 but hasn't been seen on a human head since 1965, when it was worn by the Queen's sister, Princess Margaret.
Just like Diana, Markle looks set to bring a breath of fresh air to the royal family, with many believing her and Harry's wedding ceremony — which included a jovial sermon on love by Bishop Michael Curry along with a moving rendition of "Stand By Me" by The Kingdom Choir — to be just the start of things to come.
Markle's official royal biography describes her feminist viewpoint, stating that she is committed to "social causes and women's empowerment." And at her wedding reception, the new princess reportedly stayed true to her word as she broke tradition by giving a speech, which are typically only made by the best man and fathers of the bride and groom.
This gesture, along with the numerous connections to Harry's mother, put Diana at the forefront of many people's minds at the wedding; from Markle's five metre-long veil to her Bond-esque dress, both were reminiscent of the People's Princess' bold style. But going back to the aquamarine ring, it's clear that Harry's choice of gift was no accident.