'The Bold Type' Star Nikohl Boosheri's Emoji Clues About Season 2 Are Very Promising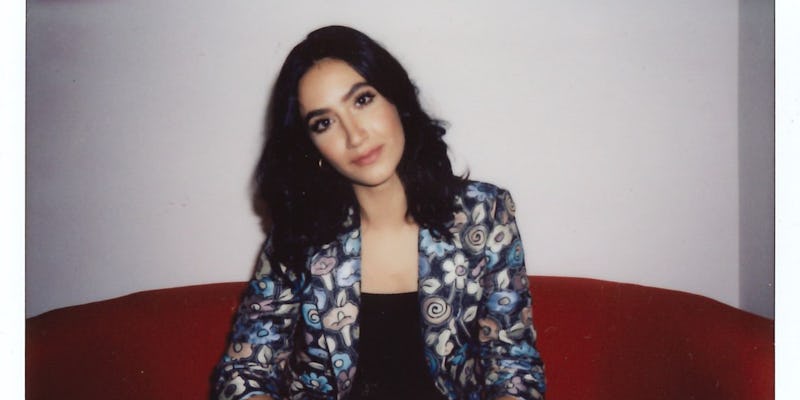 Bustle
When celebrities hang out with Bustle editors, we want to give them the chance to leave their mark. Literally. So we hand them a pen, a piece of paper, a few questions, and ask them to get creative. The rest is up to them. This time, The Bold Type star Nikohl Boosheri is leaving her mark in the Bustle Booth.
Raise your hand if you watched Bugs Bunny cartoons and Power Rangers growing up. Don't worry, The Bold Type's Nikohl Boosheri is right there with you. The actor, who plays Adena El-Amin on the Freeform series, dove into all sorts of nostalgia while recently filling out her Bustle Booth questionnaire. Because, of course, it's Nicole Kidman's role in Moulin Rouge that sparked Boosheri to list the Big Little Lies star as her "idol" in this Q+A.
Yet for as much as the actor's answers reflect a yearning for years past, she's also very much in touch with present-day news and pop culture. She tells me she recently finished watching Queer Eye on Netflix with her castmates (and you bet she happy-cried through it). And she also gives credit to this generation for all they're doing; instead of succumbing to stereotypes for the question about what millennials are best known for, she picks "inspiring activism." Given all the young people — such as Emma González — making change in the world right now, it's beyond accurate.
Plus, it's a fitting description for Boosheri's character on The Bold Type. Adena identifies as a Muslim lesbian artist whose artwork aims to create change and disrupt the status quo. The character is doing the same by adding some much-needed representation to TV, something fans continually applaud on social media.
"I love that the show is really about female bonds and friendships — and male. I mean, it's about friendship and empowering one another and pushing one another and finding your voice and kind of just navigating your 20s," Boosheri says. "It also feels very relatable and of our time. And this is a really wonderful set to be on, because we all genuinely like each other from the cast and crew."
That's something you can feel watching The Bold Type. And as for what exactly to expect this season, she teases spoilers (sort of) using three emojis. Check out her answers below.