The 'Boy Erased' Trailer Proves This Is The Oscar-Worthy Tearjerker You've Been Waiting For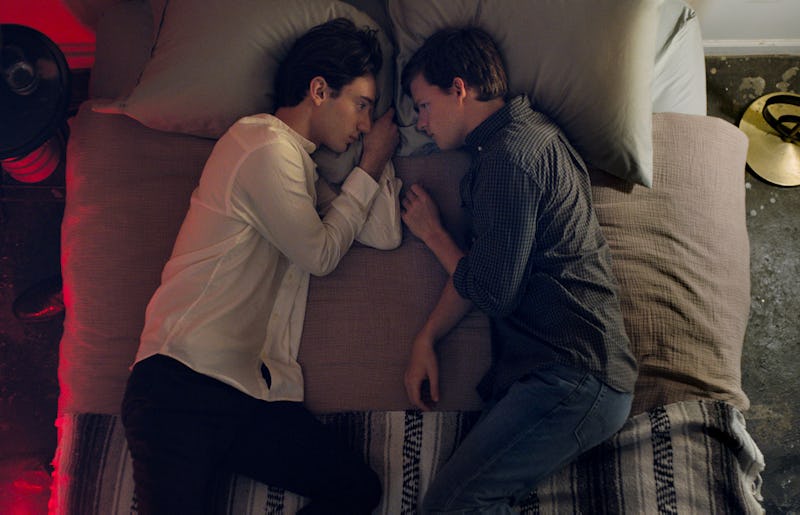 Focus Features
A true story basis, an all-star cast, and a dramatic, thematically resonant subject matter: that's the recipe for Academy Award gold, and the make-up of the new movie Boy Erased. In this coming-of-age story, out in November, Lady Bird breakout Lucas Hedges plays a teenage boy struggling with an inner conflict over his sexual orientation under religious parents who don't accept him as he is. Set to an original song by singer and Hedges' co-star in the film Troye Sivan, the Boy Erased trailer is truly moving, and the final movie might be handed major awards glory in return.
The film is based on a real-life memoir by Garrard Conley about his experiences growing up gay in small town America, and the trailer shows the internal and familial turmoil that Hedges' character Jared faces after disclosing to his family that he might be gay. This leads to the teen's parents (played by Nicole Kidman and Russell Crowe) sending him to a gay conversion institution, where he meets a therapist played by Joel Edgerton, who also writes and directs the project.
It's clear from just the preview alone that come Oscars time, you'll be hearing a lot about this movie, and the trailer for the emotional drama comes during a period in which viewers are getting several glimpses into potential awards contenders. Hedges' Lady Bird co-stars Timothée Chalamet and Saoirse Ronan will each be heading up their own buzzy movies in addition to the release of other compelling true stories including On the Basis of Sex, which chronicles the early life of Supreme Court Justice Ruth Bader Ginsburg. The lead-up to Oscar season is getting so real, and Boy Erased is just the latest contender.
Likelihood for critical praise aside, this story also has the potential to resonate with young people everywhere who have faced criticism for who they love or backlash from their loved ones about who they truly are. For writer-director Edgerton, dealing with a topic as dark as conversion therapy, which is still legal in 41 states, in the film allowed for a larger conversation about metamorphosis. "You leave Garrard's story feeling like the true conversion that is at the heart of the movie is the conversion of his ideas," Edgerton said before showing footage of the film at CinemaCon, according to Indiewire.
It seems that the entire team behind Boy Erased had a special relationship to the material. For Hedges, working on the film was an unforgettable experience and one that he hopes becomes just as memorable for the audiences that'll go and see it, according to a 2017 interview with Vulture. After all, Boy Erased sheds a necessary light on the legality of conversion camps in most of the country and the harm they can cause. Explained Hedges,
It was the most brutal story I've ever been a part of, and the most heart-wrenching and crushing. But I got to work with some of the best actors out there, period, and learn from them, and have the privilege of telling a story that isn't about me and that has the potential to save lives in terms of how historically significant it is for 2017 and 2018."
Boy Erased comes on the heels of other acclaimed movies centered around LGBTQ+ characters, including last year's Call Me By Your Name and Moonlight the year before. The world needs more and more complex and representative films about LGBTQ+ people being made, and this new film looks like a worthy addition to the mix. No matter which course Boy Erased takes upon its November release, if the trailer is any indication, there are many more tears (and potentially accolades) where that came from.