Here's What To Watch For During The Confirmation Hearings For Trump's SCOTUS Nominee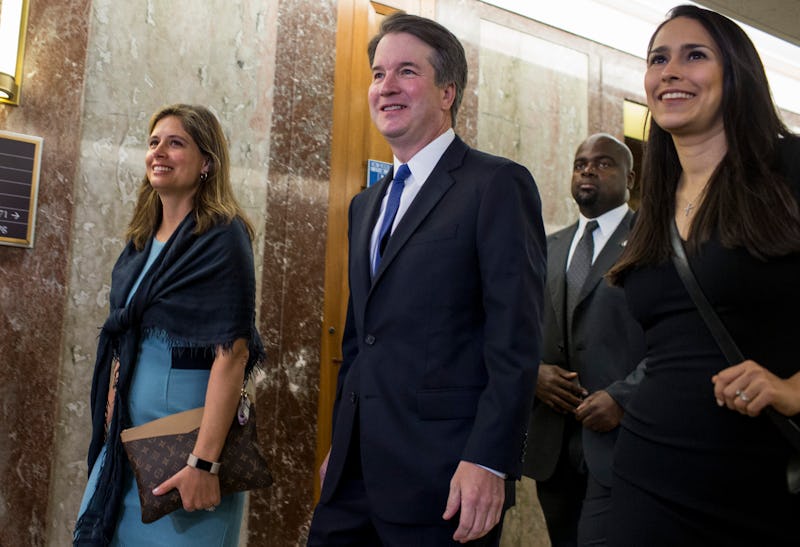 Zach Gibson/Getty Images News/Getty Images
On Tuesday, when Brett Kavanaugh's confirmation hearings begin in front of the Senate Judiciary Committee, the conservative Supreme Court nominee is sure to face a grilling from lawmakers who've been voicing concerns about his record. This week they have the chance to question Kavanaugh about his thoughts on reproductive rights, health care, and executive power — all issues they expect will make their way to the nation's highest court.
"A lot of the questions that we really focus on in hearings, like Roe v. Wade... you're going to see that," Laura Beth Nielsen, a professor of sociology at Northeastern and a research professor with the American Bar Foundation, tells Bustle. "But I think they're going to be less explosive than the parts of the conversations about his previous writings."
Lawmakers have spent the weeks since Trump nominated Kavanaugh digging through his record in an attempt to learn how he'd rule on a slew of issues, from executive power to health care to abortion rights. Plus, each committee member may choose to question him on one of their signature issues: Sen. Dianne Feinstein (D-CA) might ask about assault weapons, while Sen. Cory Booker (D-NJ) could ask about criminal justice reform.
With the weight of a lifetime appointment on their shoulders, and with Justice Anthony Kennedy's swing seat in the balance, there are a few key areas where you can expect lawmakers to dig in during this high-stakes confirmation battle.
The Future Of Roe V. Wade
While nearly 70 percent of Americans say they don't want to see the Supreme Court overturn its landmark ruling that effectively legalized abortion, President Trump doesn't count himself among them. During the third presidential debate in the fall of 2016, then-candidate Trump promised to "automatically" overturn Roe v. Wade as president by appointing only pro-life justices to the high court.
Enter Kavanaugh, the president's second appointment to the bench. While Kavanaugh has assured lawmakers, including pro-abortion rights Republican Sens. Susan Collins of Maine and Lisa Murkowski of Alaska, that he believes Roe is "settled law," you can expect him to be pressed on whether he thinks Roe was settled correctly. Legal scholars say that's an important distinction, because Kavanaugh has shown a willingness to override precedent in the past — and because he praised the dissenting opinion in Roe during a speech last year.
"It's as clear a signal as someone can give, who is a judge, that they would be a vote to overturn Roe v. Wade," says Jed Shugerman, a professor at Fordham University School of Law. "He was sending a message: 'I was a more reliable vote [than past nominees]. You don't have to read tea leaves with me.'"
Lawmakers on the judiciary committee will likely have to read between the lines in Kavanaugh's answers, though. Potential justices are notoriously non-committal during confirmation hearings so they don't voice an opinion publicly that could limit their decisions in future cases.
"He's not going to come out and say 'Roe v. Wade was wrongly decided. I would vote against it,'" an aide to a Democrat on the committee tells Bustle. "I think the key with all things Roe v. Wade with regards to the court is how it could be systematically weakened."
To that end, lawmakers may ask Kavanaugh how he would have ruled in Planned Parenthood v. Casey, the 1992 Supreme Court case that said that states couldn't place an "undue burden" on a woman that keeps her from getting an abortion. Other phrases to watch out for, according to legal experts: "due process" and "equal protection" — questions about both are meant to get Kavanaugh talking about how he might rule on abortion-related issues.
With a young, conservative majority in place, the Supreme Court could pave the way states to pass anti-abortion legislation for years to come. Roe wouldn't have to be overturned outright for women in some states to see their access to abortion restricted or eliminated altogether.
Executive Power
A question at the heart of Kavanaugh's confirmation hearing will be whether he believes a sitting president can be indicted while in office. It's worth remembering that President Trump is reportedly being investigated for obstruction of justice, and that whether a president can be indicted while in office is a serious legal grey area. That means Trump has hand-picked the person who may one day decide whether he faces charges while in office.
That last point is one Democrats are expected to run with, with some going so far as to say that Trump shouldn't have the right to pick a Supreme Court Justice at all. But Randy Barnett, director of the Center for the Constitution at Georgetown Law, says they need to slow their roll.
"[Kavanaugh] might be asked about whether he would recuse himself with respect to all of the cases in which Donald Trump is the party, because Donald Trump is the guy who selected him," Barnett tells Bustle. "And I would think that he'd be able to answer that question 'no'... because in fact, every justice is nominated by a president and no justice that I know of has recused himself of all cases just because a president nominated him."
There's been heated national debate about whether a sitting president can be charged with a crime ever since Trump's longtime personal lawyer, Michael Cohen, implicated him in a campaign finance violation. However, the answer to that question isn't in the Constitution; Congress hasn't made any determination; and the Supreme Court has only gone so far as to rule that it's possible to bring a civil suit against a sitting president. Special counsel Robert Mueller is expected to follow longstanding Justice Department guidelines that say a president can't be charged while in office — but that DOJ decision is still up for debate.
That's why lawmakers have been poring over Kavanugh's past statements on the power of the presidency, including a 2009 article he wrote for the Minnesota Law Review. In it, he argued that presidents should be exempt from criminal prosecution or investigation while in office.
I believe that the president should be excused from some of the burdens of ordinary citizenship while serving in office... We should not burden a sitting president with civil suits, criminal investigations, or criminal prosecutions.
If he proved to be an advocate of executive power, Kavanaugh could push to limit the scope of investigations into the president. Four senators on the judiciary committee are co-authors of a bill to protect Mueller from being fired by Trump: Booker, Chris Coons (D-DE), Lindsey Graham (R-SC), and Thom Tillis (R-NC). They're likely to grill Kavanaugh on past cases concerning executive power, like Morrison v. Olson and U.S. v. Nixon, to suss out whether Kavanaugh thinks Trump's in the clear while he's in office.
The Fate Of The Affordable Care Act
While they've so far failed in their efforts to repeal the Affordable Care Act (a.k.a. Obamacare), Trump and the Republican-controlled Congress have worked to kneecap the law in other ways. The key word to understanding the conversation around the fate of the Affordable Care Act right now is "severability," or whether key provisions of the ACA can be "severed" from the whole law, struck down piece-by-piece. It's at the heart of a lawsuit making its way through a Texas court right now, and lawmakers are expected to question Kavanaugh about that case.
"The Republican approach to the ACA, particularly since they weren't able to fully repeal it outright, has been a 'death by a thousand cuts' approach," the Democratic Senate aide tells Bustle. "When Judge Kavanaugh talks about severability, he's talking about not killing the whole thing, but just slicing off an arm or leg."
The Texas case centers around the ACA's protections for people with pre-existing conditions, which also may be the most popular part of former President Obama's signature law. Those protections are important to lawmakers, even the ones who want to see the ACA dismantled, because of concern about health care costs going up in their home states.
Democrats are pointing to Kavanaugh's past writings, in which he says he believes that "statutes should be severed as narrowly as possible, with the remainder of the law left standing for Congress to deal with," according to Vox. Plus, Kavanaugh is on the record saying that he thinks the Supreme Court was wrong to uphold the individual mandate, a core piece of the Affordable Care Act. That 2012 decision was made in a 5-4 vote, where Chief Justice John Roberts sided with the four more liberal members of the court.
So much attention has been paid thus far to these breadcrumbs from Kavanaugh because Supreme Court nominees are famously tight-lipped during the three-to four-day round-robin of questioning in front of the judiciary committee.
"The Republican strategy throughout the hearing will be to avoid any [talk] about the in-depth issues; have him deflect and dodge and avoid answering anything of substance," a Democratic committee aide tells Bustle.
That's why Democrats also have been up in arms for weeks over being denied access to documents they say they needed to prepare for the hearings. Expect that complaint to take center stage during opening statements, too. And the stakes couldn't be higher: If confirmed, Kavanaugh is eligible to sit on the Supreme Court for the rest of his life, meaning generations to come will be shaped by his decisions.