Here's What Sarah Michelle Gellar & David Boreanaz Really Think About That 'Buffy' Reboot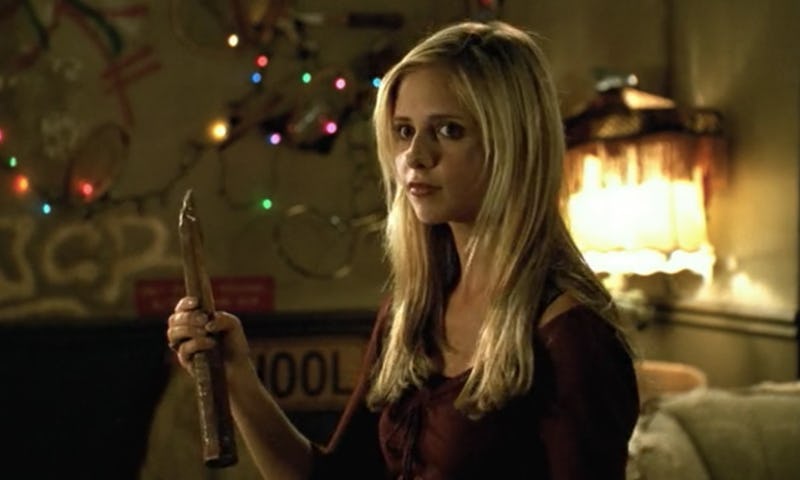 Warner Bros. Television
The upcoming reboot of Joss Whedon's Buffy the Vampire Slayer may have caused quite a bit of controversy amongst fans, but it does have one major supporter: Sarah Michelle Gellar. The actor, who played teenage vampire hunter Buffy Summers in the '90s classic show, revealed on Thursday that she is in favor of the reboot, and its plans to recast Buffy with a new lead.
"At the end of the day, it's all about great storytelling," Gellar revealed to People. "If a story lives on, then I think it should be told in any incarnation it can be told in." Reports of the Buffy reboot first surfaced in July, when multiple outlets reported that Whedon would executive produce an updated version of the story about the Sunnydale teen who fought monsters and demons (and fell in love with a few of them along the way) in between classes. However, some fans of the show were apprehensive about a new version of the show that wouldn't star Gellar, but have a new actor cast in the main role.
But Gellar isn't alone in her support of the reboot in the face of fan backlash — also on Thursday, David Boreanaz, who played Angel for seven seasons on both Buffy and its spinoff, Angel, told a room full of fans at New York Comic Con to give the reboot a chance.
After the crowd reportedly booed when the reboot was mentioned, Boreanaz defended the project, saying, "Come on, guys. It's a good thing. Let's just embrace [it]. I'm very happy for them. They want to embrace a new generation, something new." According to multiple outlets, the actor then added, "I'm all for it. I think it's fantastic. Good for them. I hope that it becomes huge and successful."
When the reboot was first announced, the fan reaction was so intense that the show's writer, Monica Owusu-Breen released a statement on Twitter to assure fans that the new version of the series would honor Buffy's legacy, while introducing a brand new slayer. "For some genre writers it's Star Wars. Buffy the Vampire Slayer is my Star Wars. Before I became a writer, I was a fan. For seven seasons, I watched Buffy Summers grow up, find love, kill that love. I watched her fight, and struggle and slay. There is only one Buffy."
Owusu-Breen also clarified that the reboot will introduce new characters and plotlines, rather than simply remaking the original series. "Joss Whedon's brilliant and beautiful series can't be replicated. I wouldn't try to. But here we are, twenty years later… and the world seems a lot scarier. So maybe, it could be time to meet a new Slayer."
Regardless of which side of the debate Buffy fans fall on, it will still be quite some time before a new Slayer picks up the stake that Gellar set down. According to Deadline, chairman and CEO of Fox Television Group Gary Newman revealed that though plans for a new vampire slayer series are still in the works, there's "actually no script to see" just yet.
"It's still fairly early, we haven't pitched it to any possible licensees yet," Newman said, letting fans know that a potential new series would take at least another year before hitting the small screen.
In the meantime, apprehensive fans might be able to take some comfort in the knowledge that Buffy herself supports a new Slayer stepping up to protect her friends from demons and monsters. After all, there are so many more important debates for fans to have — like, say, officially deciding, once and for all, whether Spike or Angel was truly Buffy's greatest love.