Bustle's Editors On Israel + 'Love Actually'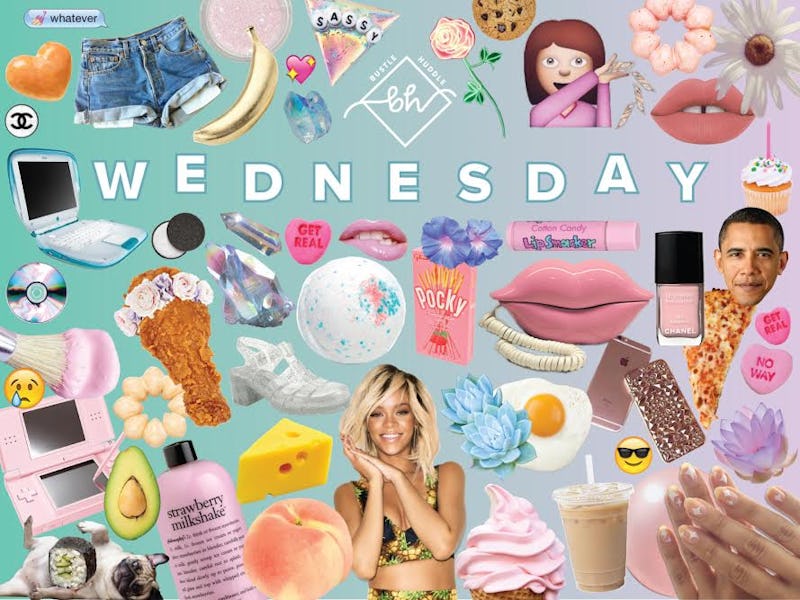 It's hump day! February may be the shortest month of the year, but it's going slooooow. It's hard to believe that it's only the 15th — seriously, doesn't it feel like New Year's was ages ago? Oh, 2017, you insane, chaotic, news-filled year.
Today, of course, was no exception. There were plenty of news and events to keep people's attention. Here's a recap of what stuff got Bustle's editors talking on Wednesday the 15th.
Donald Trump + Israel
On Wednesday morning, President Trump met with Israeli Prime Minister Benjamin Netanyahu for a press conference, during which he veered majorly away from Obama's stance on Israel by saying that he might be open to a one-state solution to the Israeli-Palestinian conflict. This is a pretty huge deal, and you can bet you'll be hearing more about what this all means in the days to come.
Black Mirror IRL: Robotic bees are real things now, so you Black Mirror fans out there are should be totally terrified. Eeek.
Love Actually + A Sequel, Finally
Fans of everyone's favorite holiday rom-com should be psyched, because a Love Actually sequel is finally in the works. OK, it's not a full sequel, but a short film made for Comic Relief's Red Nose Day fundraiser. It'll air in the U.S. on May 25, with both writer/director Richard Curtis and nearly all of the original cast (Hugh Grant! Keira Knightley! Liam Neeson!) onboard.
'90s Kid Alert: Cruel Intentions: The Musical happened, and it was everything you'd hope for. Read Bustle's Leah Thomas' recap of the show and what it was like to see the '90s classic turn into a show-tune-filled play.
Hunter McGrady + Sports Illustrated
The 2017 Sports Illustrated Swimsuit Issue is here, and while the whole magazine is notable for being pretty awesomely diverse, it's Hunter McGrady's inclusion that's getting the most attention, for good reason. McGrady is one of the curviest models ever featured in the annual issue, and her Sports Illustrated photos gorgeously show off her body in a way magazines rarely do for plus-size models.
Save The Date: The next major feminist event after the Women's March, A Day Without a Woman, will take place on March 8 — which just so happens to be International Women's Day. Get your signs ready.
Book Lovers + Jessica Jones
As if playing a Marvel superhero on TV wasn't cool enough, Krysten Ritter is now going to be a published author. The actor is writing a psychological thriller called Bonfire, and it'll be available to purchase sometime next year. This is one novel that superhero fans will not want to miss.
Pro Tip: Following the news 24/7 can be exhausting. It's important to take breaks from politics every so often, and these 28 little ways to do so are worth trying out.
Today's WTF Moment: Stress levels in America are way higher these days than they were last year. Wonder why...
What to Watch: Tonight is the series premiere of Doubt, a new CBS drama marking Grey's Anatomy alum Katherine Heigl's return to TV and co-starring Laverne Cox and Dulé Hill. Check it out.