Bustle's Editors On Friday The 13th & Trump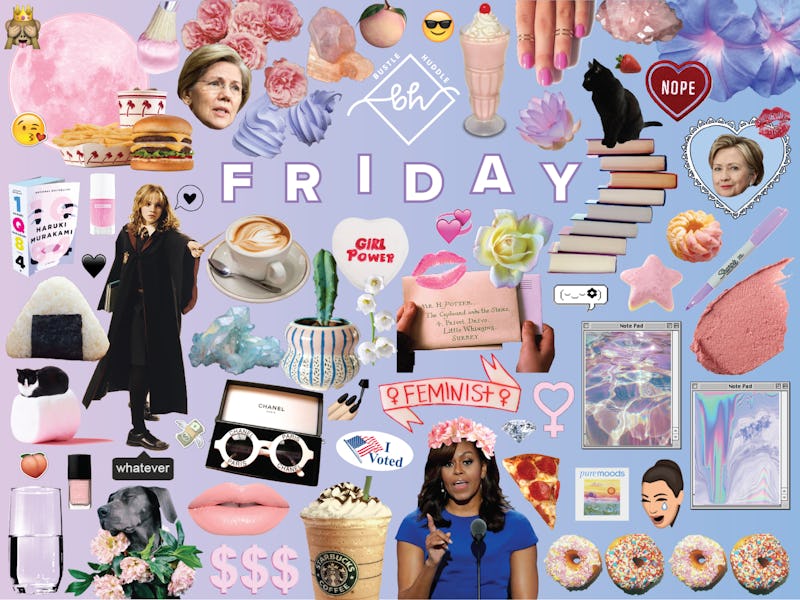 What a week, amirite? Between the Golden Globes on Sunday, President Obama's farewell speech on Tuesday, and Trump's *interesting* first press conference of 2017 on Wednesday... I don't know about you, but I was running on empty by Thursday. So, yes, I'm about ready for a cocktail or two by now. We all deserve to unwind this weekend.
Before you officially head out for happy hour, here's what Bustle's editors were talking about today, Jan. 13.
Friday The 13th + Superstitions
Whether or not you're superstitious, you're probably still a little on edge every Friday the 13th. No, there's no real evidence to prove that today will be unlucky, but these Friday the 13th superstitions — we're talking about everything from why 13 is considered an unlucky number to why you should never, ever open an umbrella indoors — have been around for hundreds of years. You're probably fine, but you may want to avoid black cats today. You know, just in case.
WTF of the Day: Paul Ryan proved that he could "dab" during his town hall session late Thursday, but this is what we'd rather be focusing on.
Trump's Inauguration + 3 Doors Down
We're officially one week away from President-elect Trump's inauguration (I know...), but we've heard more about which celebrities won't be participating in the event than those that will be. Until today, that is. Trump's inauguration lineup was released and, well, it's a little short. Toby Keith, 3 Doors Down, Jon Voight, and 16-year-old soprano Jackie Evancho are all set to be in attendance.
3 Doors Down immediately started trending on Twitter after the lineup was released and fans were understandably unhappy about the news.
How To Protest If You're Not In D.C.: Can't make it to the Women's March on Washington on Jan. 21 (A.K.A. the day after the inauguration)? No worries, dozens of marches and events are taking place across the country next week. Here's how to find one near you.
Celebs + New Looks
If you've been thinking about getting a new haircut for 2017, now might be the time. Selena Gomez debuted a lob the same day that Kylie Jenner revealed a short blonde bob, so if you were looking for a reason to make that hair appointment, look no further. Looks like short hair is in!
Talk about #HairGoals...
Shopping Break: Have thick hair? These powerful blow dryers will seriously cut down your styling time and reduce frizz. 🙌
Michael Jackson + Paris Jackson
Joseph Fiennes' Michael Jackson project has officially been scrapped. That's right: After outrage by the public and among Jackson's family that a white man had been cast to Jackson, the network announced their decision to cancel the project through a series of tweets.
What to Watch: These are the 35 most chilling documentaries on Netflix, so they've basically got "Friday the 13th" written all over them. Watch if you dare.
Here's What To Expect This Weekend: Whether your weekend plans are already set in stone or you're a plan-as-you-go type of person, here's what you can expect this weekend, based on your zodiac sign.
Images: Dawn Foster, Chelsea LaSalle, Alyssa Foote