Bustle's Editors On 'Charmed' & Free Birth Control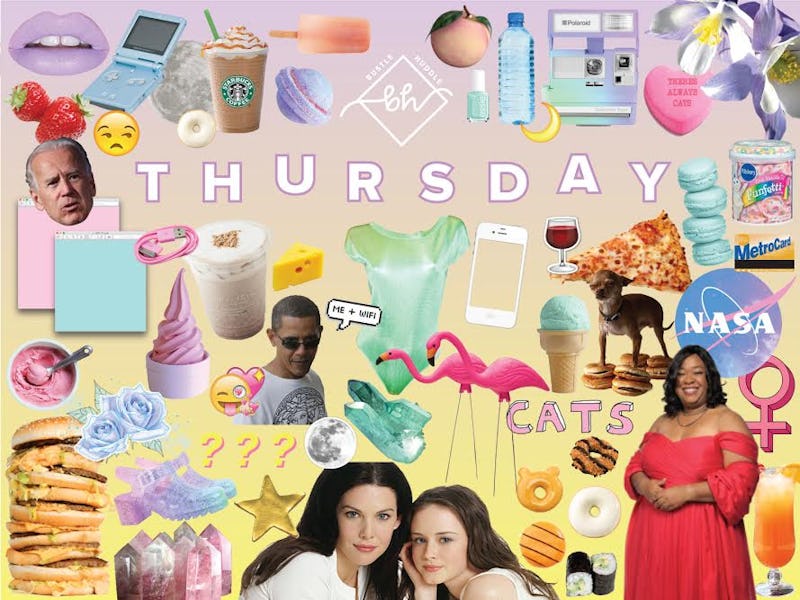 Happy Thursday, everyone! The weekend has almost arrived and January is moving along pretty fast, so spring will be here before we know it (right? Right). Today was full of big news, whether it concerned '90s fans (hello, Charmed reboot!) or Drake (that Nicki Minaj-Meek Mill breakup). Read on for more on those events, plus the other news that got Bustle's editors talking today, Jan. 5.
Charmed + Reboot Alert
Huge news, '90s fans — a Charmed reboot is happening on the CW, and the brilliant team behind Jane the Virgin is running the show. The reboot will reportedly be a "reimagining" of the original series, and it'll be set in 1976. It's unknown if the Halliwells will appear, but regardless, this reboot sounds like perfection.
R.I.P. Girl Meets World: Sad news for fans of the Disney Channel's Girl Meets World. On Thursday, the show's Twitter account confirmed that Season 3 will be the series' last. Soon after, star Rowan Blanchard posted an essay detailing her feelings on the show and its cancellation, saying, "Being on Girl Meets World is the most significant event in my life thus far." We'll miss you, Riley.
Birth Control + Donald Trump's Hands
It turns out that some good has come out of all that Trump talk about the size of his hands during the election. Nurx, an app that delivers birth control to users' doors, is running a new promotion: from now until Jan. 31, users can use the code "TinyHands" to receive a $45 credit. Pretty brilliant, especially considering that Trump still seems set on repealing the Affordable Care Act, which provides free birth control to those in need.
Joe Biden, Professor? Oh, Joe. On Wednesday, the VP accidentally revealed his post-White House plans, thanks to a hot mic. It looks like Biden will be working with two universities, the University of Delaware and the University of Pennsylvania, so heads up, incoming students — perhaps you could be taking a class with Professor Biden down the line.
The Chicago Kidnapping + BLM
Many people were horrified on Wednesday by the report that four 18-year-olds had allegedly kidnapped a young man with mental health challenges and proceeded to live-stream their abuse of him. The teens were arrested, and when the news went public, some people immediately deemed the incident related to the Black Lives Matter movement (the alleged attackers are black, while the victim is white), despite there being no evidence of a connection. Activist DeRay Mckesson, among others, has denounced the teens' actions, but that hasn't stopped the #BLMKidnapping hashtag from catching on, unfortunately.
PSA: In a new video by the group Humanity for Progress, celebs like Sally Field, Janet Mock, and Steve Buscemi come together to urge Congress to hold Trump accountable for his administration's harmful actions by blocking discriminatory nominees and policies. Watch it below.
Nicki Minaj + Meek Mill
After months of speculation, Nicki Minaj confirmed on Thursday that she and Meek Mill are no longer a couple. The duo started dating in 2015, but since then, it's been a rocky road — and it seems that they're done for good, according to Minaj's tweet. Unknown how Drake's handling it all.
#TBT: Remember the days of MTV's TRL? Take a walk down memory lane by revisiting celebs' early '00s looks on the show, and comparing them to today. Just wait 'til you see XTina.
Korean Beauty Products + Your Skin
Korean beauty products are everywhere these days, but having so many options can be a bit overwhelming, even for hair and makeup addicts. These 23 Korean beauty products, though, are dermatologist-recommended, so you can bet that they'll change your morning routine in a major way.
KardashiJenner Update: Kendall Jenner's totally-fake-but-still-badass snake tattoo on the cover of V magazine is driving everyone crazy. See it for yourself below.
Today's WTF Moment: According to one sleep expert, wearing sunglasses at night can help you sleep better. You might feel ridiculous, but hey, at least you'll get some ZZZs.
What to Watch: The Good Place is back, you guys! After a two-month break, the hilarious Kristen Bell-starring comedy is returning to NBC at 8:30 p.m. Don't miss it.