Kyle Chandler & George Clooney Are Just TWO Of The Reasons To Watch Hulu's 'Catch 22'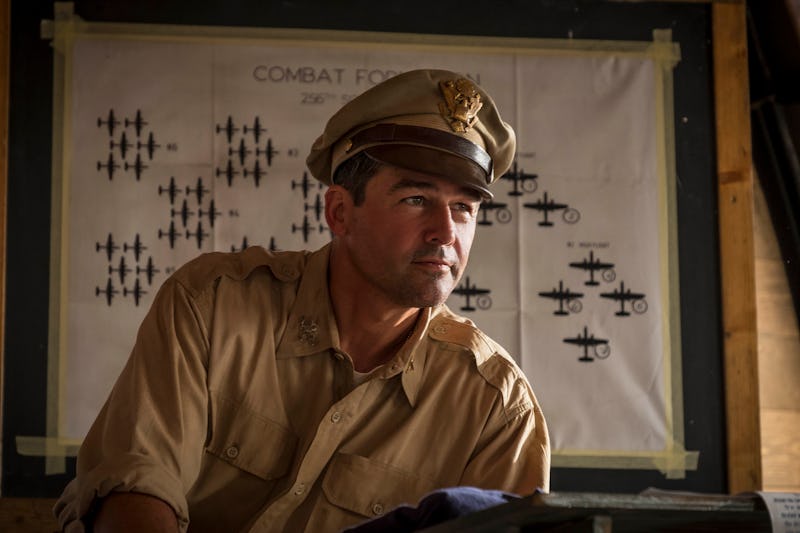 Philipe Antonello/Hulu
The days are getting longer and TV comedies are getting darker. Netflix had a recent wave of success with Christina Applegate's Dead To Me and now Hulu is going the black comedy route with Catch-22, a six-part limited series based on the 1961 Joseph Heller novel of the same name. Catch-22's cast is filled with a mixed bag of A-list movie stars and rising actors who will bring this story to life.
Per Hulu, the series follows John Yossarian, a World War II United States Air Force bombardier who is frantically trying to survive his mounting missions in Italy. Yossarian and his group of friends are more weighed down and frustrated over the bureaucracy of the military than they are of German soldiers.
The events of this show are centered around an absolutely ridiculous Catch-22 by-law that says If you fly missions, then you are crazy and don't have to fly them if you ask to not fly. But, if you ask to not participate, then you are sane so you still have to fly anyway. Wait, what? It's clear how this law will lead to some hilarious moments to balance out the real-life inspired darkness of being a wartime soldier. And, if Catch-22's trailer is any indication of what fans can expect, it will be a fun ride.
Dark comedies walk a fine line that only the best thespians can truly balance. And, most of this cast have the resumes to prove that they can make Catch-22 a successful live-action venture. Here's what you need to know about the actors taking on this interesting story.