The Food Lineup At Coachella This Year Is So Gorgeous It's Going To Break Instagram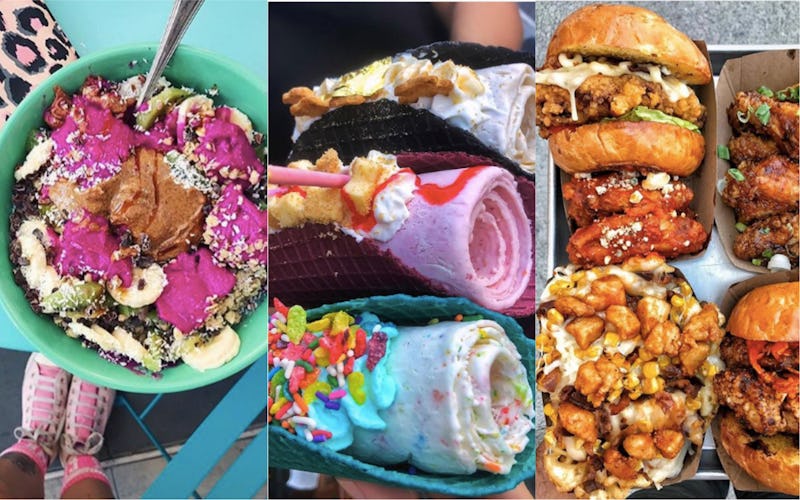 backyardbowls/Instagram; sweetrolledtacos/Instagram; wingmankitchen/Instagram
I know, I know — the point of Coachella is the music. But I'm not going to lie: If I were ever to go, I would be going to Coachella for the food. Never has this been more apparent to me than it was after I read the food vendor lineup for the 2018 Coachella festival, which was announced on Tuesday; while perusing the somewhat overwhelming list, all I could think was, "Beyonce? Haim? Cardi B? I mean, sure, they're great and all… but show me a rolled ice cream taco and I am there."
Coachella has been taking place annually since 1999. Interestingly, although the festival is generally held in the spring, the very first one took place in October. In 2018, though, it's continuing the spring tradition; in fact, it all kicks off soon: The festival runs from April 13 to April 22 this year, and folks who find music festivals to be Their Thing generally can't wait.
Music festivals are not generally my thing — but outrageous food is, which is why I'm having so much fun perusing the recently released vendor lineup. And what's more, as one explores the admittedly somewhat overwhelming Eat and Drink page on the Coachella website, something rapidly becomes clear: Food Instagram is going to be on fire during Coachella this year.
More than 100 vendors will be on site serving every kind of food you can imagine; what's more, a wide variety of experiences will be available, from good old-fashioned food trucks to chi-chi sit-down meals. I think it's safe to say that we'll be seeing a lot of artfully shot food pictures emerging from this year's festival; I only hope those snapping them remember to actually, y'know, enjoy the food from a gustatory perspective, too.
Here are 13 of the most Instagrammable options that will be available at Coachella this year; head on over to the Coachella website for more.