The Instagram-Famous Color Factory Has 16 New Rooms With Built-In Cameras For Photo Opps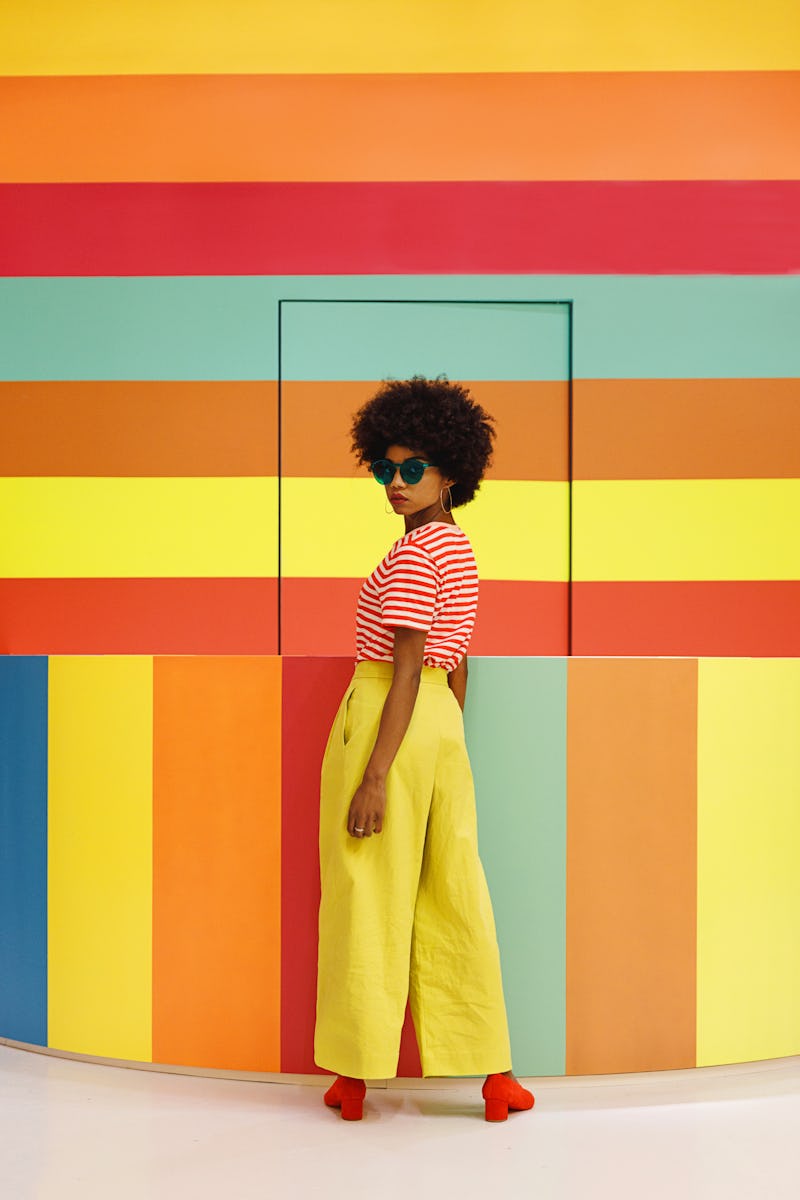 Courtesy of the Color Factory
By now you are well-aware of all the iterations of Instagrammable pop-up museums that have hit your news feeds as of late, from the Museum of Ice Cream to the Rosé Mansion to a legit upcoming Pizza Museum. So naturally, you've probably already heard tell of The Color Factory, an experiential art exhibit that recently wrapped a successful eight-month run in San Francisco. Good news to anyone with FOMO — The Color Factory reopened in New York City on August 20 with 16 brand spanking new rooms to explore.
In case you weren't already aware of the lore of The Color Factory (perhaps you took an Insta cleanse?), the first version of the exhibit was only meant to last a month; it ended up being so popular that not only did it sell out, but the Eventbrite webpage hosting the ticket sales temporarily crashed, per Curbed. The new 20,000 square foot space in SoHo promises to be every bit as engaging, colorful, and unexpected as the first, and features a long roster of impressive collaborators who helped tailor-make each of the new rooms — many of whom are local to New York, and give the entire exhibit a very grounded vibe, despite it being a temporary installation.
Right now, tickets are selling for $38 per person, and include admission to the exhibits, edible treats you can eat along the way, and, of course, enough Insta opps to break a millennial brain. Bustle had the chance to tour the new exhibit before it opened to the public last week — here's a sense of what the exhibit has to offer, if you want more deets before you commit.
The Exhibit Is SO Much More Than Instagram Bait
Before we talk 'grams — which, believe you me, I WILL be talking about — we need to discuss emotions. I would loosely describe my experience of being at The Color Factory as being inside of a Carly Rae Jepsen bop for an hour. Each of the rooms — which include a room where you stare intimately at someone and compliment them using colors, a room where you walk a life-size decision flow chart that leads you to a tiny room devoted to the color that suits you best, and a room full of flying colorful balloons inscribed with wishes for the world from little kids — will hit you right in a very specific feel.
The rooms are also aggressively hands-on. You can bop balloons, break it down on a dance floor, and even lay on your back and spin on a technicolor table. And just in case you have any senses left that aren't totally overwhelmed by pretty colors and feelings, The Color Factory also offers sweet treats that tie into the experience in various rooms. I don't want to spoil all of them for you, but I will say that one of them involves a rotating belt of macarons in all different colors of the rainbow that you're going to want to Boomerang like whoa.
... But To Be Clear, It's Also *TOTAL* Instagram Bait
In the wise words of Rihanna, "Baby, this is what you came for." Not only are most of the rooms Instas waiting to happen, but The Color Factory offers a hack that will have you wondering if you're living in 2028 instead of 2018. After you enter the exhibit, you can opt to get a plastic code with a personalized barcode assigned to your email or phone number. In select, especially Instgrammy rooms, you'll be able to swipe your card's barcode to prompt a camera to start counting down from five, allowing you to pose for a picture in the room. Once it snaps your pic, it'll instantly send it straight to you — no muss, no fuss, no awkward guilt at having your friend tail you like a well-meaning Instagram Mom. The future is now!
The Experience Goes Well Beyond The Museum
At the end of the tour, you're given a Color Map, which highlights all kinds of other fun, colorful surprises you can find in the city related to The Color Factory. So while it will take you about an hour to go through all the rooms in the exhibit, your experience is really only just beginning when you walk back out the door.
You can buy tickets for specific time slots at The Color Factory's website here — just make sure to get them sooner rather than later, because if the sold-out run in San Francisco is any indication, these tickets won't be around long.