'Star Wars' Fans Should Pay Attention To John Boyega In 'Detroit'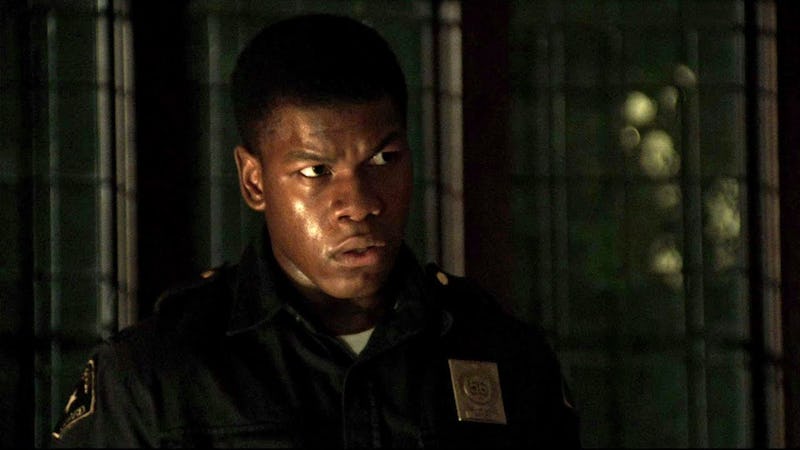 Annapurna Pictures
There will be no shortage of movies coming out this fall that you'll want to be sure not to miss, as summer blockbuster season fades into the prestige months leading up to the Oscar race. But, judging by the new trailer for Detroit, this historical film by Kathryn Bigelow — the only woman in history to win an Academy Award for directing — should be at the top of your list. There are a lot of reasons to be excited about the movie: its acclaimed director, screenwriter Mark Boal, and a topical true story about the Detroit riots of 1967. But Star Wars fans will find a special something to look forward to in the new trailer, and that's the spotlight thrown on Detroit star John Boyega.
While the film has a sprawling ensemble cast to appropriately match the sprawling nature of the historical event it's depicting, the newest trailer makes it clear that at the center of this hurricane of violence will be Melvin Dismukes, the real-life security guard portrayed by Boyega. The 25-year-old British actor is of course, best known as Imperial Stormtrooper-turned-Resistance fighter in the new Star Wars trilogy.
And this focus makes sense, because Dismukes found himself embroiled in one of the most documented scenarios that occurred within the scope of the five days of riots, known as the Algiers Motel Incident.
Boyega has appeared in a number of acclaimed roles, from his breakout performance in the sci-fi film Attack The Block to his appearance in the 24 revival Live Another Day and his part in the recent tech thriller The Circle. But out of all the characters he's played, somehow it's Finn — aka FN-2187 — the fictional space warrior who appears to have the most in common with the historical figure he's portraying in Detroit. Like Finn, Dismukes found himself in the middle of a bloody confrontation that conflicted with his beliefs; and, ultimately, he found himself persecuted by the very system he had been a part of.
The Detroit trailer ratchets up the tension by interspersing the action at the Algiers Motel with flashes of Dismukes being interrogated by cops after the incident's violent resolution. At least in The Force Awakens, Boyega's character had an ally, Poe Dameron, to help him escape. In Detroit, it appears that Dismukes is very much on his own… and, in the end, this real-life event wasn't a Lucasfilm production, and the chances of it having even a semi-happy ending seem depressingly low.
Of course, Star Wars isn't the only major franchise or popular television series represented among Detroit's all-star cast. But hopefully Boyega's central role will help tide Star Wars over until The Last Jedi hits screens in December.