Acting On 'The Deuce' Amid #MeToo Is A 'Strange, Meta, Confusing Thing,' Says Emily Meade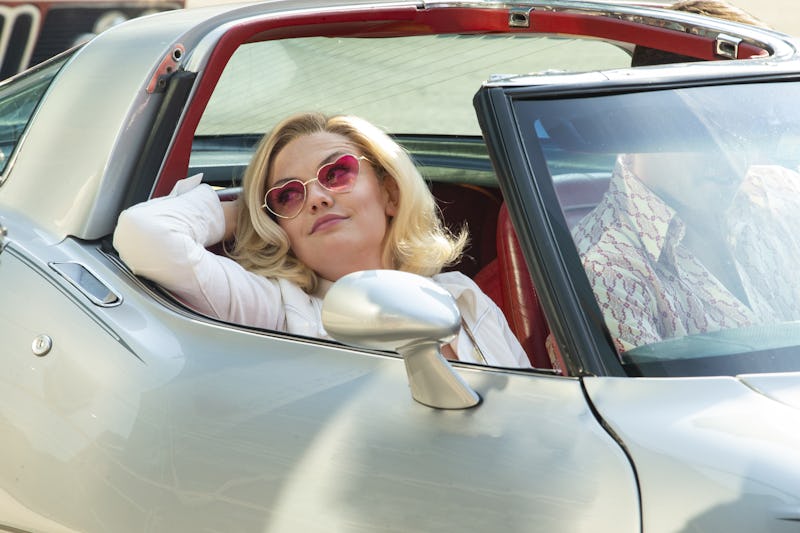 Paul Schiraldi/HBO
Spoilers for The Deuce Season 2 follow. The Deuce Season 2 comes to an end on Nov. 4, but its influence will be felt in other HBO productions due to a major behind-the-scenes change. One of the stars, Emily Meade, brought an "intimacy coordinator" to The Deuce through discussions with the show's creator, and it's changing how sex scenes get made. Sort of like a stunt coordinator, the intimacy coordinator acts as a supervisor for sex scenes, ensuring that protocols are followed and that everyone feels comfortable on set. After years of playing highly sexualized characters on The Deuce and in other projects, 29-year-old Meade tells Bustle that the Time's Up movement inspired her to speak up for herself when she felt uncomfortable filming sex scenes. Her advocacy efforts led to the hiring of Alicia Rodis on The Deuce; HBO has since announced that intimacy coordinators will oversee all sex scenes on the network from now on.
Meade portrays prostitute-turned-aspiring-porn-star Lori on The Deuce, which gives an unflinching portrayal of the sex industry in 1970s Times Square. In the penultimate episode of Season 2, Lori's pimp C.C. rapes her as one final act of control before she leaves him to go pursue her pornography career. (Gary Carr's C.C. is also subsequently killed in an unrelated incident.) With such sensitive content, an intimacy coordinator — who helps plan the sex scenes, acts as a liaison between the cast and creators, and is present on the day of filming to provide emotional and physical support to the actors — seems like a no-brainer. But Meade says she had to speak up in order to get someone on set whose specific job description is to supervise these tricky scenes and ensure the actors feel comfortable.
"I've always had dreams of revolutionizing things in a feminist way. And that has kind of slipped through my fingers and felt more and more impossible [in this industry] to have any sort of positive impact, especially in the way of women or sexuality," Meade says. "Not taking even full credit or anything, but to have any hand in systematic change like that has been definitely my proudest moment in my whole career."
Still, having an intimacy coordinator present is just a small step, and there's a lot more work to be done in managing power dynamics on sets (or elsewhere, for that matter). Meade says that she's considered the possibility that additional progress may not be as easy to enact when it comes to ensuring that people of all genders in Hollywood feel safe in their work environments. Having an intimacy coordinator on sets solves a very specific problem — making sure everyone knows how the sex scenes should go, that they are safe, and that people feel comfortable.
"But I don't know if there's a way to spread that [concept] to beyond just on set and sex scenes to business meetings or in personal interactions," Meade says. It's apparent that she's still struggling to make sense of what is a very toxic culture in the entertainment industry and beyond. One major goal of the #MeToo movement is to get to a point where a woman or man wouldn't need a "chaperone" to meet with someone of the opposite sex to talk business or in a strictly non-sexual setting. Then again, Meade struggles with some of the ideas behind the #MeToo movement, too.
For example, Meade says that she doesn't think the public addresses sexual misconduct allegations with enough nuance; she believes there's a tendency within the #MeToo movement to "just get rid of" people who are accused of sexual harassment or assault.
"Do we shut down a show because someone's been accused to make a statement or do we make a statement on a show, even inclusive of someone who has been accused?"
Meade has publicly supported the #MeToo and Time's Up movement, but she is also concerned that the public discussion around sexual harassment and assault allegations will somehow backfire. "It's hard to have global, large conversations on a nuanced level, but we have to be aware that the more reactionary we are, the more ultimately people are going to be afraid to speak [up] all over again," she says.
As she talks, it's impossible not to think about the accusations made against Meade's costar, James Franco. Earlier in 2018, five women came forward to the Los Angeles Times, alleging his sexual misconduct in both personal and professional settings. HBO kept him on The Deuce in his dual roles of twins Vincent and Frankie Martino. Bustle's requests for comment from Franco's representatives were not returned, though a spokesperson for HBO tells Bustle in an emailed statement that it has "nothing to add to what's been said in the past," referencing their January 2018 statement to Deadline that they had "verified that no complaints about Mr. Franco have come in on The Deuce production." Also in January 2018, Franco denied the allegations in an appearance on CBS' The Late Show with Stephen Colbert.
In this interview, though, Meade says that news of the allegations against Franco has been stressful for her and the rest of the cast. But she notes that even just talking about the difficulties surrounding sexual assault allegations is "an important part of the conversation." She says that most of the cast, who have "less of a voice than James" because of his celebrity, are still trying to figure out how to talk about something that had nothing to do with them.
"That's one of my examples of where #MeToo and Time's Up need to get more nuanced because everybody has been so afraid," she says. Meade says that she "even was afraid to do press at all for the premiere of The Deuce" this season, worried that people would somehow connect the intimacy coordinator she brought on to Franco and that her achievement "would be skewed and people would be suspicious" that there was something other than good intentions behind her hard work.
To be clear, Meade notes that her wanting an intimacy coordinator on set had nothing to do with Franco. "The two things are separate subjects," she says. However, Meade does see the irony of bringing an intimacy coordinator on the set of a show that's all about sex and power dynamics that also stars a man accused of sexual misconduct and verbal and physical abuse. "Yeah, it's such a strange, meta, confusing thing," she says.
But in the end, Meade seems to agree with what her costar and Deuce producer Maggie Gyllenhaal said in an interview last month with Sway Calloway on his SiriusXM show, Sway in the Morning, about the show being able to exist outside of the controversy surrounding one of its stars.
"Do we shut down a show because someone's been accused to make a statement? Or do we make a statement on a show, even inclusive of someone who has been accused?" Meade says. "I'm hoping we're striking an important balance of both telling a story narratively, but then also actually enacting change within the system behind the scenes. So I'm actually quite proud of how it's turned out even if it's been a little bit of a confusing road to get there."
She adds: "I like James. I've had a professional experience with him. Anyone else's experience with him is their experience with him. And that is completely valid." But she does note that it's frustrating, albeit understandable, that the conversation about her work often centers on him. "As a woman in less power [and celebrity] than James ... my word count is being used on him," she says. "Whether it's positive or negative attention to the men in power, it's still taking the voice away from the women."
Still, it's not a topic that she's programmed to ignore. "I don't know yet [what to do] other than to speak about these things as honestly as possible," she says. "But I'm definitely thinking about it all the time." Meade adds that having more women in positions of power (seven out of the nine episodes of The Deuce Season 2 were directed by women) will help further change the narrative surrounding sex, power, and gender dynamics.
Regarding some of her own negative experiences in the industry that led her to ask for the intimacy coordinator in the first place, Meade has actually made peace with them. "Any resentment or [anything] I've had with being sexualized, it's like, 'If I wasn't in this industry, I wouldn't be able to enact this change.' And now I'm totally grateful for it," she says. And with HBO shifting the professional expectations for sex scenes, many other actors will end up being grateful to Meade for working toward a safer, more empowered workplace.