The Ed Sheeran Documentary 'Songwriter' Undoes Everything You Think You Know About His Songs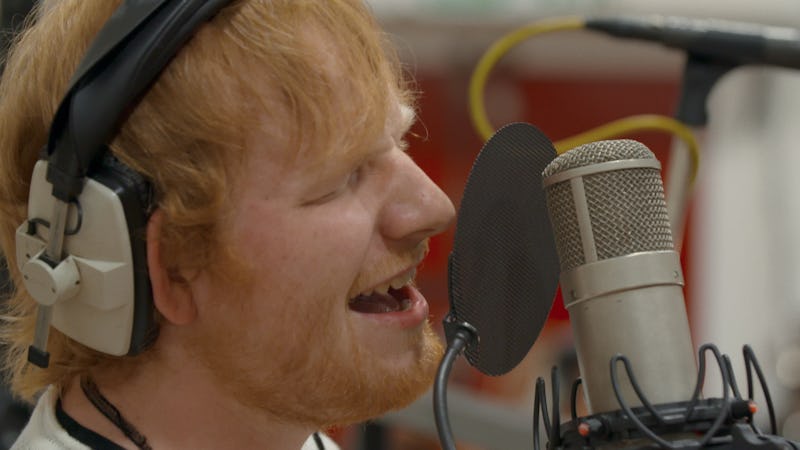 Apple Music/Abramorama
The opening scene of Songwriter, an intimate new documentary about Ed Sheeran, finds the Grammy-winning musician sitting on a tour bus in his pajamas. As the bus is drives through the night, Sheeran plucks away on his guitar and a melody bursts through. It might not be immediately recognizable, as the artist is just experimenting, but once he starts improvising the lyrics, the tune becomes instantly familiar. "Cause if you like the way you look that much than maybe you should go and love yourself," Sheeran croons. For those who didn't know that Justin Bieber's chart topper "Love Yourself" was written by Sheeran, the moment might come as a shock. But the surprising origins of the music are the backbone of Songwriter, which undoes everything you thought you knew about Sheeran's songs.
Songwriter, in theaters now and on Apple Music Aug. 28, was directed by Murray Cummings, Sheeran's cousin. Speaking to the filmmaker over the phone recently, I confess that prior to the doc, I had no idea that Sheeran had written the Bieber hit. That, he says, was meant to be the point of the movie. "Exactly what happened to you is the reason why I wanted to [open the film] that way," Cummings explains, adding that he wanted to offer up a side of his famous cousin that few people get to see: the songwriter. Says Cummings, "He writes songs and whether it's for his own projects or for other people, he writes and he's always writing."
Cummings' film documents the jam sessions, writing marathons, studio recordings, and digital tune ups that resulted in Sheeran's 2017 album Divide. But Cummings had actually been filming his cousin since 2008, when the then-unknown singer made his way to London to crash on Cummings' sofa and break into the open mic scene. "He would just go up on stage and say 'Hey, if anyone gives me a place to stay tonight, I'll give you a gig in your house and if you give me a cup of tea in the morning, I'll be really grateful," Cummings recalls of Sheeran's early years, laughing.
After years of filming Sheeran for various projects as the singer's success grew, Cummings decided to get more intimate and focus on the birth of an album, rather than the fame, fans, and paparazzi that ultimately follow. "I wanted it to just be about the actual writing of the song and how it comes to b. A lot of his life is covered, so even though some people might find those things interesting, they know them already," Cummings explains. "I wanted to show them things that only I shot that they haven't seen before."
While the overall look at Sheeran's songwriting process is exciting, the film's high points are when it reveals a backstory to a song on Divide that may have otherwise gone unknown. For example, the origin of the ballad "Supermarket Flowers", which initially confused listeners with its lyric "you were an angel in the shape of my mom," gets a real explainer here. It's divulged that the song is about Sheeran's grandmother's illness and death, and the grief-heavy ballad was the only recording session that Cummings didn't film. "He was trying to get into a very important emotion and vulnerable place to be able to [sing] a song that close to home," Cummings says of Sheeran. "It's moments like that that I kind of understand. You need to be able to feel comfortable when you're writing songs, so I was more than happy not to film that one."
As the doc reveals, Sheeran was actually hesitant to even play the song for his mother. His father listened first, supportive and enthusiastic. But when papa Sheeran urged Ed to play it for his mother, the singer balked, unready. He eventually did, but that was another moment too personal for Cummings to record. "There's a line there between family and I wouldn't want to draw attention to moment like that between him and his mom," the filmmaker explains.
Other behind-the-scenes facts about each song litter Songwriter. In one scene, as Sheeran improvs the opening rap to "Galway Girl," he turns to his songwriting partners and says, "But we could never call it 'Galway Girl', of course," citing the popular Irish tune that plays in practically ever bar 'round the Emerald Isle. But of course we all know how that turned out. Then there's Divide's biggest hit, "Shape of You," which was the last song written for the album. The doc shows that despite its eventual massive success, Sheeran held the song close in his back pocket, knowing full well that his label execs would request an additional tune for the album.
It's these little secrets that make Songwriter an essential watch for major Ed Sheeran fans and an interesting introduction for casual listeners. But just because the songs may have mysterious origins doesn't mean Sheeran himself has anything to hide.
"He really does live with his heart on his sleeve and he tells you everything either in an interview or in his lyrics or it's literally tattooed on his arm," Cummings says, laughing. "He just loves his cats... and playing music. That's it." Simple enough.