The Emmys Snub 'RuPaul's Drag Race,' And Here's Why That's A Total Travesty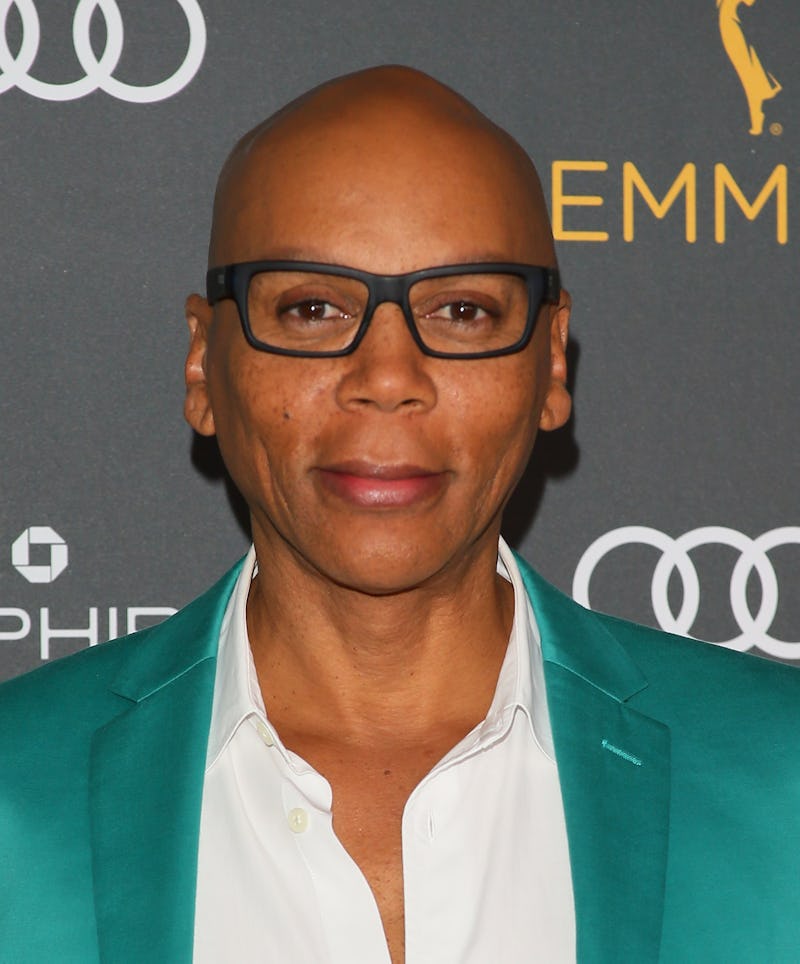 JEAN BAPTISTE LACROIX/AFP/Getty Images
RuPaul Charles didn't just create a reality television show — he brought more than 100 drag performers into the spotlight, created a platform to elevate marginalized voices, and provides a source of empowerment for young people. On Sunday, RuPaul's Drag Race didn't win Best Reality Competition at the Emmy Awards, and it was a major snub. The Voice ultimately took the trophy. And while other shows nominated included longtime reality TV staples like Project Runway or The Amazing Race — which are entertaining in their own right — Drag Race is a cultural force in a way few reality series will ever be. The impact this series will continue to have on contemporary culture is significant.
Sure, the other reality series nominated have committed fan bases and popular formats, but RuPaul's Drag race represents a larger cultural movement. This year, the U.S. entered a dark period of regressive politics. In the face of rampant hatred and inevitable attacks on marginalized communities, Drag Race — with its message of self-acceptance and inclusivity — is exactly the kind of work worth rallying around. It's a show that's promoted LGBTQ equality since its inception, and is helping to open up the cultural conversation about gender. On Season 9, a queen named Peppermint made history as the first openly transgender woman to enter the competition.
Given what a meaningful series it is, fans couldn't believe the snub either. And they made their voices heard:
While the social and political implications of the show's growing popularity are noteworthy, RuPaul's Drag Race is also a well-produced, highly entertaining show. It has a little bit of everything — fashion challenges for the Project Runway lover, modeling mini-challenges that are reminiscent of America's Next Top Model, and singing and choreography challenges to appease fans of talent series like American Idol. The note that Season 5 winner Jinkx Monsoon hits in RuPaul's "Can I Get an Amen?" would make any contestant on The Voice envious. At the end of each episode, two queens must lip-sync for the chance to stay in the competition. In short, it takes a lot of charisma, uniqueness, nerve, and talent to become America's Next Drag Superstar, and that makes for some great television.
RuPaul's Drag Race is unique. When contestants share their stories, their vulnerability resonates with audiences. In a country where 40 percent of homeless youth identify LGBT and LGBT youth are more inclined to suffer from mental health disorders, this representation matters. It's important that young people are able to find a support system, and at the very least, the stories told on Drag Race are a reminder that nobody is alone in their experience.
Emmy or not, RuPaul's Drag Race is going to be on the air for a long time. In August, Variety reported that RuPaul's Drag Race would return for two more seasons on VH1. In early 2018, a third season of RuPauls Drag Race: All Stars, a spin-off series that brings back queens from past seasons for a second chance at the competition, will air. In the spring, the show's 10th season will also begin. In addition, the channel will air episodes of Untucked, a popular show where queens discuss the competition backstage as the judges deliberate. In recent seasons, Untucked has found a home online, and its return to TV represents a growing interest in the series.
The second season of All Stars was a defining moment for the show. By stacking the series with fan favorites and creating a shocking twist to the format, All Stars 2 hit record ratings. It was the popularity of this season that allowed the show to move from its longtime home on LogoTV to VH1. While Drag Race has a devout fan following, the show was able to find an even bigger fanbase by making the jump. It gave the series a chance to grow, and the season for which it is nominated kicked off with Lady Gaga as a guest judge, upped the ante in the fashion department, and required contestants to write and record original music.
After almost a decade of being on the air, Season 9 was a record-breaking moment. The finale was the show's most watched ever, with VH1 reporting that 859,000 tuned in to watch Sasha Velour snatch her own wig filled with rose petals and claim the crown. The brainy, politically minded queen will carry on the show's legacy for the next year.
At the end of every episode, RuPaul asks the contestants, "If you can't love yourself, how the hell are you going to love somebody else? Can I get an amen?" RuPaul's Drag Race didn't necessarily need love from the academy to continue on as a cultural force, but it would've been nice to see it get the recognition it so rightly deserves.