Photos Of 'Bachelor' Star Chelsea & Her Son Show Their Strong Bond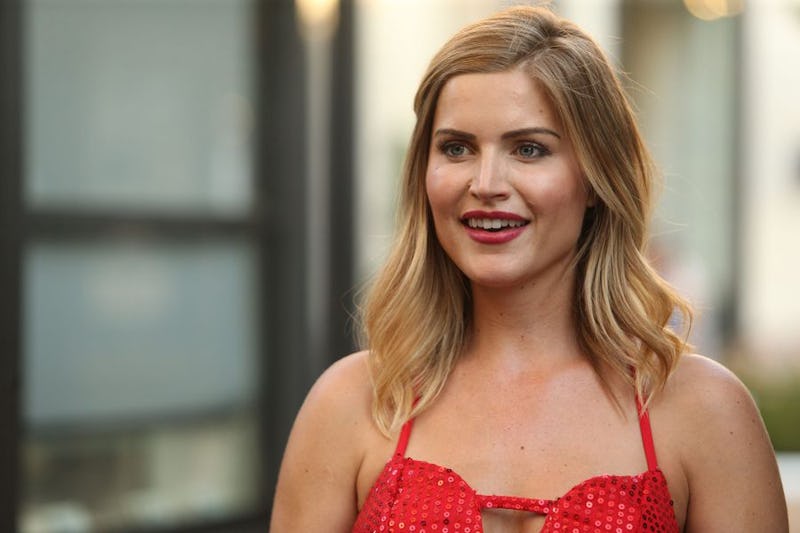 Paul Hebert/ABC
She tried to be somewhat mysterious about her family life in the first week of The Bachelor, but Chelsea Roy did reveal to Arie that she is a mom by week two. During their one-on-one date on the Jan. 29 episode, Chelsea is bound to discuss her son even more. Something Arie may be interested in knowing is who the father of Chelsea's son is. And let's be honest, fans of The Bachelor are curious too. But that's personal business of Chelsea's that she may want to keep private. Even if she does eventually let Arie in on that information, she may do it when the cameras aren't rolling.
The mom from Maine was the frontrunner for villain of Arie's season of The Bachelor (editor: Debra Light) but she subverted expectations by not being the biggest baddie in the Bachelor mansion. (That title now belongs to Krystal.) And while fans didn't have a great first impression of Chelsea, Arie gave her the first impression rose. Since then, Arie and Chelsea haven't had much time alone together. But in the fifth episode, Arie should finally learn more about Chelsea and her son. And that conversation may include a discussion about Chelsea's relationship with her son's father.
According to the above Instagram post, Chelsea's son is named Sammy and he's a truly adorable 3-year-old. In an interview with Glamour, Chelsea said that she shares custody of Sammy with his father. While she didn't specify if she had been married to Sammy's dad, she did note that they have been broken up for years. When asked who submitted her for The Bachelor, Chelsea said, "It's been years in the making. After the separation from Sammy's dad, my girlfriends kept harassing me that I need to go on The Bachelor. ... I felt like after two years of being single, I'm confident now and I definitely am ready to find love."
As for Sammy's dad's identity, Chelsea has been keeping that part of her life private. But she is open about how much she loves her son; she often posts photos of the two of them together on her Instagram. Chelsea lives in Maine with Sammy; she recently shared photos of them playing in the snow. Turns out, Sammy is already learning how to ski like a good New Englander.
The single mom and her son also enjoy some fun in the sun outside of Maine's harsh winters. She also posted a photo of them touching noses on the beach.
In her interview with Glamour, Chelsea said, "I want to go on adventures, and I see that Arie is a traveler, so I'm so excited about that, because that is absolutely what I love to do." She pointed out that she'd have time to travel without her young son since she and his dad share custody. However, her Instagram also implies that she also goes on adventures with Sammy. So if Arie chooses Chelsea, the three of them could be going on trips together in the near future.
Chelsea wants a life full of excitement for her son. In a Sept. 4 Instagram post, she wrote, "I hope his dreams are full of wonder. Things that make him want to explore, create[,] and most importantly live. I can only hope to role model and teach him that anything is possible. Dreams do come true."
Beyond what Chelsea told Glamour, Chelsea has not publicly confirmed details about her relationship with Sammy's father. However, Bachelor fans might learn more during her one-on-one date with Arie this week. And it will be up to Arie and Chelsea to decide if the Bachelor entering Chelsea's family dynamic is in the best interests of all of them. But either way, it seems like Chelsea's son Sammy has a lot of love in his life, thanks to his mom.