Here's Why The 'Feud' Season About Prince Charles & Diana Isn't Happening Anymore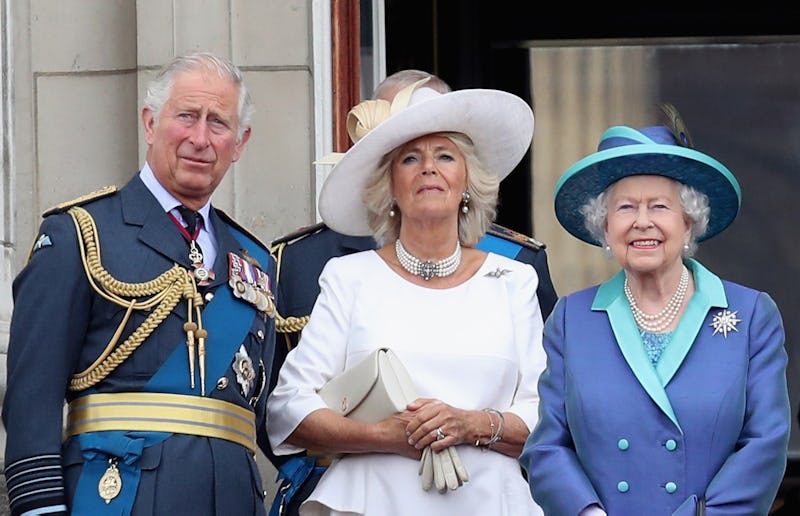 Chris Jackson/Getty Images Entertainment/Getty Images
Royal fever hasn't died down since the Duke and Duchess of Sussex tied the knot back in May, but FX doesn't seem to be as royally obsessed as the rest of the world. The network is scrapping Feud Season 2, about Prince Charles and Lady Diana — and their infamously contentious divorce.
According to Entertainment Weekly, FX chief John Landgraf announced at the Television Critics Association press tour on Friday, Aug. 3 that the follow up season to the critically-acclaimed Feud: Bette and Joan is "not moving forward at the moment," but that show runner Ryan Murphy is still planning to expand his feud-centric anthology series eventually. However, he will most likely be focusing on a different story when Feud returns to television. (Bustle reached out to Murphy for comment on Feud, but has not yet received a response.)
Of course, many royal television fans suspected that Feud's delay may have had something to do with Netflix's award-winning series The Crown, which is also planning to touch on the Charles and Diana dynamic in future seasons. When the subject matter was originally announced, it was speculated that Season 2 would hit the silver screen around the same time as The Crown was set to introduce a teenage Prince Charles and Princess Anne, as well as Charles' longtime love — and current Duchess of Cornwall — Camilla Parker-Bowles, who first became involved with the royal family as a teenager. (Season 2 of Feud was originally scheduled to air in 2018; Season 3 of The Crown will arrive on Netflix in 2019.)
Adding to the speculation is the fact that Matthew Goode — who played Anthony Armstrong Jones, the Earl of Snowden, and husband of Princess Margaret on Season 2 of The Crown — was rumored to play Prince Charles in FX's adaptation.
However, Landgraf was quick to clarify that The Crown had no impact on his network's decision to halt Feud. "It's not because of The Crown," Landgraf told EW. "I think there was a very different approach. I happen to really like The Crown. But it's told from the point of view of the royal family. This is told from the point of view of somebody coming into that family a la Meghan Markle. Ultimately, we couldn't get the material to the place we wanted."
Back in 2017, Murphy revealed that Season 2 of Feud would start "with the divorce papers" and follow the Prince of Wales and Lady Diana up to her untimely and tragic death, which he promised to portray "with kindness" according to Deadline. This was especially important to note when the series was announced, as Princes William and Harry had recently begun opening up about the toll that losing their mother at such a young age took on them and their mental health.
Season 2 of Feud isn't the only Murphy-centric project being put on hold over at FX — Landgraf also announced at the TCA press tour that the upcoming season of American Crime Story, set in the aftermath of Hurricane Katrina, is also being delayed amongst script changes.
"We went back to square one and started over," Landgraf told EW. "My understanding is [producers] have seen scripts but they haven't given them to me yet."
Landgraf also alluded to Murphy's new Netflix production deal, adding, "So much of it is right now is Ryan. He kind of sets his own timetable. I'm quite certain American Horror Story and Pose are on an annual cycle. With Crime Story and Feud they're on a cycle of when the material is good enough and when is Ryan willing and able to slot that into his schedule. So I think there will be more cycles, but I'm not really in control of that."
At least in the wake of losing Feud there are still plenty of ways for us to get our fill of the Royal Family before Season 3 of The Crown arrives on Netflix next year.