'Jane The Virgin' Just Announced Its Final Season & That's Not Even The Worst Part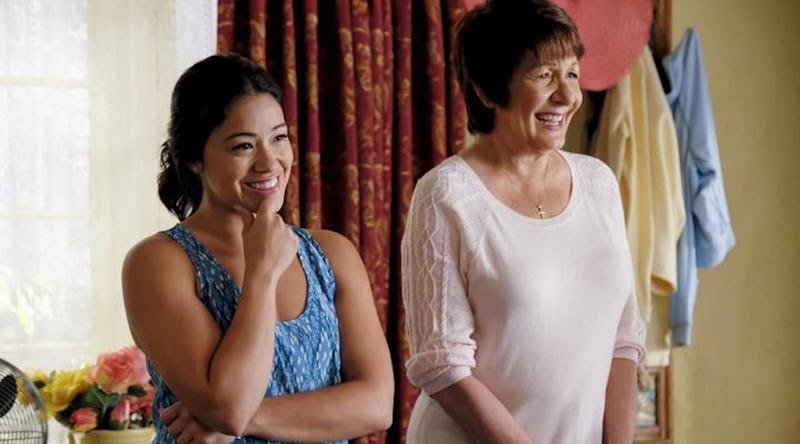 CW
Say goodbye to your favorite cheeky narrator because Jane the Virgin just announced its final season. So sad, right? But true, since the CW confirmed on Thursday that the modern telenovela's next season will be its last. While that's already sad to hear, what's even sadder is that fans are going to have to wait a little longer than usual to see Jane the Virgin's final season.
According to TVLine, Season 5 of Jane the Virgin won't air until 2019 because to finish out its run, the show starring Gina Rodriguez will be a mid-season replacement. Of course, nothing will replace JtV in fans' hearts, that goes without saying. When the show returns in the spring with what it believed to be a shorter season, it will still air on Friday nights, but at a new time, switching to the 9 p.m. slot.
Rogelio doesn't pop in peach, but he does look amazing in lavender, a spring wardrobe staple, so he shouldn't be too upset by this change. Spoilers ahead for the Season 4 finale. Fans might not feel the same way, though, since this season's finale ended with a shocking final shot that revealed Jane's dead husband Michael (Brett Dier) is alive. Or if you believe those fan theories, Michael has amnesia or a secret twin, which is the most telenovela twist on a show full of them.
Some are wondering whether Michael faked his own death, but creator Jennie Snyder Urman told Variety that "the truth is not quite that," adding, "I feel like that would be horrible, but that's not the story we're moving into." So that's one theory to cross off the list.
Jane the Virgin has become one of the smartest shows on TV by tackling issues like immigration, while also pushing the boundaries of its telenovela roots. It's why it will be interesting to see how the show ties up all its loose ends. Two months ago, Rodriguez teased that Jane the Virgin would be coming to an end at one of SXSW's Women To Watch panels, while also saying she would be doing more directing in the new season. A good idea too, since Rodriguez told the crowd that her Season 4 episode was "the highest-rated of the season."
Jane the Virgin isn't the only CW series saying goodbye. Crazy Ex-Girlfriend's fourth and final season will air Fridays this fall. The announcement that it was ending wasn't really a surprise to fans since creator and star Rachel Bloom had previously said CxG would end with its fourth season. Two years ago, she talked about why she wanted it to only go so long. "We're a show about a very specific journey in a person's life. And it's not really a sitcom meant to spit out copies of itself," she told The Hollywood Reporter that four seasons seemed "ideal for us creatively."
Bloom took to Instagram to even more officially confirm it would be the final season and since it's back at its 9 p.m. time slot "could be kind of filthier, but not really because we're still a network show." If you thought Jane the Virgin's finale was a shocker, the Season 3 finale ended with Rebecca (Bloom) pleading guilty to the attempted murder of her ex, Trent. It'll be interesting to see how the story moves on from that and gets filthier, but not really.
iZombie will also say goodbye next year after its fifth season, which will also return midseason. As for the fall lineup, CW will have Arrow, now in its new Monday night time slot, and Supergirl, moving to Sunday nights. CW also announced new series including the reboots of Charmed and Roswell, now being called Roswell, New Mexico.
While it will be sad to have to wait to see the final episodes of Jane the Virgin, at least it gives fans some extra time to process that mind-bending cliffhanger. Maybe even some time to rewatch the first four seasons to look for any clues that Michael has really been alive this whole time. Oh, and they're there, which might encourage you to start re-watch immediately.