Cardi B Finally Shared The First Photo Of Baby Kulture & The Cuteness Was Worth The Wait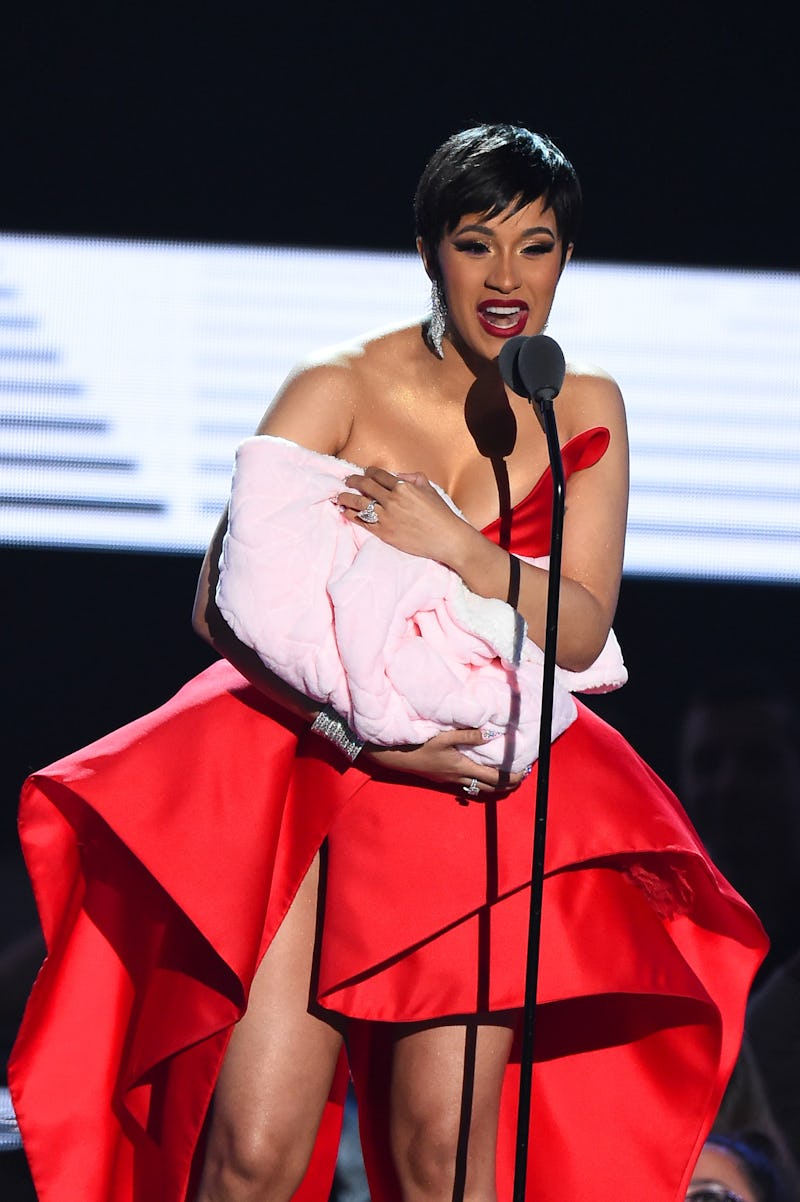 Theo Wargo/Getty Images Entertainment/Getty Images
Okurrr, Kulture: After almost five months of waiting, fans can finally see the first photo of Cardi B's baby Kulture. In the adorable Instagram picture, Kulture (wearing a colorful bib emblazoned with her name, a bow headband, and possibly even some of Mom's beloved animal print on her sleeves) is sweetly grinning at something out of the frame. The "I Like It" rapper captioned the shot she shared on Wednesday, Dec. 5 with two simple words: "My heart" (and a red heart emoji, too, natch).
The first publicly shared image of Cardi B's "heart" — AKA the daughter she and now-reportedly-estranged husband, Migos rapper Offset, welcomed in July — is a loving reminder of happier times for the newly separated parents. Cardi, of course, had announced in an Instagram video post mere hours earlier that she and Offsett recently split after just more than one year of marriage. (Bustle reached out to representatives for Cardi B for comment, but had not heard back at time of publication.)
Captioning the Dec. 5 Instagram video, "There you go..peace and love," Cardi articulated that she'd "been trying to work things out with my baby father for a hot minute now" before further addressing her relationship status with Offset, whom she secretly married in September 2017.
"He's always somebody that I run to to talk to and we got a lot of love for each other, but things just haven't been working out between us for a long time and it's nobody's fault," she said in the video. "It's just, like, I guess we grew out of love. But we're not together anymore. I don't know, it might take time to get a divorce and I'm gonna always have a lot of love for him because he is my daughter's father and, yeah."
For his part, Offset commented on Cardi B's breakup post, writing, "Y'all won," as seen in a screenshot captured by Complex.
Although she'd reportedly been offered "seven figures" for Kulture's first pics, Cardi recently revealed that she and Offset "just don't wanna show our baby right now." Then, just weeks ago, she seemed to be warming to the idea, telling Entertainment Tonight she might show off pics "one day soon."
At the same time, Cardi B did admit to being "scared," of doing so. "Sometimes I do want to show people how beautiful and how precious she is. She's so precious," the Grammy nominee shared with ET. "There's a lot of people that have crazy minds, you know. I want to protect her! She's my little buggy."
Up until now, Cardi has only given fans glimpses of Kulture on social media, including the below Aug. 22 post with Offset. "I'm sooo in love with my child, it makes me wanna cry," the new mom gushed on Twitter the same day. "I don't know what i did right for God to bless me with this beautiful, loving baby."
This post came just two days after Cardi B gave fans the ultimate fakeout at the 2018 MTV VMAs. Opening the Aug. 20 awards show, Cardi appeared onstage holding what appeared to be a bundled up infant. After teasing a "surprise," she removed the blanket to reveal a VMA Moon Person, however, not Baby Kulture.
Perhaps the topic of sharing their daughter with the world had been a point of contention for the pair, since even Offset wasn't in on Cardi B's VMAs joke. "Why Set said i was sooo mad, when i saw you on stage with that blanket I thought you was going to show Kulture," Cardi B tweeted after the VMAs.
Either way, Cardi B — who says she thinks Kulture is more of a mama's girl — had nothing but praise for Offset's parenting skills. "He is changing diapers, but I've been seeing Offset being a dad," she also shared with ET in recent weeks. "He already has three kids, so I already fell in love with the way that he was a dad already. I'm like, 'Oh my god, I can have a little one with this guy.' He's really good."
Despite their split, both seem committed to co-parenting — and they're doing it for Kulture.