The Royal Family's First Same-Sex Marriage Was Just As Beautiful As You'd Expect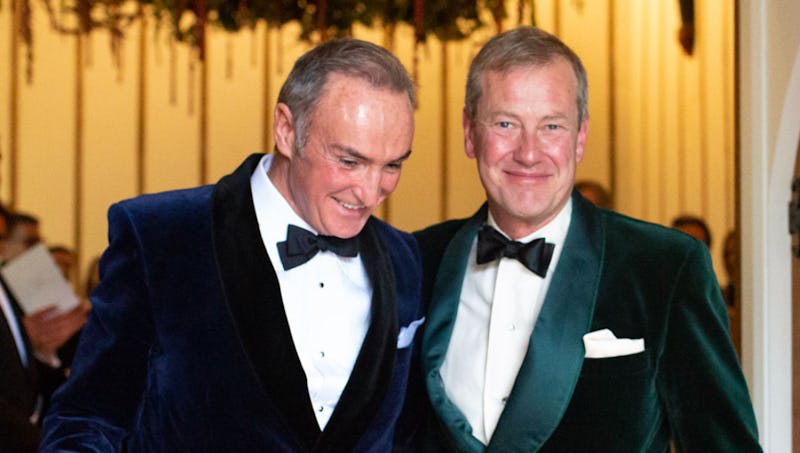 Ivar Mountbatten Instagram
Despite all the attention around Princess Eugenie's impending nuptials, I'm pleased to inform you there has actually been another wedding among the royals. While it hasn't received quite as much attention as Prince Harry and Meghan Markle's big day, believe me, this is a pretty big deal. You see, it's the royal family's first same sex marriage. Ever. So, congratulations Lord Ivar Mountbatten and partner James Coyle on your incredible news, and also for making history.
Lord Mountbatten — who is the Queen's third cousin once removed — celebrated his special day in Devon, surrounded by a small party of family and friends. In a heartwarming twist, he was walked down the aisle by his ex-wife Penny. The pair remain good friends despite divorcing eight years ago, and share three children together; Ella, Alix, and Luli. Penny told the Daily Mail back in June that it was actually the girls' idea for her to walk him down the aisle: "It was the girls' idea. It makes me feel quite emotional. I'm really very touched."
Lord Mountbatten shared a series of photos of the big day on his Instagram page, including several of the newly-married couple, both wearing beautiful blue and green velvet jackets. The pictures also included one of his three daughters at the ceremony.
Alongside the series of images, he wrote below in the caption:
"Well we did it finally! It was an amazing day despite the miserable British weather. Fabulous service conducted by Trish Harrogate, chief Registrar for Devon, who set the perfect but lighthearted tone for what is a serious occasion. The accompanying gospel choir were amazing. Thank you so much to Bristol's Teachers Rock Choir for your superb singing. Most importantly a massive thanks to my three gorgeous girls for being so understanding and supportive, without their support this could never have happened! And finally the biggest thank you to James for being just perfect......#wedidit #wonderfulday #despitetherain."
Mountbatten had previously shared an image of the wedding rings, commenting that Coyle refused to take his off, despite it being 11 days prior to the big day.
"D-day minus 11!" he wrote. "James picked up the rings today, specifically made for us by Milly Maunder, @millymaunderdesigns_ and now refuses to take his off! #jimmyshappy #waitforit #notthereyet #dontlooseit"
The wedding was first announced in June of this year. Coyle and Mountbatten told the Daily Mail about their plans for a small wedding. He said: "We'll be pronounced partners in marriage, but the ceremony itself will be very small. It's just for the girls and close family and friends," said Coyle.
"Everyone else — about 120 friends — will arrive for the party afterwards. We'll have lovely food and really good music, but there won't be two men in tuxedos on a cake, white doves or anything twee or contrived like that."
Everyone loves a royal wedding celebration — so, congrats to the newly-wedded couple. Now we just have to wait a little longer until Princess Eugenie's nuptials to her husband-to-be Jack Brooksbank in October.