The Game Of Life's "Quarter Life Crisis" Edition Will Speak To Your Existentially Fraught Soul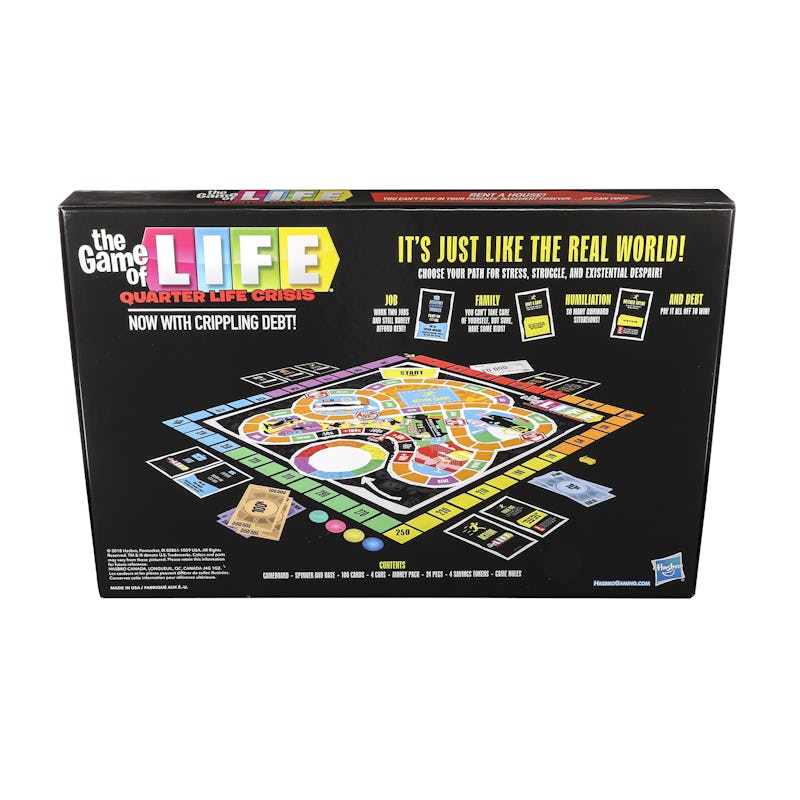 Courtesy of Hasbro
The Game Of Life has been simulating the journey of adulthood in one form or another since 1860 — and now, there's a new version of the classic board game that will likely be too, too familiar for many: The Game Of Life's new Quarter Life Crisis Edition sees players attempting to survive the challenges of adulting while simultaneously struggling to pay off their crippling student loan debt. One of a number of "parody" versions of classic board games Hasbro is releasing in October, the Quarter Life Crisis Edition of Life and its siblings are clearly meant to appeal to millennials; other games in the collection include Clue: What Happened Last Night? Lost In Vegas, Mystery Date: Catfished, Botched Operation, and Sorry! Not Sorry!. Are you ready to go head to head with your monthly loan payments? I hope so — and I hope you're also prepared to deal with all the other messes both the economy and the rest of the world are planning to throw at you in the process.
"Quarter life crisis" might be defined variously as "a period of insecurity, doubt, and disappointment surrounding you career, relationships, and financial situation," "a crisis that may be experienced in one's twenties, involving anxiety over the direction and quality of one's life," or "when the world should be your oyster, but is really your Inferno" (thanks for that last one, Urban Dictionary). Although the ideas behind the term are far from new — in the '50s and '60s, German psychologist Erik H. Erikson began developing his theory on the eight different crises that humans experience as they age, one of which takes place between the ages of 18 and 40 and bears some resemblance to the quarter life crisis — the phenomenon itself has become closely associated with the millennial generation; coming of age in a period of great uncertainty has a tendency to throw you into paroxysms of fear and doubt.
The Game of Life: Quarter Life Crisis Board Game, $18, Target
And hey, now we have a board game that remind us exactly what it's like to live through a quarter life crisis!
With a box design and product copy reminiscent of the "As Seen On TV!" variety of advertisements, the Quarter Life Crisis Edition of the Game Of Life proclaims loudly that it's "Now With Crippling Student Debt!" In fact, that's the whole point of the game; according to a press release provided to Bustle, the Game Of Life: Quarter Life Crisis Edition centers around "players… [moving] around the board earning — and losing — money as they race to be the fist to pay off their $500K soul-crushing debt." You'll also find yourself "[paying] the consequences of outrageous (and all too familiar) situations such as finding a photo of Grandpa's toe fungus, dropping your phone in the toilet, or calling in sick to binge-watch TV." It is, as the box notes, "Just Like The Real World!" as you "choose your path for stress, struggle, and existential despair!"
As youths say, "it me." I am simultaneously laughing and crying, because, I mean… that pretty much sums up adulthood for many millennials in a pithy yet entirely accurate fashion.
The Game of Life: Quarter Life Crisis Board Game, $18, Target
On a more serious note, I do suspect this parody version of the Game Of Life may only be funny to those who were once living in the circumstances it depicts, but no longer are.
Consider that Americans are, as a whole, $1.5 trillion in debt to student loan as of 2018, according to a CNN report from June — an outstanding balance which exceeds both auto loan debt (which stands at a total of $1.1 trillion) and credit card debt ($977 billion). The average college grad leaves school with student loan debts to the tune of $28,400; what's more, paying it off is even more difficult for some people than it is for others. Women, for example, hold nearly two-third of student loan debt in the United States, according to a report from the American Association of University Women, while also taking substantially longer to pay it off due to issues like the gender and racial wage gaps. (This is why intersectionality matters.)
When you're dealing with an uncertain job market and stagnant wages, struggling to afford groceries and a place to live, and constantly worrying about defaulting on your loans in your everyday life? Well, let's just say that playing a game that mimics those exact circumstances might not be all that fun. For some, it might not hit you in the funny bone; it might just hit you where it hurts.
The hope, though, is that one day, we'll get out of this economic hole into which we've been flung (because, for the last time, the current economy is not millennials' fault — we're just trying to play the terrible hand we've been dealt) — and at that point, maybe playing this game will be amusing to us.
Then again, maybe it can be funny in the meantime, too. Millennials' situation might be dire, but sometimes, laughing at dire situations can help make them a little easier to cope with — and that's what The Game Of Life: Quarter Life Crisis Edition encourages us to do. The game, along with all of the other Hasbro parody editions, will be available at Target stores and via Target.com starting on Oct. 1, 2018; the collection will retail for around $20 a pop.
The Game of Life: Quarter Life Crisis Board Game, $18, Target
Now if you'll excuse me, I'm off to go check my credit score. Just, y'know... in case of whatever.