Khloé Just Revealed How She Plans To Announce Her Baby's Gender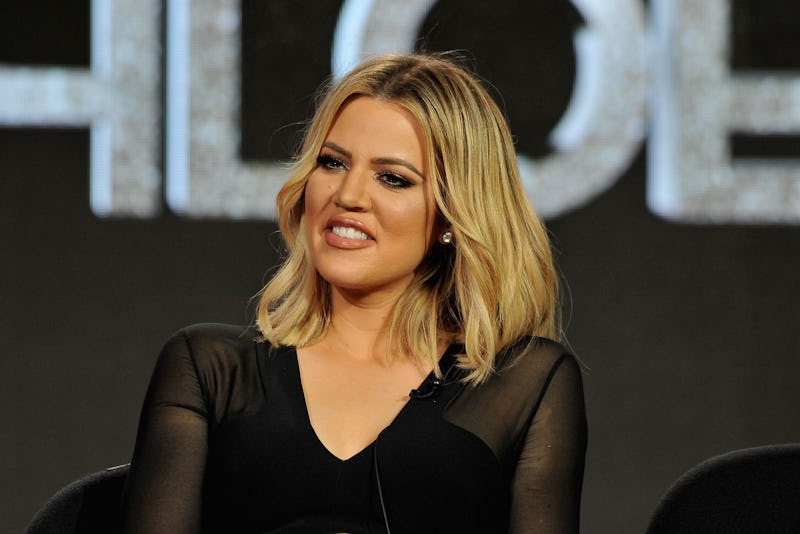 Jerod Harris/Getty Images Entertainment/Getty Images
Here is some exciting news for Keeping Up With the Kardashians fans: Khloé Kardashian will reveal her baby's gender in an upcoming episode of the second half of Season 14. A fan tweeted the reality star Wednesday asking if she'd be "revealing the gender of your baby" when KUWTK returns to E! on Sunday, Jan. 7. To that, Kardashian replied, "We will be revealing on the show but not this week."
If you've been dying to know what Kardashian and Tristan Thompson are having, well, you're just going to have to wait a little bit longer. Though, there's been speculation that their first child together will be a boy. At the beginning of December, BuzzFeed reported the NBA player responded to one of Kardashian's Instagram's promoting her Good American line as follows: "[five heart-eyed emojis] DAMM [face palm emoji] [male sex symbol]." Yes, he used a male gender sign that could possibly be a clue that they will soon welcome a son.
In October 2017, People also reported multiple sources informed the outlet that Kardashian is pregnant with a boy. (Kardashian's rep did not immediately return Bustle's request for comment regarding the report.) Whatever the case, fans are definitely going to want to set their DVRs for the remainder of Season 14, because Kardashian's pregnancy seems to be a big part it. In December, she replied to a fan asking if her pregnancy announcement will be seen on the show: "Yes! It all happened during production so yes! Super cool to have that documented."
In a trailer for the rest of the current season that was released on Dec. 18, there's a brief moment showing Kris Jenner and Kardashian's friends, Malika and Khadijah Haqq, becoming emotional over something they just learned. The Haqq twins are also shown hugging Kardashian. This could either be the moment they learn she's pregnant, her baby's gender, or maybe even both. Whatever is happening, it almost certainly has to do with Kardashian's pregnancy in some way, shape, or form.
It's unclear just how much of Kardashian's pregnancy will be documented for viewers, but ever since confirming she's pregnant in December, the Revenge Body star has been pretty open. On Tuesday, the 33-year-old reality star revealed she is "officially six months" next to an Instagram of herself and her adorable baby bump. Based on that information, she'll most likely give birth sometime in April. She also shared a photo Tuesday with Thompson that she sweetly captioned, "Mom and Dad".
She's definitely been opening up compared to when she wouldn't address the baby rumors at all. Though, don't get your hopes up that her birth will be featured on the reality series, because she might choose to keep that private. Of course, it's up to Kardashian how much she wants to share about her pregnancy — and how much she wants seen on television.
Upon announcing her pregnancy, she explained on Instagram the reason she and Thompson kept their news private for so long. "I know we've been keeping this quiet but we wanted to enjoy this between our family and close friends as long as we could privately," she wrote. "To enjoy our first precious moments just us [heart emoji] Thank you all for understanding. I am so thankful, excited, nervous, eager, overjoyed and scared all in one! But it's the best bundle of feelings I've ever felt in my life!"
Kardashian and her family have always been pretty transparent with their fans. It's no surprise the Strong Looks Better Naked author is now opening up about her pregnancy to her supporters and giving them something to look forward to when new KUWTK episodes begin to air.