The Best Musical Moments From 'GLOW' Season 3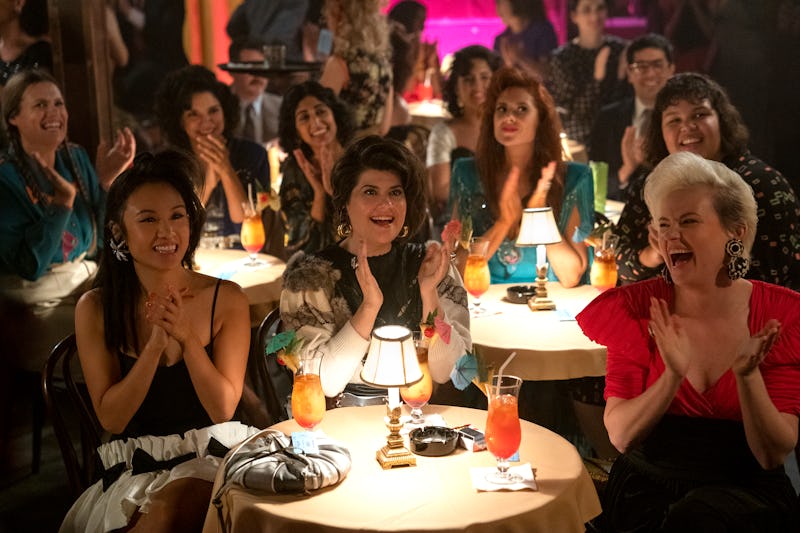 Ali Goldstein/Netflix
Spoilers ahead for GLOW Season 3. In GLOW Season 3, the Gorgeous Ladies of Wrestling have left behind their worn-down gym and jumped right into their new Las Vegas residency. And fans will be happy to know the GLOW Season 3 soundtrack reflects that: in addition to the show's usual '80s hits are classing lounge songs and show tunes befitting of the women's new (if temporary) home base.
Just like in the very first episode, Patty Smyth and Scandal's "The Warrior" plays during the opening credits of the Season 3 premiere. And later, another female-led rock song gets its time to shine when Heart's "Barracuda" plays during a mud wrestling match between Cherry and Carmen. But with the introduction of Kevin Cahoon's drag performer Bobby Barnes and the glitz and glamor of the Las Vegas Strip, the soundtrack opens itself up to more than just the series' usual '80s bops — though it's not without its callbacks. During a scene with Debbie, Ruth gets to channel Barbra Streisand just as she did with Yentl in Season 1, breaking out into a rendition of "His Love Makes Me Beautiful" from Funny Girl.
Check out more of the top Season 3 musical moments below.