The Golden Globes Just Set An Important New Bar For Future Awards Shows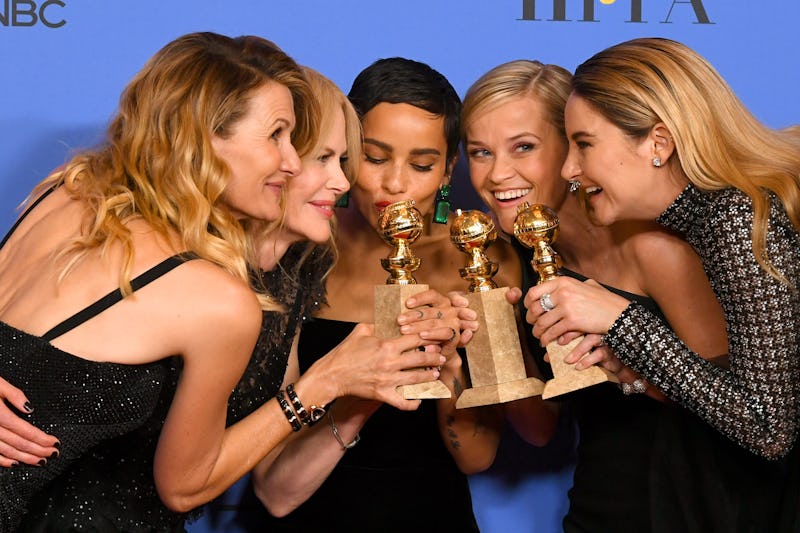 Kevin Winter/Getty Images Entertainment/Getty Images
On Sunday, the 2018 awards season kicked off with the Golden Globes, and the refrain of the night was clear: "Time's up!" So many celebrities used their platform at the Golden Globes to speak about sexual harassment and assault and the importance of women controlling their own narratives, that it was noticeable — and called out — when someone didn't speak to this important issue. We're witnessing a shift in Hollywood, and nowhere was that more evident than on the Golden Globes red carpet and stage on Sunday night. But this was just one ceremony, one night. The Golden Globes highlighted how well women could be treated when giving the opportunity and time to speak their truths — and it also set a new bar for future award shows.
The #MeToo movement and the Time's Up initiative have given sexual assault survivors and their supporters a uniting banner and war cry in the wake of the New York Times' exposé about the sexual assault allegations against Harvey Weinstein. (Weinstein's spokesperson has denied any claims of nonconsensual sex.) The exposé — and the response to it — led to a number of other women in Hollywood and other industries speaking up with their own stories of sexual harassment and assault. And the more people who spoke out, the louder the call for justice became.
Of course, the Times' October 2017 feature wasn't the first time that alleged victims have tried to share their stories, nor was it even the first time that accusations of sexual assault were brought against powerful Hollywood men. But it did seem to be the first time the world paid full attention, and that actual concrete consequences — tarnished reputations, roles being recast, jobs being lost — were brought against the alleged abusers.
And at the Golden Globes, the first major awards show since the #MeToo movement gained steam in the wake of the Weinstein story, the Time's Up initiative emerged. On the red carpet, women wore black and men wore pins in solidarity with the movement, which aims to make workplaces more intersectional and encourage companies to hire and promote more women, as well as to start a legal defense fund for victims of sexual harassment. In light of those goals and this movement, E! Network's Live On The Red Carpet made a point to ask not "who are you wearing" but "why are you wearing," so that the celebrities could talk about the importance of this moment in Hollywood. And the change didn't stop there.
Because in the midst of all of these voices joining the national conversation, viewers were engaging, too. Those who didn't use their voices were given a side-eye on Twitter, such as when Aziz Ansari's acceptance speech for Best Actor in a Television Series — Comedy or Musical left fans disappointed that he didn't use the opportunity to address something deeper. Those who paid lip-service to the movement but didn't seem to put it into practice were also called out, such as when Elizabeth Moss made a rousing speech about women's rights that many fans felt was undercut by the fact that she is a Scientologist. (The religion has long faced allegations of mistreating women.) If one thing was made clear by the Golden Globes, both by celebrities on screen and by viewer reactions off screen, it's that the time for talking is over. The time for action is now.
And that's exactly how the award shows to follow can raise the bar even further. The Golden Globes showed how far Hollywood has come in engaging with these issues, but the movement will lose steam if each ceremony doesn't improve upon the last. Red carpets from now to infinity should focus on asking celebrities about the issues and causes that matter to them, about what we've done to improve and how we can do more. If anything was made clear by this Golden Globes, it's that viewers notice when actors with hypocritical stances are invited to take the stage to be celebrated — and are watching to make sure actors not only aren't hypocritical, but that they use their platforms in a genuine way, one that doesn't just give lip service and nothing else.
Because the world is listening. The world is watching. And, in the immortal words of Oprah Winfrey, "when that new day finally dawns, it will be because of a lot of magnificent [people] fighting hard to... take us to the time when nobody ever has to say Me Too again."
If you or someone you know has been sexually assaulted, call the National Sexual Assault Telephone Hotline at 800-656-HOPE (4673) or visit online.rainn.org.
Editor's Note: On Jan. 13, Ansari was accused of sexual misconduct by a woman who went on a date with him. Ansari has since responded to the claims, saying:
"In September of last year, I met a woman at a party. We exchanged numbers. We texted back and forth and eventually went on a date. We went out to dinner, and afterwards we ended up engaging in sexual activity, which by all indications was completely consensual.
The next day, I got a text from her saying that although 'it may have seemed okay,' upon further reflection, she felt uncomfortable. It was true that everything did seem okay to me, so when I heard that it was not the case for her, I was surprised and concerned. I took her words to heart and responded privately after taking the time to process what she had said.
I continue to support the movement that is happening in our culture. It is necessary and long overdue."