'The Good Place' Finally Got Love From The Golden Globes & Fans Are Forking Excited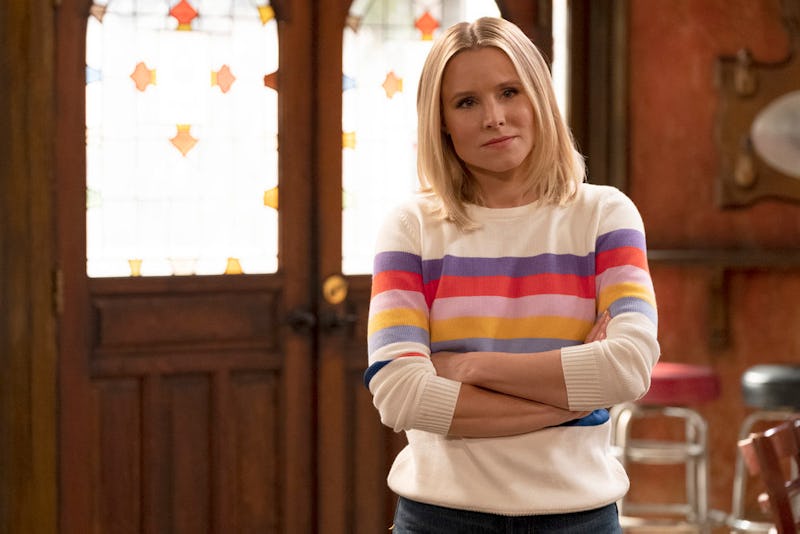 Colleen Hayes/NBC
It's about forking time. After being snubbed by the Emmys earlier this year, The Good Place earned two Golden Globe nominations. It kind of makes you wonder whether this is actually the good place. Though, if The Good Place ends up winning the Golden Globes, airing Jan. 9 on NBC, this awards show ceremony might actually be the best place.
UPDATE: Kristen Bell has commented on her nomination, telling Bustle in a statement via-email:
"I am so forking excited at the news of my nomination and the nomination for this fun as fork show. The cast and crew of The Good Place are the most efficient, smart, happy group of non ashholes I've ever worked with. They are the forking shirt and I'm so grateful all these talented benches and dinks are getting the recognition they deserve. No bullshirt- this is my dream job. And this nomination is just the motherforking cherry on top. Thank you Hollywood Foreign Press. As a little bench from Michigan, to be honored in this way feels forking awesome."
EARLIER: With almost three seasons under its belt, The Good Place earned its first Golden Globe nomination for Best Television Series — Musical or Comedy. It'll go up against other first time nominees, including Showtime's Kidding, Netflix's The Kominsky Method, and HBO's Barry. It'll also have to beat out Amazon's The Marvelous Mrs. Maisel, which won last year's prize.
The Good Place also earned a nom for its star Kristen Bell, who deserved, but never got, one for Veronica Mars. Luckily, that show is coming back to Hulu giving the Globes a chance to right that wrong very soon. But I digress.
Bell will compete against Murphy Brown's Candice Bergen, Glow's Alison Brie, Will & Grace's Debra Messing, and The Marvelous Mrs, Maisel's Rachel Brosnahan, who was the winner last time around. It's a pretty stacked category being that Bergen has already won two of these awards for the original run of Murphy Brown. Messing has also previously been nominated seven times for this award, though she's never won.
Good Place fans don't care about the show's odds, they're just happy to be nominated. Though, unfortunately, none of its stellar supporting actors were nominated. Ted Danson, who did receive a 2018 Emmy nomination for Outstanding Lead Actor in a Comedy, making him the most nominated actor of all time in that category, was left without a nomination from the Globes. As were William Jackson Harmer (Chidi), Jameela Jamil (Tahani), D'Arcy Carden (Janet), and Manny Jacinto (Jason).
Still, it's an honor just to be nominated, even if it was too long in the making for some fans. "Kristen bell being respected?" fan @softwarmground asked. "Maybe this rly is the good place."
"The Good Place and Kristen Bell were nominated," fan @bllackawan tweeted. "It's what they deserve."
One fan was happy for The Good Place, but felt it put them in a bit of a pickle. "The Golden Globes asking me to choose between The Good Place and The Marvelous Mrs. Maisel is like asking me to choose a favourite child," a fan named @miazapanta wrote, adding in parenthesis, "(I have a favourite but I them both, duh.)"
Twitter user @boburnhum didn't have to pick between their faves. "As long as a Star is Born and The Good Place win their golden globes categories I will be okay," they wrote.
But another excited fan named @julietsburke called bull shirt on the Hollywood Foreign Press if they don't give Eleanor and the rest of the gang a gold prize. "Anyway if The Good Place doesn't snatch those awards we are canceling the golden globes," they wrote and it's possible other fans of the show might be on board with that.
These two nominations just add to the good news surrounding The Good Place. It was recently announced that The Good Place will return for Season 4, which means whether it wins or not this year, it can still compete again. But, if they don't win, well, the Golden Globes might have hell to pay, after all,The Good Place knows a little something about that. That dirtbag demon Trevor is just a cosmic phone call away.