The Grammys President's Response To #GrammysSoMale Will Infuriate You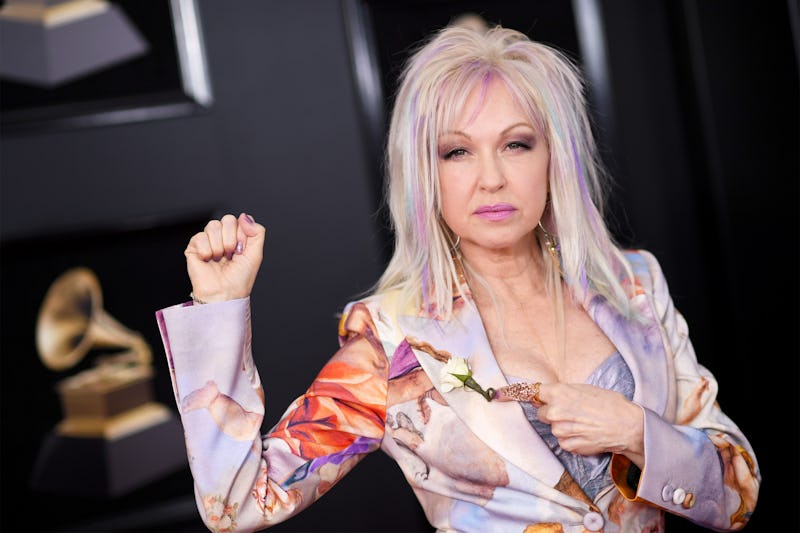 Dimitrios Kambouris/Getty Images Entertainment/Getty Images
After an empowering red carpet where attendees demonstrated their support of the Time's Up movement, things were slightly less balanced when the ceremony began. Eight out of nine of the main awards on music's biggest night went to male performers, but the Grammys President's response to lack of female winners kind of implies that women were to blame for this. Backstage at Sunday's show, in response to the amount of male winners, Neil Portnow encouraged women to "step up" into those male-dominated roles. Though it seems unintentional, his comment places the onus to be heard on those who are speaking up, rather than those who might not be listening. And that's a tone-deaf take at any time, but especially on a night that was designed to encourage women to speak out against harassment, exploitation, and other systemic abuses that are often invisible from the outside.
After Alessia Cara was the only woman to receive one of the nine major awards — a well-deserved nod for Best New Artist — journalists questioned Potnow backstage about the prevailingly male honors. It could have been an opportunity for the Grammys President to acknowledge his responsibility and the responsibility of the Recording Academy to make sure the playing field is leveled, and a pledge to do better. But, instead, Portnow directed the focus back on women themselves, suggesting that they are the individuals who aren't doing enough:
"I think it has to begin with women who have the creativity in their hearts and their souls — who want to be musicians, who want to be engineers, who want to be producers, who want to be part of the industry on an executive level — to step up, because I think they would be welcome."
"I don't have personal experience with the kinds of brick walls that [women] face," he continued. "But I think it's really a combination of us in the industry making a welcome mat very obvious: creating mentorships, creating opportunities, not only for women, but for all people. And moving forward, creating that next generation of artists who feel like they can do anything and say anything."
These would all be positive steps to take toward equality, but the words do ring a bit hollow, given the situation. If creating a generation of artists that felt like they could do or say anything was truly the only obstacle, then we wouldn't be having this conversation. After all, some attendees wore white roses to draw attention to exactly these injustices, echoing the decision to wear black made by many Golden Globes honorees earlier this month. And although Portnow was one of the smattering of men in attendance to don the meaningful blooms, his words told a different story than the flower pinned to his lapel.
One of the performers at Sunday's show was Kesha, who has been vocal about her alleged abuse at the hands of Dr. Luke. (The producer has denied the claims, calling them "false and meritless" through a spokesperson, and Kesha dropped her case in August 2016.) The singer performed her single "Praying," which she wrote during her legal battle with the producer, and was moved to tears onstage. It's certainly a vivid example of a female performer empowering herself to do and say anything, but it was beaten out for Best Pop Solo Performance by Ed Sheeran's "Shape of You."
As another example, with five singles currently in the Top 10 of Billboard's R&B chart, Cardi B just beat a record held by Beyoncé for most tracks by a female artist on that chart. Less than a year into the release of "Bodak Yellow," she's already nipping at the heels of Drake's record of eight tracks in that chart. (A record he didn't snag until 2016, by the way, over a decade into his career.) But the reality-star-turned-rapper lost out on a statue to Kendrick Lamar's "HUMBLE." in both categories she was nominated in, and went home empty-handed.
And finally — although this is really just the tip of the iceberg — there's Lorde. The New Zealander's sophomore album Melodrama debuted atop the Billboard Top 100 and earned her a nomination for Album of the Year. What it reportedly did not earn her, according to Variety, was an invitation to perform solo at the Jan. 28 ceremony, an invitation that was reportedly extended to her fellow nominees.
But Portnow doesn't see that as particularly unfair, either. "We have a wealth of riches every year," he argued, "and it's hard to have a balanced show and have everybody involved. We can't have a performance from every nominee — we have over 80 categories — so we have to realize that we have to create something that has balance." Balance is and interesting word to throw out here, given that women are so consistently underrepresented at the Grammys, both this year and every year. In fact, a December 2017 article from Variety reported that just 30 percent of Top 40 artists are female, and that no more than three women have appeared on Top 10 most-played lists since 2014, when they began recording data.
But perhaps no one says it better than Lorde's mother Sonja Yellich, who tweeted a screengrab of a New York Times article indicating that just 9 percent of Grammy-nominated artists in the last six years have been female.
Women aren't just born as famous, polished artists, ready to be handed awards. They navigate a perilous industry with endless opportunities to have their work sidelined along the way. Opportunities to watch an award show where that work goes unrewarded. Opportunities to then be "encouraged" to work harder than they already are to be heard. Frankly, it's a slap in the face, and both the Grammys and Neil Portnow need to do much, much better in addressing this inequality.
If you or someone you know has been sexually assaulted, call the National Sexual Assault Telephone Hotline at 800-656-HOPE (4673) or visit online.rainn.org.