Snag A Free Copy Of 'Handmaid's Tale' In NYC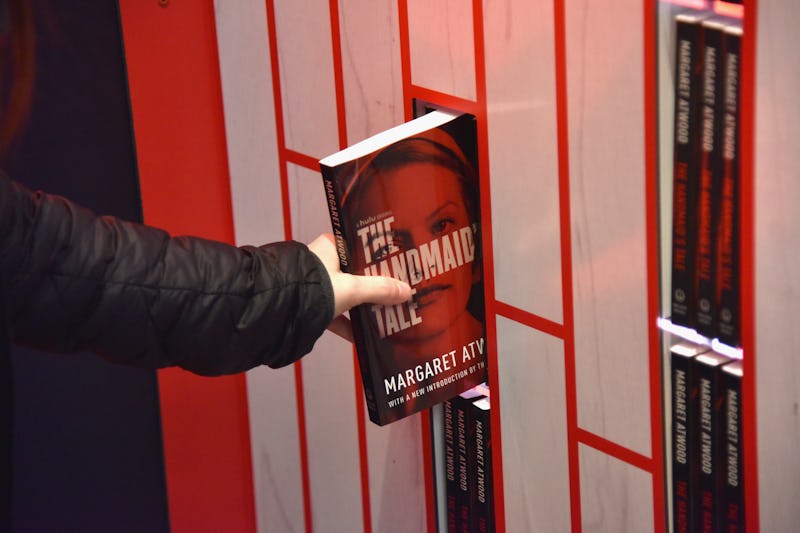 Bryan Bedder/Getty Images Entertainment/Getty Images
The Handmaid's Tale train keeps chugging along, and this feminist book nerd is absolutely loving it. To coincide with the Wednesday premiere of the Hulu series, free copies of The Handmaid's Tale will be given out at an art installation on New York City's High Line. The interactive exhibit contains 4,000 copies of Margaret Atwood's 1985 novel, available to any browser who wants one. Given that Emma Watson just named the Atwood novel as the next pick for her online feminist book club, these free copies of The Handmaid's Tale are sure to go fast.
Free copies of The Handmaid's Tale have been handed out before, but not in coordination with Hulu. Back in February, a San Francisco bookstore patron purchased copies of The Handmaid's Tale, Nineteen Eighty-Four, and In the Garden of Beasts for browsers to take for free.
New York City's Handmaid's Tale art installation was designed by Pentagram's Paula Scher and Abbott Miller. Scher recently worked on a mural installation for Planned Parenthood's national headquarters, and on branding for Period Equity: "the nation's first and only law and policy institute dedicated to advancing menstrual access, affordability and safety in the U.S." Miller created the America's Shakespeare installation for the Folger Shakespeare Library and the Exhibitionism — Rolling Stones exhibit at London's Saatchi Gallery.
When browsers remove their free copies of The Handmaid's Tale, Scher and Miller's exhibition "is deconstructed to reveal powerful messages of female empowerment and anti-authoritarian resistance," such as "Her story is our story" and, of course, "Don't let the bastards grind you down." The exhibit will be open from 7 A.M. until 10 P.M. through Sunday, Apr. 30.
Check out more pictures from The Handmaid's Tale below, and share your favorite resistance mantras on Twitter! Hulu's television adaptation of The Handmaid's Tale premieres Apr. 26.