OMG, 'The Hills' Cast Will Reportedly Reunite On The 2018 VMAs Red Carpet For An Exciting Reason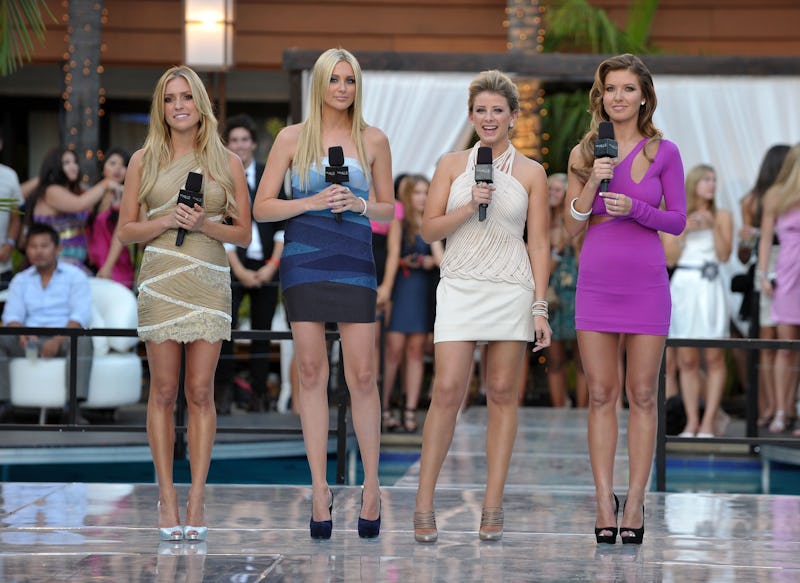 John Shearer/Getty Images Entertainment/Getty Images
Feel the rain-union on your skin. On Friday, Aug. 17, People reported that The Hills cast will reportedly reunite on the 2018 VMAs red carpet, via an unnamed source. Oh, and the source also told People that The Hills cast will be at MTV's annual music vide-centric award show on Monday, Aug. 20 to make a "big announcement." (Bustle has reached out to MTV and a VMAs rep regarding reports of the red carpet reunion and the announcement, but did not immediately hear back.)
Hm. Hm. Hmm. Now, what sort of announcement might The Hills cast have for us? What nugget of news might they drop in our hot little hands? Ah, if only there was something we fans have been waiting for since 2010 — Oh, wait. There is something we've been waiting for since The Hills series finale aired. And that something rhymes with "bee root."
You guys, what if this is it? What if this is the reboot we have been hoping for ever since that backdrop rolled away and revealed Brody Jenner was standing on a backlot the whole time? What if every member of the quintessentially aughts reality series' main roster descends upon the VMAs red carpet on Monday, Aug. 20 only to tell us that they are finally taking a page out of Jersey Shore's vodka-drenched book and reviving the Laguna Beach spinoff?
It's not not possible. As diehard Hills heads know all too well, some alums have apparently been trying to make a revival happen for a while. Over the last few years, Kristin Cavallari, Spencer Pratt, Heidi Montag, Audrina Patridge, and Whitney Port have all expressed interest in bringing back the show that gave us classic aphorisms like "Homeboy wore combat boots to the beach," "You know what you did," "I want to forgive you and I want to forget you," and "He's a sucky person." The 2018 MTV VMAs may be the moment we find out their (and our) dreams have come true.
Alas, there are some The Hills alums who may be less than on board. In June, Us Weekly reported that an insider claimed MTV might be putting together a The Hills revival ... *takes deep breath* without Lauren Conrad. "The rest of the crew is all still friends besides her," a second source told Us Weekly. "Everyone else is down to do it."
Everyone else aside from Lo Bosworth, it seems. On the Feb. 12 episode of her podcast, Lady Lovin', Bosworth said a TV exec had reached out about a The Hills reunion, she turned it down. "I don't want any association with those people," she said. "The dissociation from all those people is what I'm hungry for." Zoinks.
But hey, we may be getting ahead of ourselves. This supposed announcement that The Hills cast will supposedly make when they supposedly attend the MTV VMAs eight years after The Hills ended may have nothing to do with the original The Hills getting back together to film a reboot. For all we know, stars of The Hills could just tell us MTV has put together a reality show about an entirely different batch of 20-somethings who are trying to make it in Hollywood. Or — and this would be devastating — The Hills alums could assemble on the red carpet and say once and for all that there will never be a The Hills reboot.
Fortunately, we don't have to wait too long to find out what is or isn't happening; it looks like the answer will be revealed in just a few short days. As a wise man once said, "Truth and time tells all."