The 'I Feel Pretty' Blooper Reel Is Here & It'll Legit Make You LOL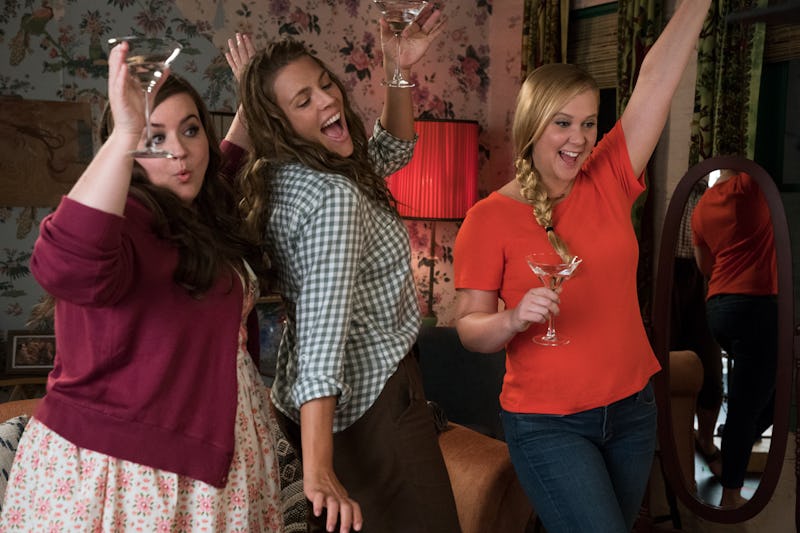 STXfilms
Amy Schumer's comedy I Feel Pretty has been one of the most talked-about films of the year so far, due to its unconventional take on finding self-confidence. And in the I Feel Pretty blooper reel, debuted here ahead of the film's release on Blu-Ray July 17 (it's out on Digital now), it's clear that the cast had a super fun time making the movie — perhaps too much fun, as shown by the amount of times they burst into laughter while attempting to film a scene.
The gag reel features moments like Busy Philipps cracking up when Schumer asks, "Why didn't you wear a bra?", as well as Aidy Bryant and Schumer losing it when Philipps starts laughing at the line, "You're dressed like Archie Bunker." Then there's Rory Scovel, who can't contain his laughter when he hears the line, "That's a weird beard on a young guy." Plus, you get to see Scovel and Schumer goofing off during the movie's hilarious bar scene.
Now that I Feel Pretty is out everywhere, you might be wishing to see more of the cast. Luckily, there's plenty to look out for. Schumer is working on the upcoming movie She Came to Me, alongside a star-studded cast including Steve Carell and Nicole Kidman. Plot details haven't been shared yet, but given how it's a comedic drama, prepare to see Schumer tackling a much different role than her previous ones.
As far as Schumer's I Feel Pretty love interest Scovel, he's currently on the truTV show Those Who Can't, about three teachers who can't get their lives together (Scovel plays the school principal). The show hasn't aired since 2016, but it's set to come back sometime this year.
Even though I Feel Pretty introduced many to Scovel, he's actually been active as a comedian for a very long time. In fact, Scovel and Schumer have known each other for over a decade. According to WTOP, Schumer met Scovel 12 years ago while auditioning for the Montreal Comedy Festival at the Comedy Strip. Unfortunately, Scovel doesn't have any upcoming projects with Schumer, or any films coming up, but he does have a Netflix special that's definitely worth watching.
Then there are Schumer's on-screen besties, played by Philipps and Bryant. Both ladies recently appeared on Unbreakable Kimmy Schmidt in some pretty memorable cameos; Philipps plays Artie's daughter, who seems to have completely changed her chaotic persona after his death — until the truth is exposed. Bryant's cameo, meanwhile, is very brief, but equally memorable. She plays Tabby Bobatti, the Reverend's girlfriend, but instead of being held in a bunker, she actually had a consensual relationship with him.
Besides seeing her on Unbreakable Kimmy Schmidt, you can of course catch Bryant in SNL. The comedian's recent recurring role as Sarah Huckabee Sanders has been one of the standouts among the show's skits about the Trump administration, and she's absolutely hilarious in the part. As for Philipps, you can hear her on American Dad! as both Blanch and Dana, and she has both a book and an E! talk show coming out this fall. She also recently was lucky enough to get an accidental Instagram DM from Chrissy Teigen about tortilla chips — equally exciting, TBH.
I Feel Pretty may have garnered some criticism upon its release, but it's impossible not to enjoy the flick due to its hilarious cast, who are apparently just as funny when they're goofing off on-set. And luckily, if you're left wanting more from them after watching the gag reel, there are plenty of recently released and upcoming projects to look out for where you can catch the actors being just as entertaining.