Here's Why The Internet Thinks Kylie's New Eyeshadow Palette Could Be A Pregnancy Reveal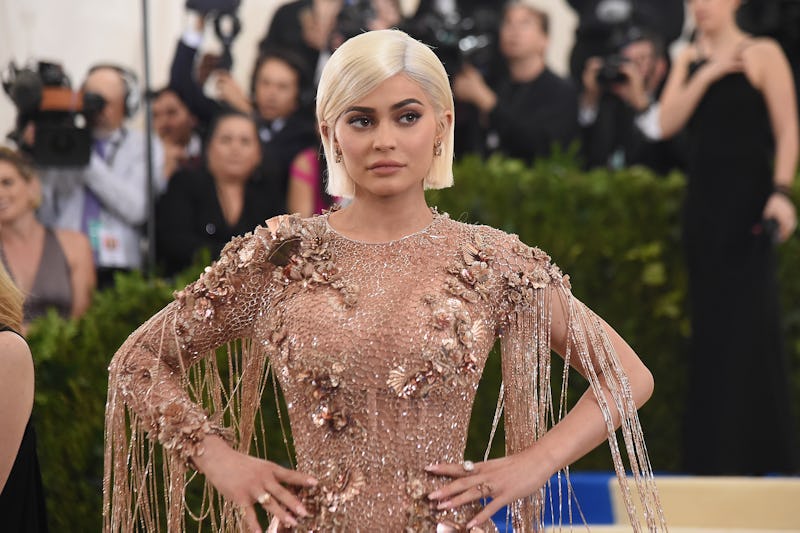 Nicholas Hunt/Getty Images Entertainment/Getty Images
Kylie Jenner may have been missing in action for the past few weeks, but that's not the case for Kylie Cosmetics. The makeup brand has launched new products and had special sales despite Jenner's absence from Snapchat. Now, though, there's a new Kylie Cosmetics palette, and fans seem to think the new launch might reveal Jenner's alleged pregnancy. Hey, they can hope, right?
Rumors have been swirling since September that the youngest Kar-Jenner is allegedly pregnant with her partner Travis Scott's baby. All of this, however, is just conjecture, but the social media maven and reality star's notable absence from the internet has been suspect to some. Now, though, she may be making a return thanks to her eponymous cosmetics brand.
On Monday, the Kylie Cosmetics Instagram account teased a brand new palette featuring nine eyeshadow pans. While a palette would typically excite any fan of the brand, given the incredible interest in Jenner's rumored pregnancy, excitement seemed to increase — but not necessarily because of the palette itself. Based on social media reactions, fans seem to think that Jenner may be announcing said alleged pregnancy via the palette. Honestly, it's not a bad theory given how important her brand is to her.
In the teaser image, the palette looks exactly like the permanent Bronze Palette, Burgundy Palette, and Purple Palette. The difference here seems to be the packaging color. Many fans were quick to point out that the image is in blue which could be interpreted as a sign that Jenner is having a boy.
However, it's important to note that Jenner's palettes tend to have color themes, and this could simply be a blue-themed palette that has nothing to do with a pregnancy announcement. Plus, the image could be concealed with the blue tones to prevent revealing the palette before Jenner and company are ready.
Despite these what-ifs, fans certainly hope and believe that the palette is a pregnancy announcement.
Apparently the entire internet is ready....
Like, they really want it.
Others are wondering about the suspicious emphasis on the number of shadows.
Of course there's the color. Blue for a boy, maybe?
Others joked the palette was her real baby.
But that color certainly seems to be gaining steam in the Kylie pregnancy announcement department.
People really think this might happen.
They're all caps excited.
Only time will tell if Jenner does use Kylie Cosmetics to announce her rumored pregnancy, but one fan did have a good question. Will Jenner swatch this palette herself? Typically, the cosmetics mogul takes to her Snapchat account to showcase her new products, but considering that fans haven't seen hide nor hair of Jenner on social media, there's no way to know.
Of course, swatching requires an arm, not the full body. If Jenner wants to continue to keep her pregnancy private, which she's totally allowed to do and her decision should be respected, she could still hop on her Snapchat, announce the product and swatch it. And then she could go MIA once again.
It's unlikely, however, that you'll see more than Jenner's arm. Despite the company launching their Kylie Truck pop-up shops all over Los Angeles, she never appeared at any of them. While she did hop on Twitter to defend the Kylie Cosmetics Silver Series brush set and promote her concealers and lipsticks, fans didn't actually get to see her. It's all very suspect, but also all conjecture at this point.
Outside of the rumor mill, though, a new Kylie Cosmetics palette is coming. Regardless of if she reveals her pregnancy using the launch, it's still an exciting new product for fans of her brand.