Every Easter Egg & Marvel Reference In 'Jessica Jones' Season 3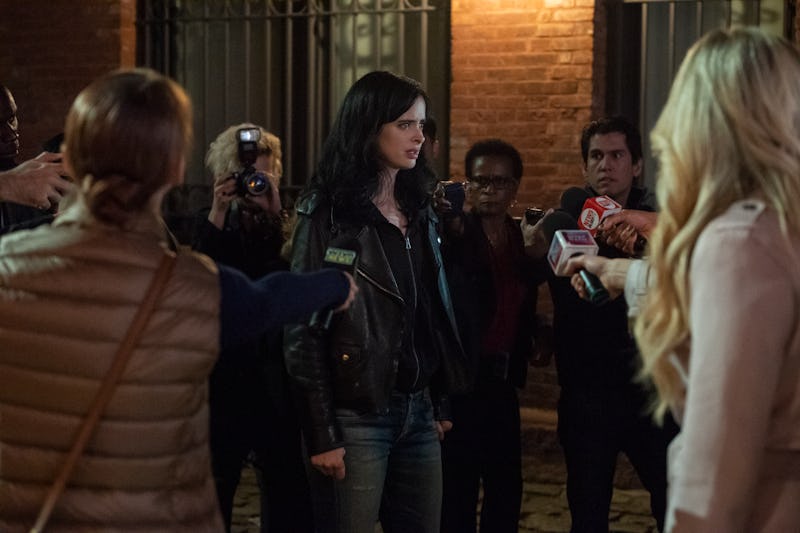 David Giesbrecht/Netflix
Spoilers for Jessica Jones Season 3 ahead. So long, street level heroes of the Marvel Cinematic Universe, and the diligent New Yorkers who pepper their world. The new season of Jessica Jones marks the end of Netflix's Marvel run, but there are a few returns and comic book surprises left in this last adventure. The Easter Eggs in Jessica Jones Season 3 reference some Marvel favorites and provide a little closure as well.
As you likely know, the Marvel characters that made up the Defenders — Matt Murdock, Luke Cage, Claire Temple, Colleen Wing, Danny Rand, and Jessica Jones — will no longer grace our streaming queues. Their individual series, as well as The Punisher, have all been canceled. Maybe one day these heroes will be hired by Disney+ but until then, this is the end.
In Season 3, Jessica is trying to use her powers for good while working within the system. That's something that the larger MCU addressed with the Sokovia Accords in Captain America: Civil War, and has been debated on all the Netflix series as well. Jessica Jones is not a huge fan of being categorized a superhero or teaming up with other vigilantes like her — and she says so, often, in Season 3. No matter how much she cares, and she cares so much, her good deeds are almost never unpunished.
Meanwhile, her newly powered former BFF Trish Walker is not interested following rules to save people in need — and well on her way to becoming Hellcat from Marvel comics. When we check back in with them in Season 3, here are the other ways Jessica Jones references the larger universe that our hero drinks to forget.