The Justin Timberlake Backlash Isn't New — But Here's Why Everyone's Talking About It Now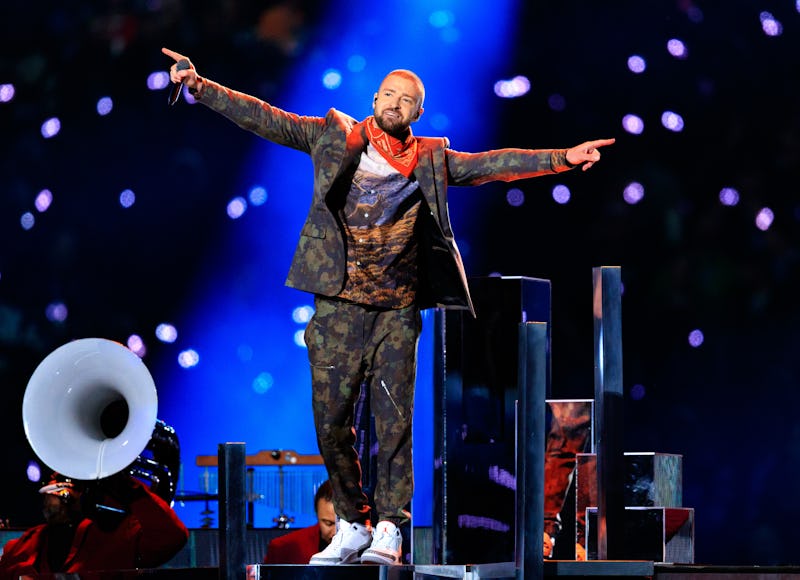 Christopher Polk/Getty Images Sport/Getty Images
On the heels of his long-awaited comeback, pop prince Justin Timberlake isn't getting the warm welcome he's used to. Aside from the fact that his 2018 Super Bowl Halftime Performance and latest album Man Of The Woods have been getting slaughtered by critics, it seems his history of problematic behavior is floating to the surface. From his willingness to let Janet Jackson go down with the 2004 "nipplegate" ship to his support of the Time's Up Movement while simultaneously starring in the Woody Allen directed film Wonder Wheel — JT's lack of "wokeness" sticks out like a sore thumb in an era where music fans prefer their stars to come with a little social responsibility. Could it be that the former *NSYNC front man is being unnecessarily attacked because people love seeing legends fall on their face, as some fans and in particular, Philip Cosores from UPROXX, suggests? Or is there something bigger at play? As a fan of his, who happens to be both black and a woman, it's frustrating (to say the least) for me to see Timberlake continuously dip his hand into the Black culture cookie jar for his benefit and then retreat into his tower of privilege when he should be an ally.
The very news of Timberlake being booked for the Super Bowl halftime show irritated fans who were instantly reminded of his flippant response to the infamous nip slip incident with Janet Jackson in 2004. As you surely remember, the "Rock Your Body" performer accidentally exposed Jackson's breast in front of millions of viewers during a wardrobe stunt gone wrong. Timberlake's male, white privilege shielded him from blame while the music industry relentlessly punished Jackson like some sort of sexual deviant. According to Billboard, Clear Channel Communications blacklisted all of Jackson's singles and music videos, and she was also forced to relinquish a movie deal she had just signed. Timberlake went off to perform at the 2004 Grammys (where he won two awards in the pop category) as Jackson — who was supposed to lead a Luther Vandross tribute — was forced to skip the ceremony entirely. She later told Oprah Winfrey that she felt Timberlake didn't adequately come to her defense.
But back then, social media was not as pervasive as it is today. There were no #JusticeforJanet hashtags or @-replies that gave fans a direct line to their beloved (and not-so-beloved) idols. This might have made it easier for Timberlake to skate by with a too little, too late response at the time. "I probably got 10 percent of the blame, and that says something about society," he told MTV News in 2006 (a whole two years after the incident started wreaking havoc on Jackson's career.) "I think that America's harsher on women. And I think that America is, you know, unfairly harsh on ethnic people." His delayed reaction is both ironic and infuriating when you consider that Black artistry is the single most important pillar that has upheld his solo career. Timberlake continuously credits Janet's brother Michael Jackson for planting the "idea" that he go solo in the first place.
However, don't think his missteps started with Janet Jackson. Though his cornrows, diamond studs and brief obsession with baggy attire (circa 2000) put the "cultural appropriation" target on his back, that isn't at the core of what's happening here. After all, it's not far fetched that a kid from Memphis, Tennessee (the mecca of Blues) would be inspired by Black music. It's about the fact that he cherishes Black culture and champions woman's rights until his pristine image is at stake. His "WhyWeWearBlack Instagram post the night of the 2018 Golden Globes was devoted to how "hot" his wife is and rather than the rampant sexual misconduct in Hollywood (the reason celebrities were, in fact, wearing black). If you go back even further, JT has been noticeably hands-off about race related issues as well, like #BlackLivesMatter, Sandra Bland, Eric Garner, and Philando Castile which have dominated the media in recent years. This is especially troubling when you think about the fact that his catalogue of hits were made possible by black producers (i.e. Timbaland and The Neptunes), musicians, and songwriters.
With the Super Bowl talk lingering, I find myself having flashbacks of JT's painfully tone-deaf response to actor/activist Jesse Williams' viral speech at the 2016 BET Awards. "We've been floating this country on credit for centuries, yo," the Grey's Anatomy actor said in his poignant acceptance speech for the Humanitarian Award, "and we're done watching and waiting while this invention called whiteness uses and abuses us, burying black people out of sight and out of mind while extracting our culture, our dollars, our entertainment like oil."
When Timberlake tweeted about being "inspired" by those words, he allowed himself to be baited into a conversation he wasn't prepared to have. "So does this mean you're going to stop appropriating our music and culture? And apologize to Janet too," journalist Ernest Owens tweeted. Timberlake's all lives matter-adjacent reply (now deleted) made Black Twitter do a collective face palm. "Oh you sweet soul. The more you realize that we are the same, the more we can have a conversation. Bye." Sure, in theory we are all the same. But we are not all treated the same. And that, my friend, is where Mr. Suit & Tie continuously misses the mark.
Even in addressing the backlash from that 2017 tweet during the promo tours for Woods in 2018, Timberlake's inability to acknowledge his inherent privilege as a white male pop star was completely glossed over. "I felt terrible, you feel terrible," Timberlake told Zane Lowe during a sit down for Beats 1 Radio, "like 'Oh man, that is not what I meant. Why did I do that?'"
Justin's first try at righting his wrongs since the incident was a very intentionally "woke" video for his new single "Supplies" which shows news clips of the #MeToo movement, the Muslim ban and police brutality. It read to critics as a cheap ploy to fit in with the times and remain relevant.
While the woman in "Supplies" wearing a "This Pussy Grabs Back" shirt was a clever touch, though probably ineffective to those who have been offended by some of his recent actions. Dylan Farrow, Woody Allen's stepdaughter who has repeatedly accused him of sexual assault (Allen has denied the claims numerous times), pointed out the singer's hypocrisy in a tweet and subsequent interview with Buzzfeed. "I struggle with how a powerful force like Justin Timberlake can claim to be in awe of the strength of women and stand with them at this #MeToo moment and then in the next breath say that working with Woody Allen is a 'dream come true.'" Timberlake said nothing more of the controversy than, "I chose to not get into it — I really don't dive into any of that stuff with anybody."
His avoidance of "that stuff" is why people like rapper and culture critic Vic Mensa feel Timberlake's moment of reckoning is long overdue. During a 2016 appearance on The Nightly Show With Larry Wilmore, the Chicago rapper went viral for his eloquent explanation of why the former *NSYNC frontman's avoidance of sociopolitical issues effecting Black American is a problem. "Justin Timberlake is definitely benefiting from using Black culture for his sound, his dance moves, his dancers…but if you roll down Justin Timberlake's Twitter for the past two years which I just did, you see nothing that supports Black people when it's more difficult. When there's a struggle. There's no #BlackLivesMatter. There's no praying for Baltimore. There's no praying for Flint, because those are dangerous subjects for him to touch."
Timberlake's seemingly mild brand of white ignorance is perhaps the most dangerous kind. I cringed when I saw him mock Prince's height at the 2007 Golden Globes and again when he tried to mimic Rihanna's mom's accent at the 2013 American Music Awards. When word spread that he'd thrown a cocktail-heavy album release party at Prince's Paisley Park despite the fact that the legend famously abstained from alcohol, I threw my hands up in defeat. Unlike Beyonce, JAY Z, Bono, and others who have put their actual feet to the ground for causes they care about, Timberlake seems to be fixated with "appearing" aligned with popular causes while showing no real understanding of why said causes matter to begin with.
And to top it all off, Justin Timberlake told Beats 1 Radio earlier this month that Man Of The Woods era would reflect how he's matured since becoming a father. Perhaps JT still has room to mature when it comes to his level of awareness for a culture that has given him so much. While it's very unlikely that this wave of bad press will decimate his career (Man Of The Woods just debuted at number one on the Billboard 200 albums chart thanks to the 11 million people who tuned into Super Bowl XLIX), in this new era of accountability, his shallow attempts at being "down for the cause" will not cut it anymore. Timberlake won't be "out of the woods" until his walk matches his talk.